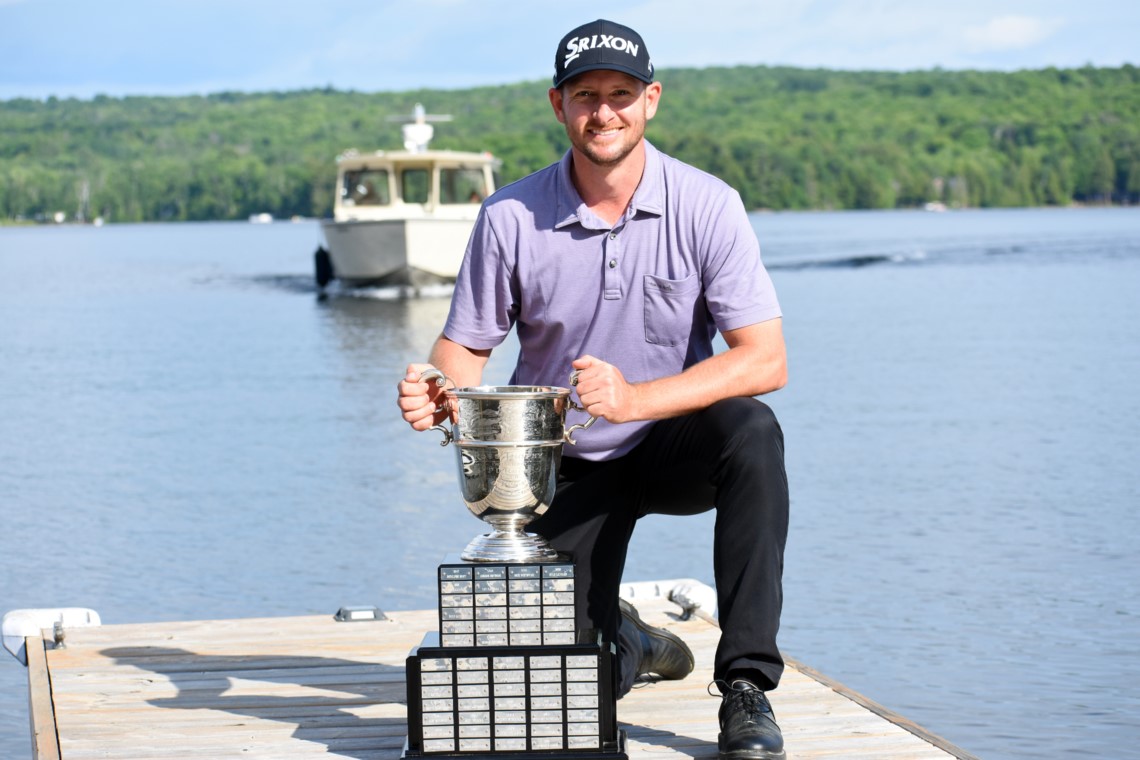 Kevin Stinson claims BetRegal PGA Championship of Canada in Playoff at Bigwin Island
Joins British Columbia friend Nick Taylor in winner's circle
By: Brendan Stasiewich, PGA of Canada
With David Li Sheman entering the final round of the BetRegal PGA Championship of Canada at Bigwin Island with a four-stroke lead, Kevin Stinson knew it was going to take something special on Wednesday afternoon to follow up his 2022 PGA Assistants' Championship win with another trophy in hand.
Thankfully, he had no shortage of inspiration this week. Growing up alongside Nick Taylor, even rooming with him when they were younger, Stinson was on the edge of his seat, close to tears in the Bigwin Island clubhouse on Sunday as he watched his friend become a national icon.
When Stinson left himself a do-or-die 30-footer up a ridge on the first playoff hole, he was drawing on Nick for motivation.
As Mike Breen would say: "Bang!"
"I was upstairs getting emotional (when Nick Taylor won), to see those putts go in the way they did was incredible; I was thinking about him trying to make my putt," said Stinson. "I got fortunate being on the line Dave (Sheman) just had.
"I knew what it was going to do so I just had to get the speed right. I was a little in shock and then had to focus back in because it was right back to the tee again."
Stinson, who made six birdies and an eagle in regulation to match Sheman at 11-under par for the championship, made the trek back up to the 18th tee and pounded his tee shot down the left side, into some manageable rough.
His five-iron was perfect, pin high, close to the same spot he had just drained from. Two putts ended up being enough from there to give him the victory.
"I've told myself a lot of times that I've come second too many times, so to get the win at the Assistants' last year was amazing, and this is even cooler," said the Cheam Mountain Teaching Professional. "A couple wins is very nice."
Along with stamping his name on the P.D. Ross Trophy, joining the likes of Arnold Palmer and Moe Norman, Stinson took home the first-place prize of $11,000, surely making his water taxi ride all that much sweeter.
With trophy in hand, the PGA of British Columbia professional couldn't have been more complimentary of Bigwin Island and the tournament title sponsor, BetRegal.
"Shoutout to the greens crew and the staff, amazing course and amazing conditions. The amount of rain we had and to be able to play the ball down today was very impressive," said Stinson. "I met Mike Mirtl from BetRegal for the first time today, these tournaments don't happen without people like that and the financial support from companies like BetRegal; he seems like a great guy too, it was awesome to meet him."
Each day of the championship, a hole was deemed the 'NoSweat Hardest Hole of the Day.' The player who recorded the low score on the hardest hole earned an extra $150. In support of PGA of Canada professionals, NoSweat is offering a 25% off promo code on online orders. Use code: PGACANADA25.

In total, 11 players were able to conquer the 11th hole, which was deemed the NoSweat Hardest Hold of the Day, playing 430-yards into the wind. After a random draw, Lee Curry was Wednesday's winner.

GolfForever has been on site all week at Bigwin Island, activating the brand's first-of-its kind Warmup Station. GolfForever is giving away one of their training kits to the player that has the biggest bounce-back from the first round to the final round – two players were eight strokes better on Wednesday compared to Tuesday; Gord Burns and Ethan Danish.
After a random draw, Gord Burns will receive a free training kit thanks to GolfForever.

Thank you to Jacklynn Miller, who participated in a walk-and-talk presented by CaddyTime on the ninth hole.

Photos will be available after each tournament round and available for download on our Flickr account, here.
Registration is still open for our second National Championship, the ORORO PGA Women's Championship of Canada, set for July 3-5 In Kingsville, Ontario. Eligible players can register here.