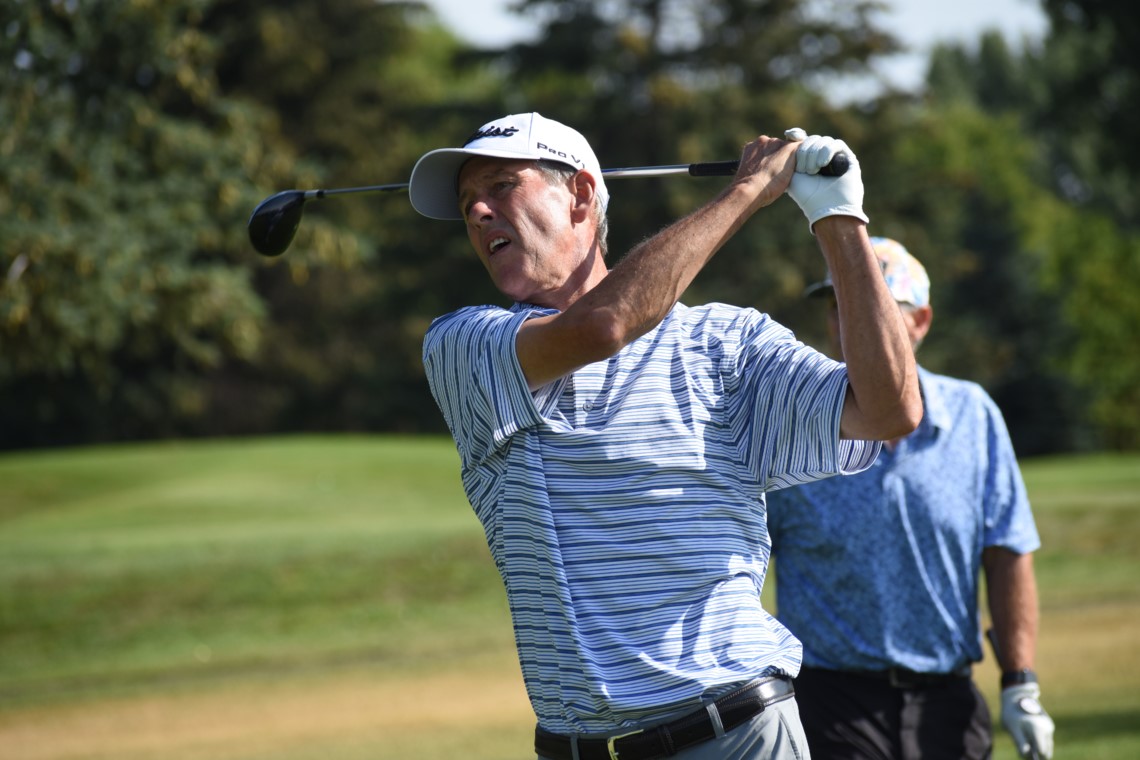 Jim Rutledge takes one-stroke lead into final round of PGA Seniors' Championship of Canada presented by GOLFTEC
By: Brendan Stasiewich, PGA of Canada
(Medicine Hat, AB) - While Jim Rutledge's second-round 70 was good enough to earn him this year's Super Senior title at the PGA Seniors' Championship of Canada presented by GOLFTEC (a trophy he's claimed each of the past two years), the real test for the six-time tournament winner will come tomorrow when he tries to fend off Scott Allred, who sits just one-stroke back, and Philip Jonas, who is two back after a second-consecutive 68.
Folding into the penultimate group is PGA of Canada President Gord Percy, who's second-straight 69 has him four strokes back, and Redwood Meadows pro Kent Fukushima, who fired the round of the day on Thursday at Connaught Golf Club to the tune of a six birdie 67 to sit just three back.
Rutledge, who retains the same one-stroke lead he brought into the round, was able to find the bottom of the cup on Thursday, making six birdies, but four bogeys prevented him from duplicating his opening-round effort.
"Our whole group was a little scrappy today. We'd make a few birdies and then give them away," said Rutledge, who will celebrate his 63rd birthday tomorrow. "There were some good pin placements today. If you missed in the wrong spot, it was hard to get up-and-down. I finished well though, made birdie on three of the last four, gave one back with the wrong club on 17, but I'll learn from that."
A win on Friday would bring the Victoria, BC native's victory total at this event to seven, just one behind the record of eight held by Canadian golf legend Moe Norman. He'll be paired once again with Allred on Friday, as well as long-time friend Philip Jonas.
"We've known each other a long, long time and get the best of each other when we're on the golf course," said Rutledge. "We've played this event quite a few times and have had some good runs at it."
Jonas' round got off to a hot start with an eagle on the par-5 second hole. That, in addition to three birdies on his final-four holes, was good enough for his second-consecutive 68 and extra time to prepare in the morning as he folds into the final group.
"I'm playing not bad, if I can keep playing the way I'm playing it should be ok," said the Saskatoon Golf & Country Club Teaching Professional. "I've been good at managing and making good scores out of some bad things.
"(One of the best parts of playing this event) is coming out and seeing everyone. I get to play with my friend (Jim) Rutledge every year and he seems to win every year, but those are the good things," added Jonas.
2022 is the first year with GOLFTEC on board as the presenting sponsor. GOLFTEC currently employs roughly 75 PGA of Canada members, and COO and Vice President Dean Larsen has been on site all week greeting players as the tournament's starter on the first tee.
Final round tee times will begin on Friday at 8 AM MT.