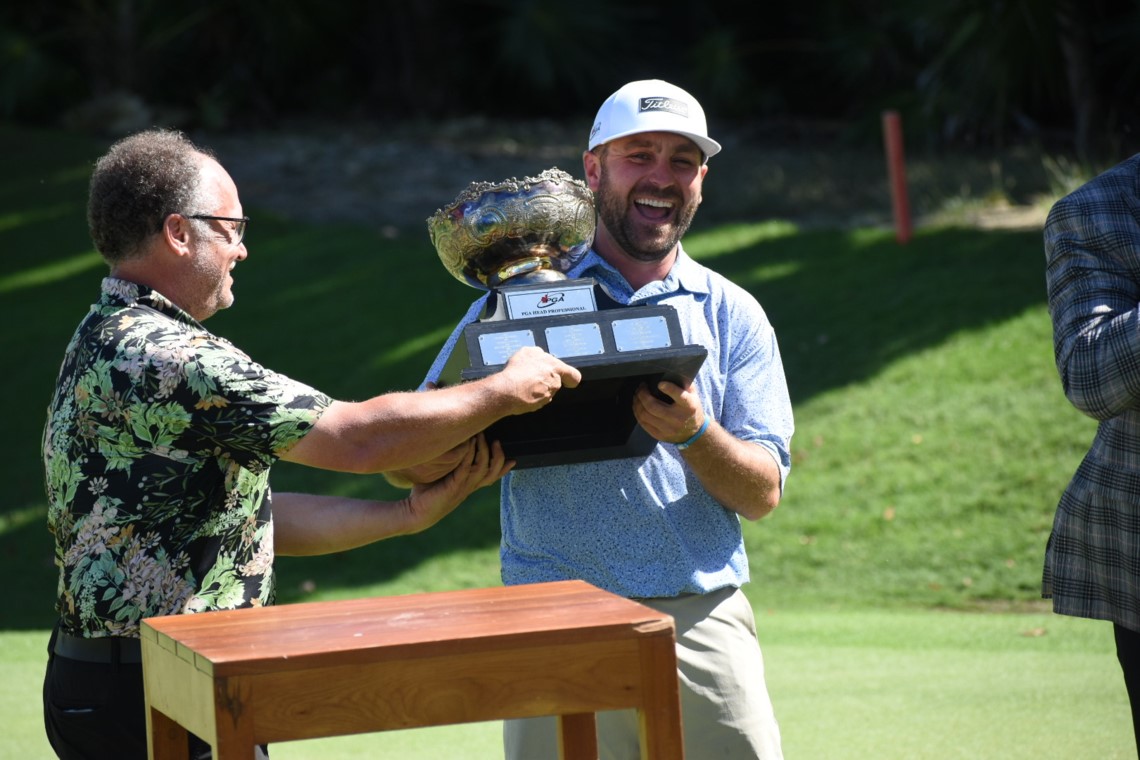 James Skrypec wins 2023 PGA Head Professional Championship of Canada presented by Callaway Golf
By: Brendan Stasiewich, PGA of Canada
The full leaderboard can be seen here.
An interview with Skrypec can be seen here
(Cancun, Mexico) – James Skrypec, playing in the penultimate group of the day at Iberostar Playa Paraiso, walked off the 18th green and asked for a status update.
"What are the guys behind me at?"
"They're one-stroke back."
"One-stroke back of who?"
"You."
Sometimes not knowing can be a beautiful thing; just playing for the lowest score possible on each hole.
Improving by one stroke each day, finishing his week at the PGA Head Professional Championship of Canada presented by Callaway Golf and Supported by G&G Brands at 3-under par, Skrypec watched on anxiously as both Gordon Burns and Eddie Maunder had very good birdie looks that would have sent the event to a playoff.
They both missed, and the rest is history.
"It hasn't really sunk in yet, I still can't believe I'm a national champion," said Skrypec. "Today I went into it thinking 'it doesn't really matter,' I was just going to play like I was at home with my buddies and not think about the outcome and it seemed to work for me.
"I kept the ball in play and made a few good up-and-downs, nothing too impressive but nothing too bad, either," Skrypec continued.
On 17, when the Deer Ridge Golf Academy Head Teaching Professional made a 15-footer for birdie, he didn't know it, but it was the moment that would set him apart – and he didn't even have the club he normally would have used after breaking it punching out of a bush during the second round.
"I had to hit a soft-little 8-iron to a middle pin to about 12-15 feet and ended up making the downhiller," said Skrypec. "One of the par-5s on the back, to get out of a bush I had to break my club. I don't hit my 9-iron too often, but I chose that one and got it out and made par."
Skrypec had nothing but positive things to say about the host venue resort and vibe of the championship.
"I think having this event here in Mexico is the best we could do. The venue is spectacular, the golf course is extremely difficult – (P.B.) Dye designed it," said Skrypec. "The resort was great, the food, the weather was great, hopefully we get a bunch more guys out next year after some of the videos and word spreads."
The low club pro race – which included a $500 bonus - ended up being decided in a playoff after Weston Gillett made a 50-foot putt on his final hole of the day to match Inglewood Golf Club Head Professional Sam Kirkness in a tie for fifth.
In the playoff, Kirkness made a 15-foot birdie putt to claim the low club professional trophy.
Both players made sure to thank the event partners and call out the tremendous resort in their speeches during the ceremony, thanking Callaway Golf, G&G Brands and Golf Away Tours for their support of this event and the association.
With only three birdies being made on the hole on Saturday, the 10th was the NoSweat Hardest Hole of the Day.
After a random draw, Matthew Mah is the NoSweat Hardest Hole of the Day winner and earns a $150 bonus.