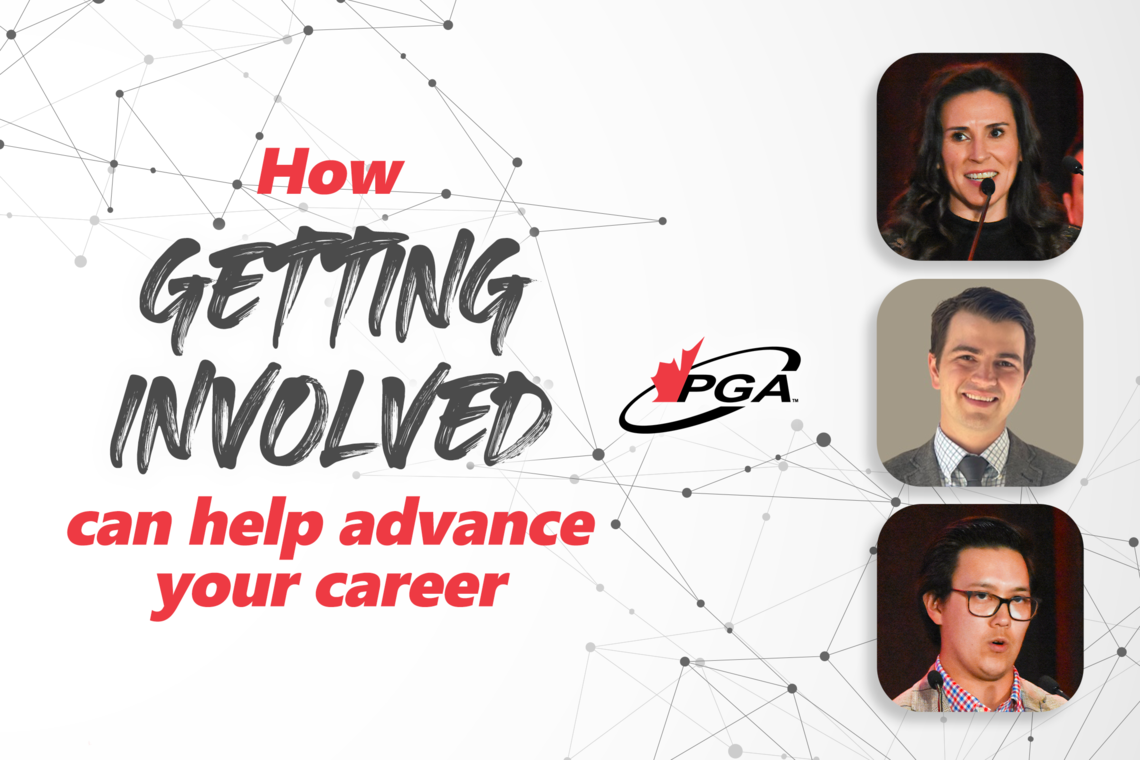 How Getting Involved Can Help Advance Your Career
By: Adam Stanley
This story starts in a bar in Orlando. The best ones often do.
Dylan Cattanach of Rosedale Golf Club was sitting in the lobby of the Hyatt (you know the one) alongside Mike Johnston and Justin O'Leary, both, at the time, of Cedar Brae Golf Club. While they debated the merits of sand versus tan shades of khaki on the sea of golf pros in front of them, they realized something important, and a little jarring – they didn't know anyone.
"We needed to break that barrier. Associates need to know associates. Assistants need to know assistants," says Cattanach. "In 10 years from now, a lot of head pros are going to be out of the industry and (our generation) will need that connection."
So began the Assistants of Toronto (AOT) networking group. It's just one example of how the current crop of PGA of Canada pros in this country are connecting – both online and off – in new ways.
"A lot of head professionals on these calls say they wish they had this opportunity 15 years ago. Even I wish I had it just five or six years ago when I was an assistant," says Cattanach.
Cattanach is also a big believer in how important it is to keep connecting and involving yourself with the grander group in Canada's golf industry.
While COVID nipped the beginning of the AOT networking effort (there was a buzzy first meeting at the Ladies Golf Club in March 2020. And, of course, we all know what happened next), the group quickly went online and found the open and inclusive discussion translated well to the digital space.
While there were less than a dozen people in the first few calls, there are upwards of 80 these days.
"There were great points (in the first few calls), but we were trying to encourage other people to reach out and speak their mind. That was the whole voice of the PGA. That's the future," says Cattanach. "If the leadership had nothing to listen to, it would have been tough for us to keep on gaining.
"It's about encouraging pros to voice their opinions so we can get better as an association."
Cameron Cox, another up-and-coming star in the PGA of Canada's ranks, agrees with his millennial mate. Cox passed his PAT as an 18-year-old and, after spending five seasons at Oviinbyrd Golf Club, has moved to the former LPGA Tour-event hosting facility Whistle Bear Golf Club.
Cox, who won the PGA of Ontario's Assistant of the Year award as a teenager, was the Northern Ontario chapter lead for AOT and at just 25 is also part of the PGA of Ontario's Board.
He's noticed that the current generation of pros are more collaborative than combative.
While at Georgian College, where Cox was the Board of Governors Medal award winner, there was a group that pushed and grew together. There's no denying it takes hard work to be an associate. But when the encouragement is there and the support is there, it translates into excitement, too. People want changes these days, and there's an opportunity for change with golf's recent boom, he explains.
"It was always really tough at the start, but being involved in these associations and earning these designations and being able to create credibility even though I'm only 25 – age was taken off the table," says Cox. "We see things differently. It's tough to know that you do have a voice and it's valued but you can get credibility through (networking) and within the PGA (of Canada) is a perfect example of that."
AOT, Cattanach explains, has become a bit of a catalyst to help young professionals figure out their pathway and how the group can support that chosen direction. Cattanach, who won the Tex Noble Award for Professional Development at this year's national award ceremony, admits that if he jumped into a head professional role without the few years of networking and growth from being involved in the AOT, he doesn't believe he'd be as successful.
While AOT has certainly had an Ontario-focus with its launch and opportunities, there is no shortage of other ways to get involved across Canada. From playing in events with fellow pros to attending workshops (both virtually and in person) to even starting up something on your own, it's easier than ever to collaborate.
And that includes the simplest of things, too. Like picking up the phone.
Ashley Zibrik, the PGA of British Columbia's president who won the Pat Fletcher Retailer of the Year award for 2022, says the onset of the COVID-19 pandemic encouraged all professionals to lean on each other to get through the collective challenges.
She picked up the phone. She emailed. She Zoomed.
'Do you have flags in your putting greens?' 'Are you getting things shipped?' 'What are your retail touch points?'
It was a time unlike any other and allowed for an opportunity to connect with professionals from different zones.
Zibrik, who started as an associate professional at Shaughnessy Golf and Country Club in 2012 before being named just the eighth Director of Golf and Head Golf Professional in the club's 108-year history in 2019, says the more people you know, the better.
"Golf is such a family and people are really kind. They want to help you," she says. "I've always aspired to be an active member throughout my whole career, and I consistently encourage my team and other industry professionals to participate.
"Honestly, I don't think I would be where I am today without networking and surrounding myself with mentors and other successful people in the industry."