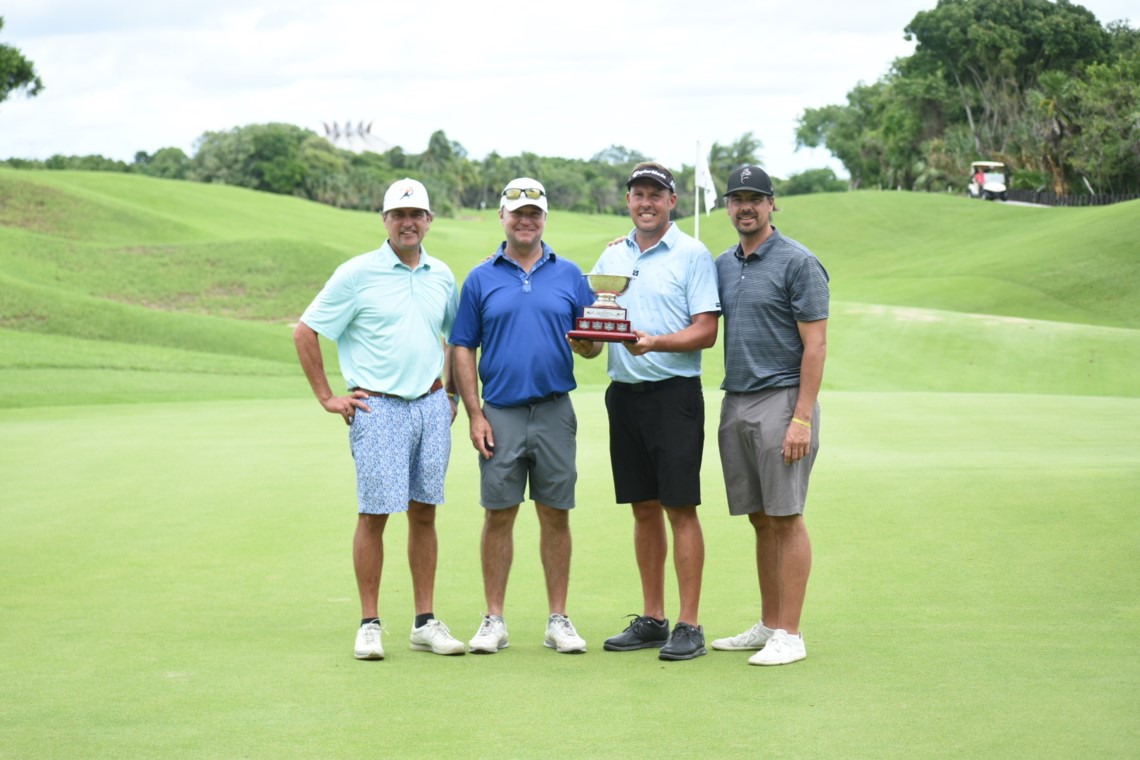 Gordon Burns atop leaderboard by two following difficult second round at PGA Head Pro Championship of Canada
The full leaderboard can be seen here.
(Cancun, Mexico) – Sometimes, the player atop the leaderboard is the one who can simply whether the storm. That was exactly the case on Friday at the PGA Head Professional Championship of Canada presented by Callaway Golf and Supported by G&G Brands, as windy conditions led a difficult day of scoring at Playa Paraiso in Cancun, Mexico.
71, fired by James Skrypec, was the low score of the day as Gordon Burns' 73 was good enough to put him atop the leaderboard by two following a Thursday 67.
"It was windy today and really tough getting club selections, even on short iron shots," said Burns, who won this event previously in Arizona in 2019. "You have to keep it in play off the tee and navigate the wind and putt it close or in, it was tough out there."
Following a spectacular opening-round bogey-free 65, first-round leader Danny King carded three doubles and will fold into the final group alongside Burns and fellow PGA of Ontario professional Eddie Maunder, who managed seven birdies in the wind. King and Maunder each trail by two.
All three players in the final group were a part of the PGA of Ontario Interzone team, as well as G.W. King, who is in a tie for 12th. The InterZone competition came to a close on Friday with Ontario picking up the victory by a large margin, but tomorrow, for four hours in the morning, the good friends will not go easy on one another
"We are all vying to do our best and beat each other," said Burns. "Even though we are all buddies we want to beat each other. But it will be fun."
Maunder, who's incredible 7-birdie performance was offset by a triple on the 5th hole, says the group has played together often this fall and recognized the form of the team heading into the event.
"We all know each other really well so we get to play together a lot," said Maunder. "We are comfortable with each other and (King, Burns and King) have been playing great so I was confident in our team coming in."
While it was a tough test on Friday, both Burns and Maunder mentioned how thrilled they are to be at the resort and course and hope more PGA of Canada members look to participate should the event head to a resort venue again.
"It is a beautiful place, I'm thrilled we are here," said Burns. "Hopefully we get this venue again and can get 100 guys down here because it is a great championship course that highlights when you play well and magnifies if you hit a few loose shots."
"I hope we double the entries next time," said Maunder. "I would love to come back here. It is a first-rate resort and golf course. (Head Professional) Greg Bond and his crew do such a great job and all we have to do is play golf."
As for the race for low club pro, Georgian Bay Club Head Professional Greg Colekessian is tied at +3 with Lacombe Golf & Country Club's Weston Gillett, while Rideau View's Roger Beale is one back.
The 15th hole was deemed the "NoSweat Hardest Hole of the Day" for the second round of the tournament. Only two players, Jamie Gerlitz and Marc-Antoine Lamoureux managed to make birdie on 15 as it played more than half a stroke over par.
After a coin flip, Jamie Gerlitz is the NoSweat Hardest Hole of the Day winner and picks up a $150 bonus.
The final round will once again be a shotgun format, with most players teeing off at 8:30 AM – while the final three groups of the day will each tee off the first hole between 8:30-8:50.