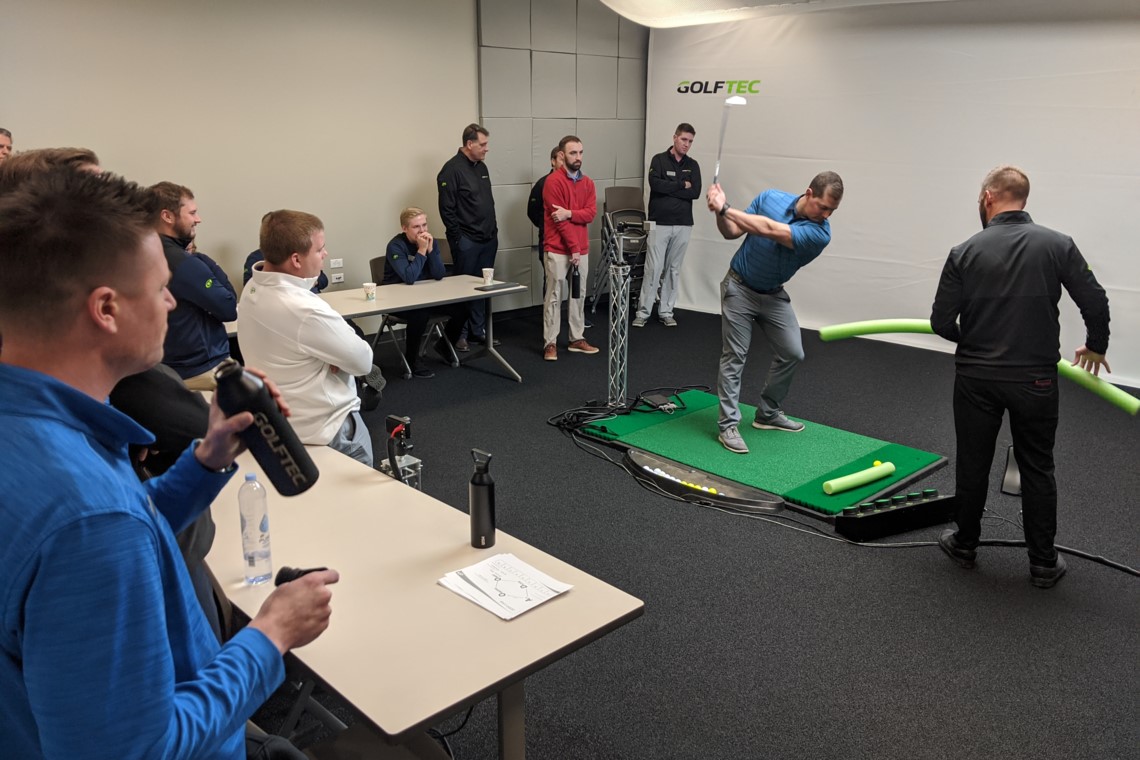 GolfTec a teaching professional's dream
"I feel like Ironman now."
Such is the way Dave Levesque describes the tools at his disposal as a PGA of Canada teaching professional with GOLFTEC. The myriad technology; the ease of interacting with clients; schedule management software; growing a book of business; the same working environment 12 months a year.
"I have that power of a system in front of me and now I'm learning to fly that suit, that Ironman suit. I'm so excited," Levesque says.
The Price, Que., native and 2014 PGA Championship of Canada winner joined GOLFTEC in November 2019. The global golf instruction company celebrated 10 years in Canada in 2020 and will expand to Quebec early this year. Levesque is GOLFTEC's Quebec Regional Manager and has a lofty goal: He wants to make GOLFTEC the province's leading employer of PGA of Quebec members. He says he has loved every second of his time with the company, and he extols the virtues that come with employment: Year-round stability; regular hours; a base salary; benefits; and vacation time, to name a few.
But principally, it is the ability to help people play the game better that is most attractive to Levesque. GOLFTEC's proprietary TECSWING software integrates motion measurement and video into one interface for coaches to easily identify problems and areas for improvement. Combine that with Foresight Sports launch monitors, proprietary putting labs (TECPUTT) and club-fitting (TECFIT), and GOLFTEC offers a smorgasbord of toys to its expert teachers, who in turn offer it to their eager students.
A self-taught player, Levesque says he has grown more interested in teaching technology over time, especially as the focus on his own game and results has waned with age. He related a story about playing with his father last summer and giving him a lesson on the range afterwards armed with only his cellphone.
"I felt naked teaching," Levesque explains. "When you get used to that power of technology you get used to it and you feel so much stronger as a coach."
In Calgary, Jordan Fenwick has more GOLFTEC miles under his belt than Levesque but is equally as content. He joined the company five years ago after working at golf courses in his native Saskatchewan as a student and then as an assistant professional at River's Edge in Okotoks, Alta. It was the lifestyle GOLFTEC offered that lured him to the job. With his girlfriend, now wife, a schoolteacher, Fenwick grinding out 10-hour days in the summer when she was off and then not working in the winter while she was in class was less than ideal.
"This job came up and it was 40 hours a week, year round, good pay, and I just thought personally, for my lifestyle, it was a no-brainer to give it a shot," Fenwick says.
His employment started with what he calls a "rigorous training program," during which he was educated not just about GOLFTEC's software and systems, but also about the golf swing in general from Top 100 instructors in GOLFTEC's employ.
"The learning curve was quite big but they take you through it. You're not expected to do it all alone and when you start teaching you are ready to do it," he says.
Fenwick's five years are full of success stories but one particular client stands out. He received a phone call one day from a private club member who said he was ready to quit the game. He had the slices, the shanks, the pulls, all of the above. GOLFTEC was his last resort, he said, and if Fenwick couldn't fix his faults that would be the last straw.
"Once I put him on the system he understood that he was severely out to in, with his swing path, so he was over the top quite a bit and the system showed us how we can map out a program to get there," Fenwick explains. "He ended up with a 12-month program with me and by the end of the year he was hitting draws and just … happy, just pure happy again.
"(The system) makes it so easy," Fenwick continues. "Within a couple of swings you know, ok, there is a couple of habits right here that this particular person needs to work on and you use your own skills to help them get there as well."
Currently, GOLFTEC employs more than 65 PGA of Canada members across the country, and despite operations being shuttered for two months last year because of the pandemic, it delivered more lessons in 2020 than it did in 2019. COVID's continuance means golf's popularity is expected to grow even further in 2021, and GOLFTEC will be hiring seven to 10 additional PGA of Canada pros to meet demand and staff new locations. Job postings can be found at https://www.golftec.com/about-golftec/careers. According to Levesque, any openings should have a long list of applicants.
"If I was a golf teacher I would be grinding to join GOLFTEC honestly, and I'm so happy now that I'm with GOLFTEC sitting here," he says.