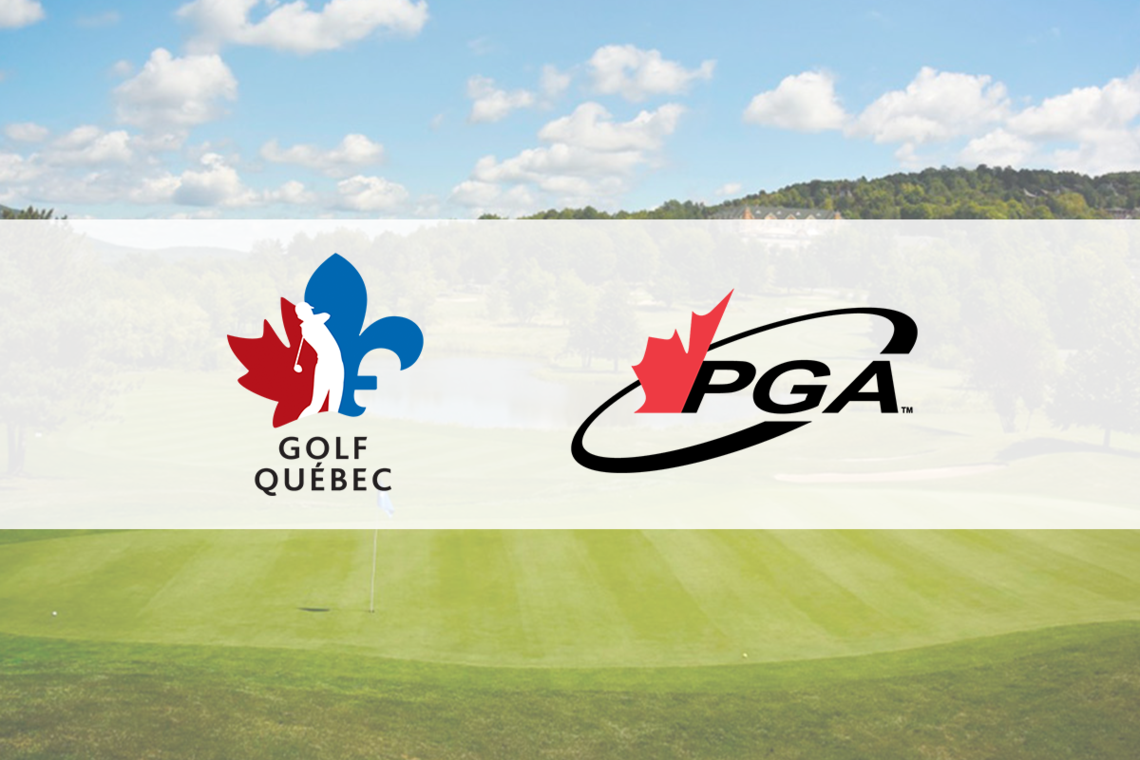 Golf Québec and the PGA of Canada teaming up to operate the ORORO PGA Women's Championship of Canada at Bromont
Acton, ON – April 11, 2022
– From June 28 to July 1, 2022, Golf Château Bromont and the city of Bromont will be center stage for the ORORO PGA Women's Championship of Canada at Bromont, which will be operated by Golf Québec and the PGA of Canada and will welcome up to 156 players. In addition to competing for the Lorie Kane Trophy, the winner will be offered a coveted exemption into the LPGA's Canadian stop, the CP Women's Open. The two organizations working in conjunction with each other for this event will strengthen the field and ensure that all professional women who are PGA of Canada members or touring professionals have an opportunity to compete. Amateur players from across the country will also be competing against the elite field of professionals. Historically, Golf Québec has been operating the Bromont Invitational since 2018 while the PGA of Canada has been operating the PGA Women's Championship of Canada since 1987. "More than anything, Golf Québec is very proud to take part in this new era of women's golf in Canada with a partner like the PGA of Canada. The professionalism of both entities will surely be beneficial for all the women golfers who will participate in this new championship. As always, Golf Québec is looking to offer the best professional and amateur players in the province the opportunity to compete against a contingent of high-level golfers," said Eric Couture, Director of Competitions for Golf Québec. "The PGA of Canada could not be more excited to run the ORORO PGA Women's Championship at Bromont alongside our good friends at Golf Quebec," said PGA of Canada CEO Kevin Thistle. "The tournament has always highlighted the talented women in the sport throughout the country and teaming up with Golf Quebec will not only enhance the tournament experience, but also ensure that the best players in the country are on site competing."
PURSE
The agreement between both parties will also see the total purse of the event move to $100,000. Of that total, $85,000 will be for the entire field while the other $15,000 will be reserved for PGA of Canada members (club or teaching pros).
PRO-AM
New to this year's event, a pro-am will take place on June 28 at Golf Château-Bromont and will support the Suzanne Beauregard fund. This will be a great opportunity for amateur players to tee it up with one of the pros playing in the event and help support young women golfers.
SPECTATORS
Those who would like to watch these talented players compete in Bromont will have access to the course at no cost.
ACKNOWLEDGEMENTS
Golf Québec and the PGA of Canada would like to thank Golf Château-Bromont for their continued support of women's Golf, especially its general manager Martin Ducharme, who is an avid supporter of women's golf. They are a major reason why the Ororo PGA Women's Championship of Canada at Bromont will take place and they are a direct contributor to the total purse. "Since 2018, Golf Château-Bromont has been working hard to create a great event in Canada to promote the women's elite, both amateur and professional, and now I can say that it is a dream come true. The fact that we are able to bring together Golf Québec, and the PGA of Canada in one of the most prestigious events in Canada, is an achievement and proof that together, we can make a difference for women's golf in Canada." said Martin Ducharme, Executive Director of Golf Château-Bromont. The entire Golf Château-Bromont team, including its volunteers, will be proud to host this high-level championship.
About ORORO Heated Apparel:
Hailing from the Midwest, we understand that the cold can interfere with your full enjoyment of life! That's the reason why, in 2015, we created ORORO Heated Apparel. ORORO's current product line includes heated jackets, vests, hoodies, gloves, mittens and socks. With over 500,000 happy customers, ORORO is on the cutting edge of technology, helping you enjoy life in cold climates. For more information, visit
www.ororowear.com
About PGA of Canada—THE LIFEBLOOD OF THE GAME OF GOLF:
Established in 1911, the PGA of Canada is the second oldest and third largest professional golf association in the world. The PGA of Canada is a non-profit association comprised of nearly 3,600 golf professionals across the country. The association's mandate is to develop, promote and support its members in living a better life and earning a better living while growing participation, excellence and passion for the sport of golf. The association consists of the national office located in Acton, Ont., and nine Zone Offices across the country.
About Golf Québec – Initiate passions, build dreams
Founded in 1920, Golf Québec is the provincial sport federation whose mission is to increase participation in golf and develop excellence. Some of Golf Québec's core services include the Golf in Schools Program, First Tee as well as Get Linked initiatives, the Introduction Tour, Junior Golf Development Centres (JGDC), Rules of Golf, World Handicap System, course rating services, Golf Fore the Cure, as well as the Québec Golf Hall of Fame. In addition, Golf Québec conducts regional and provincial championships to bring the local golf enthusiasts to surpass themselves and eventually reach the upper spheres of professional tours. For more information, please visit
https://www.golfquebec.org/en/
.
About Golf Château-Bromont
Founded in 1964 and located at the foot of Mount Brome in Bromont, over the years Golf Château-Bromont has been renovated with the participation of renowned architects Howard Watson and Graham Cooke. The Château-Bromont course is now considered one of the most prestigious public courses in Québec with its immaculate greens and panoramic setting. Host to many prestigious Canadian, provincial and regional championships, there is no doubt that Golf Château-Bromont is the perfect place to host the most prestigious amateur and professional championships. For more information, please visit
https://chateaubromont.com/golf-chateau-bromont/
.