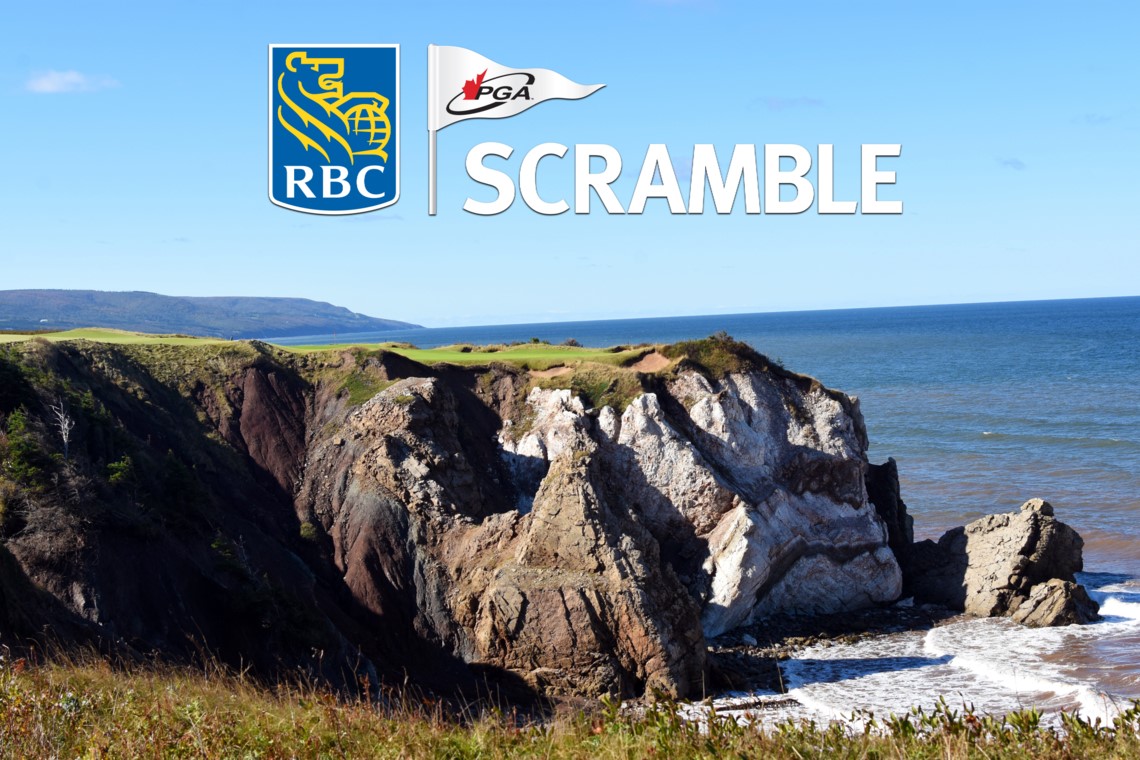 Golf Paradise Awaits at the RBC PGA Scramble National Final
By Jason Logan, SCOREGolf
Read the story here at ScoreGolf.com
INVERNESS, Nova Scotia -- When you drive to Cabot Cape Breton from mainland Nova Scotia, a journey taking you across the rock-filled Canso Causeway that recently proved resilient in the face of Hurricane Fiona, you first get a glimpse of the reason you came as you crest a hill after Highway 19 becomes Central Avenue entering Inverness.
You glance to your left and see MacIsaac's Pond and the Inverness Harbour, filled with bobbing boats and backed by the blue expanse of the Northumberland Strait. And then, pin flags flapping in the ocean breeze. A first-timer might miss them; a returnee will recognize this as a beacon of what's to come.
You drive north through town slowly, past the Company House, the Coal Miner's Café and the Co-op Country Store. You turn left just past River Street but before the driveway for Whit's Public House, into the parking lot of Canada's best golf resort, with its two courses ranked among the country's top five.
You won't have been wowed yet, however; you're still blocked from all the splendour by the rear side of Cabot's sleek lodging. But then you wander through a gap between the pro shop and the superb Panorama Restaurant and discover the tantalizing terrain of Cabot Links. Fescue both green and gold, the brown of the bunkers and that blue of the ocean. The tight turf right at your feet and the 18th green so close you can't believe it. Your golfing eyes will have never been wider and you haven't yet seen Cabot Cliffs.
This is the scenario that played out Saturday for the participants in the national final of the RBC PGA Scramble. From Vancouver to Prince Edward Island, 20 teams comprised of four amateurs and one PGA of Canada professional arrived at this golf utopia to vie for a national title over two rounds on Links and one on Cliffs. They arrived after surviving two qualifiers and enjoying weeks of unbridled anticipation.
"Getting here is winning," said a smiling Brett McInnis, whose team from the Camrose, Alta., area qualified at Coal Creek Golf Resort southeast of Edmonton. "It's incredible. We walked into our hotel room and just looked out the patio and just saw this 18th hole and the ocean and it's just incredible. You don't get many views like this in Alberta."
Cabot Cape Breton has been hosting the RBC PGA Scramble's national final since 2017. Its participation, along with the sponsorship of RBC, has taken the event to another level. But while Cabot is the canvas on which all the action plays out, it's golfers from far and wide assembling here every year who truly make the event special.
Weekend warriors with a shot at a national crown.
"It was like Christmas Eve last night getting ready to board our plane," said Aaron Heck, a bulk fuel salesman from Lacombe, Alta. "It was a long day of travel, but well worth it. The weather is good and the course looks immaculate and any time you can play scramble golf in tournament play at a world-class golf course like this, you take advantage of it."
Equity is also at the heart of this tournament. Teams require a combined Golf Canada handicap factor of at least 32 to participate. That means this isn't a competition where the best golfers are favoured to win. That means the 23-handicap is every bit as valuable as the 2-handicap. That means that the hero by the event's end may be someone who can't drive the ball farther than 220 yards.
"Honestly this event and this program is so refreshing and so much fun to be a part of," said Jeff Dykeman, the PGA of Canada's chief business officer. "Seeing the joy of these amateur golfers competing in a national championship with the PGA professional from their home club is a sight to see. It's an event that anybody can play in, and anybody can win, and to host it at Cabot Cape Breton is icing on the cake."
The real action will begin here Sunday with the first round, though the revelry gets underway Saturday night with a shootout on Cabot's 10-hole par-3 course, The Nest, under floodlights. There will be drink and food and friendships found. Memories made and timeless tales told again and again.
And by Tuesday, five people will become national golf champions. Although for most of the folks here, the real prize is in the party.
"Definitely here to have a good time," said Stephen Green, a native Nova Scotian and assistant pro at Whitetail Golf Club in Eganville, Ont., who qualified alongside four Montrealers at the Marshes GC in Kanata. "I know the boys are excited, a little bit nervous. I think this is the biggest tournament they've ever played in, so we're really looking forward to it and if we can come out on top that's just an extra little drop in the basket."