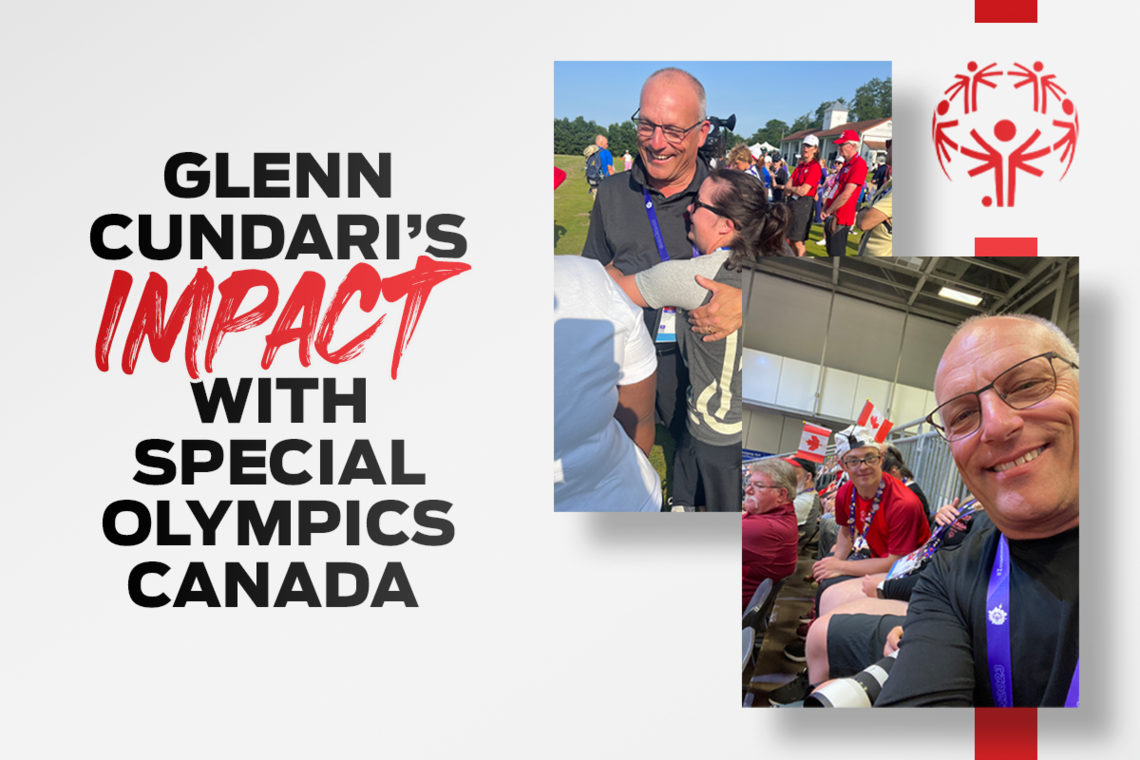 Glenn Cundari's half-decade involvement with Special Olympics Canada
By: Adam Stanley
Glenn Cundari, as a former President of the PGA of Canada and current Technical Director, has seen some pretty darn golf golfers in his time.
But his effort over the last five years as the head coach of the Special Olympics golf team for Canada has perhaps been the most rewarding time of his life.
Cundari has been coaching in his local program in North Bay for seven years and had the privilege of previously coaching Team Ontario athletes with physical and intellectual disabilities at Nationals. He's just wrapped up his second Special Olympics World Games as coaching lead. The 2023 edition took place in Berlin, Germany, with Canada winning more than a half-dozen medals in golf. The Special Olympics World Games featured 7,000 athletes from 190 countries.
"It is the pure definition of courage," Cundari said about what impressed him the most about the athletes at the Special Olympics. "We all know how much courage and stress competing in golf can take and create. Athletes with intellectual disabilities are often stared at in the community. They're teased or poorly supported through healthcare services, social infrastructures, as well as other programming in many parts of their life. So, for them to put themselves out there and compete in golf with hundreds of spectators at Nationals and the World Games is the most inspirational part to me."
Cundari said the biggest joy he gets as the coach of these athletes is seeing how hard they all work. If generic athletes could take a page out of the Special Olympic athletes' commitment in training, devotion to their sport, and their openness to coaching, Cundari said, they could learn lots. Like all coaches, Cundari enjoys watching the athletes play well, but that doesn't come close to the joy he gets from supporting and observing the athletes going through the process as they try to get better.
"I have always believed while we are always trying to instill life skills in their sporting experience, Special Olympians in Canada are athletes first – so we need to continue to push them to strive to do more than they think they can," Cundari said. "That 'grind' that they put in gives me great joy as a coach and as a person."
Canada's contingent for the recent Special Olympics World Games was 89 strong, and Cundari said many Special Olympics athletes are incredibly close with their fellow athletes. Attending golf, bowling, basketball, or any other sport isn't just a night out, but it's a night to see their friends. It's another exciting thing for a coach to see – the Special Olympics are an important part of each of these athletes' day-to-day lives, not just their sporting lives.
Part of the reason why Cundari has found such personal and professional happiness while overseeing these athletes' successes is the true excitement they have for their fellow competitors. Maybe it's a bocce athlete from Germany being supportive of a golf athlete from Canada and vice versa. Plug in whatever sport and region you want, Cundari said, and you'll see the same sort of support and love.
"When athletes hug at the end of a competition, it is one of the most genuine hugs you'll ever see," said Cundari. "It's quite amazing. And it should be aspirational for all of us."
While Cundari has been involved with the Special Olympics for a half-decade now, there's no sign of him slowing down. The extra motivation he has working with these athletes have ignited a flame that continues to burn bright year after year.
And now, he said, he's hoping these athletes continue on their own excitable path as their lives go on.
"I hope they continue to push boundaries in their sport and personal life," Cundari said about the future for these athletes. "I hope they face the daily challenges with the same courage and curiosity they approach sport with."
It's a lesson we could all learn.