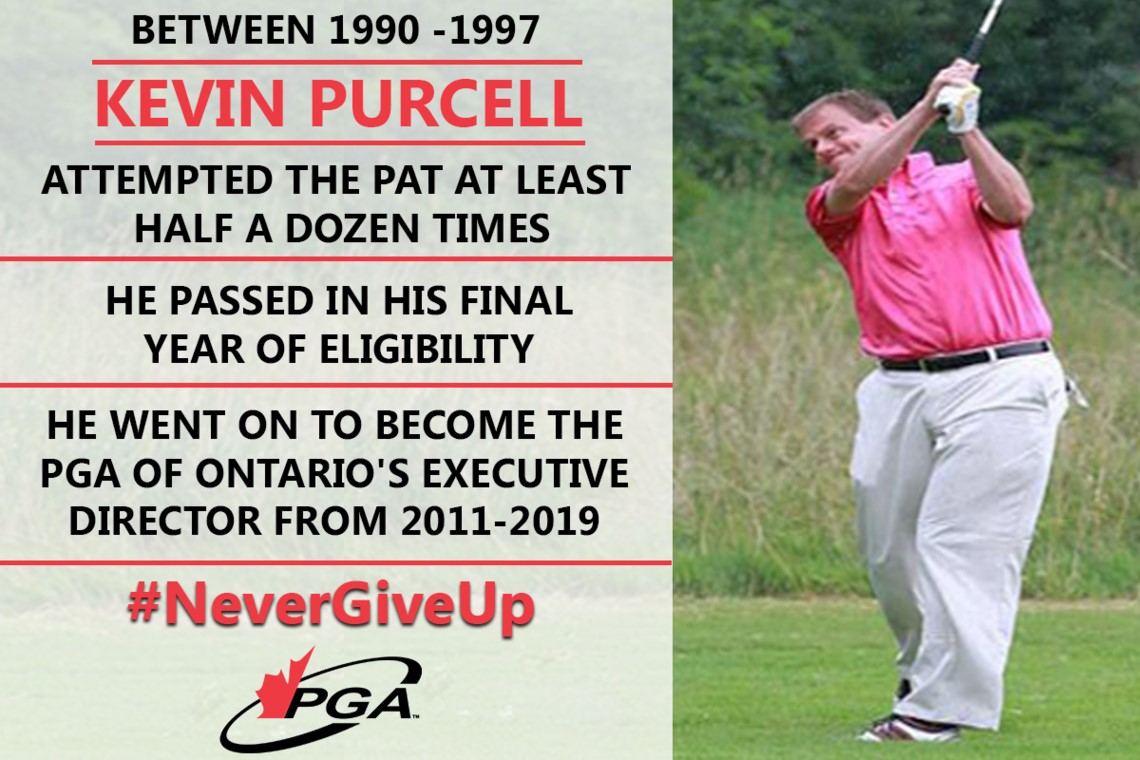 Former PGA of Ontario Executive Director Kevin Purcell's long road through the PAT process
By: Lara Kuipers
Kevin Purcell fell in love with golf as a teenager in Nova Scotia.
Though he grew up playing competitive hockey and baseball, when he was 15-years-old, Purcell discovered a passion for golf. Living near a course, he used to collect lost golf balls to sell, but the ones he couldn't sell he used to practice with his father's clubs in the yard.
In time, he was sponsored by a friend's parents as a junior member at their club. It was there that Purcell got his first job in golf, as a starter at the course.
After graduating high school, he made his way to Saint Mary's University where he majored in business administration with a plan to become a schoolteacher.
But by the time he graduated, Purcell had instead decided to combine his love for teaching with his love for golf by aiming to become a golf professional.
To do this, among other requirements, Purcell would have to pass the PGA of Canada's Playing Ability Test (PAT).
The PAT is still a requirement to become a PGA of Canada professional today, although it consists of just one round instead of two, which was the case in the past. Players know the score they need to shoot to become a professional heading into the event. Depending on course difficulty, the required score for the 36-hole PATs were generally somewhere between 150-160.
According to Purcell, at the time, he would have seven years to complete the PAT. If he didn't succeed, he would have to start the entire process over.
He first attempted the PAT in 1990. He had just come out of a successful competitive junior golf career and as a result, said he didn't pay much attention to preparing for the test.
"I could've shot the number, honestly, in my sleep," Purcell said.
But he didn't pass. A year later, he moved to Ontario to take his first job as an assistant professional. However, he lacked the required credentials to teach golf or officially be a PGA of Canada member.
As work and life slowly took over, Purcell found himself golfing less and less, and finding it increasingly difficult to pass the test. Over the course of those seven years, Purcell believes he attempted the PAT at least half a dozen times.
Each time he came close – but never quite close enough – he would get back in his car for the two-and-a-half-hour drive back from the course in Guelph to his club in Sarnia, where he knew the members would be waiting to ask him how it had gone this time.
"It was absolutely agonizing," Purcell said.
And unfortunately, it wouldn't get any easier. In his sixth year, Purcell was in a major car accident that shattered his left ankle. Not only was he unable to attempt the test for an entire year – he was unable to golf at all.
By the time he recovered and was able to take the test again – he was in his final year of eligibility. If he passed – he'd be a PGA of Canada member. A dream, seven years in the making. If he failed – he'd have to start it all over.
"I was looking at the previous seven years of my life really meaning nothing," Purcell said.
He was already looking into schools with golf management programs to get the course credits he'd need to re-start the entire process of becoming a PGA of Canada member.
In September of 1997, Purcell arrived at the golf course for his final PAT. His target score was 152. After a year of being unable to play golf, Purcell said he hadn't shot 152 over 36 holes at his home course all season. Now, he had to do it with the pressure of the past seven years on his shoulders.
During the first round, he recalls a crucial moment on the ninth hole. He was just one or two over par at that point. Purcell described the ninth hole as a big dogleg right and he hit his tee-shot way left.
"I thought, 'ok here we go again – this is just like every other attempt'," said Purcell, unsure if he'd even find his ball, let alone be able to play it.
But it was playable. Purcell hit the ball out of the fescue, towards the green. After his approach, he made a long putt for birdie.
It was the beginning of a change of perspective. He was beginning to have hope.
He birdied the next hole and ultimately shot 76. Passing the test was still a possibility.
By the time he arrived at the 18th hole during the second round – passing the PAT was in his sights.
He recalls walking up to the tee, ready to take his shot on the tree-lined hole, a three-wood in his hand.
But before he could hit his shot, a caddie in the group stopped him.
"What are you thinking?" Purcell recalls him saying.
The caddie explained to Purcell that the three wood was a risky shot; a risk Purcell didn't need to take.
"He said, 'you know, if you hit this in the woods, you bring six, seven, eight, into play,'" said Purcell.
Instead of hitting the three wood, Purcell elected to hit a safe shot down the middle of the fairway with a different club, where he then laid up and bogeyed the hole. With that, he'd shot 73.
He'd finally done it. He'd passed the PAT with a 149.
He signed his card, and like all the attempts before, Purcell made his way back to his car. Except this time, instead of immediately driving home dreading the incoming questions from members, he simply reclined the driver's seat and cried tears of relief.
"It was – I didn't realize, I think, until that point – how emotionally draining the experience was. I was emotionally spent," said Purcell.
After a few moments, he gathered himself enough to call his parents back in Nova Scotia and cried again.
Since then, Purcell has had a long career working in the golf industry at courses throughout Canada and eventually becoming the executive director of the PGA of Ontario in 2011, a position he held until 2019.
In a full-circle moment, Purcell found himself back at the PAT. Except this time, he was on the other side; Instead of taking it, he was a part of the process itself.
He'd watch as heartbroken players who'd failed the test would have to go through the same disappointment and frustration that he'd gone through years earlier.
So, he'd tell them the story about a guy who took seven years to pass the test, but eventually did.
It's been nearly 25 years since Purcell sunk the final putt to pass the PAT – and he now works as the director of North American sales at Event Caddy, but he still takes that never-give-up mentality with him.
Because for Purcell it was never about if he passed the PAT, it was always just about when.
To see the 2021 PAT schedule, click here.