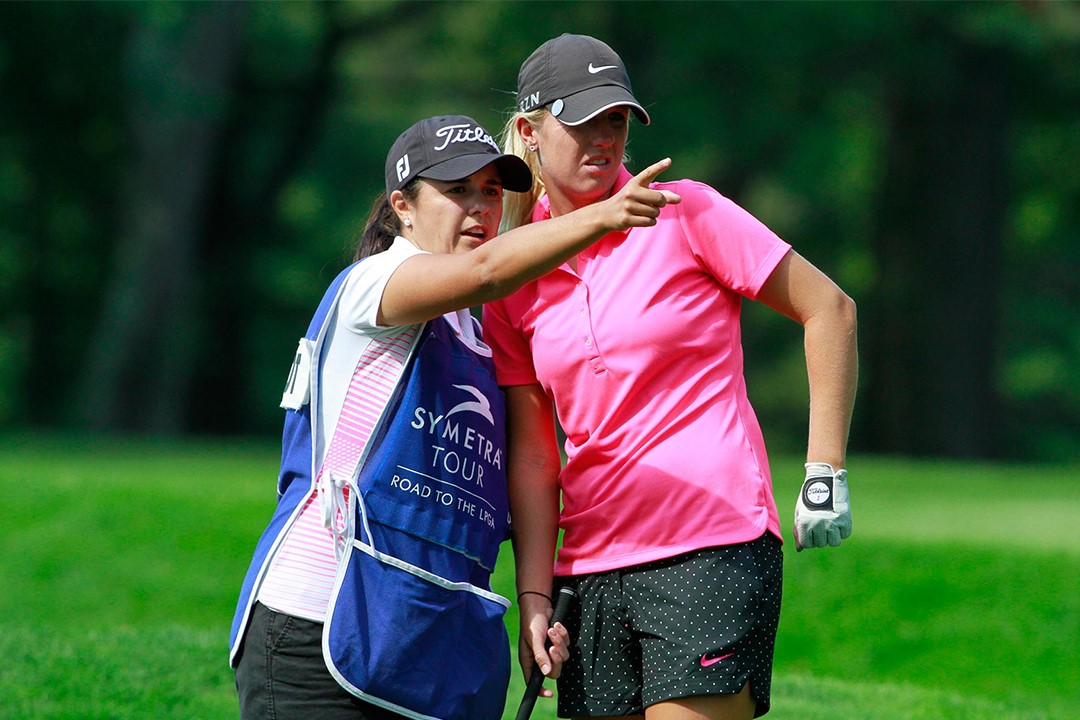 Emma de Groot Growing the Game in Canada after Hall-of-Fame collegiate career
By: Lara Kuipers
Emma de Groot's interest in golf started with the cart.
While she would hit a few shots when her family played few holes, it was driving the cart and the post-round milkshake that first drove her passion.
"As a kid, being able to drive a car is pretty cool, in my mind," said de Groot.
As she got a little older, that passion evolved. Soon enough her intrigue in the sport was based on the opportunity to beat her brothers at the game. She took a few group lessons after school, which soon turned to private lessons and eventually a career in golf that's taken de Groot across the world.
Raised in New South Wales, Australia, de Groot started playing golf when she was 13-years old, competing with her state team growing up. Initially, de Groot's mind wasn't on scholarships or going to the United States to play collegiate golf.
It wasn't until someone from the same town who'd done exactly that recommended the idea to her.
"He said, 'you know, it's one of those things that if you don't like it, you can always come home,'" said de Groot.
She ultimately took the risk and attended the University of Tennessee at Chattanooga (UTC) to be a part of the school's first women's golf team since the 1980's. She played four seasons at the school between 2007 and 2011, paving the way for future women in the program.
Despite it being a decade since she last played university golf, de Groot's school records read like a Costco grocery list. She holds the school record for most career wins (6) and lowest career scoring average (74.54). She notched 20 career top-5 finishes, was named to the All-Southern Conference team all four years, and, in her senior year, was named the Southern Conference Player of the Year for women's golf.
"I just had a fantastic team around me," de Groot said about her time at UTC. "I loved the girls that were on the golf team."
A particular moment that stands out from her time in university was her fifth-career win during her junior season.
At the SunTrust Gator Women's Golf Invitational in Florida, de Groot shot a final-round 68 to force a playoff against Laura Kueny from Michigan State.
After de Groot sunk a long putt for par on the first hole to extend the playoff and both made easy pars on the second, the player would arrive at what would be their final hole – a par three.
Kueny teed off first, hitting it into the water in front of the green.
de Groot was up next and landed her ball safely on the green. From there, she made a simple two-putt for par to secure the win.
And while the win itself was exciting, what really stuck out for de Groot was being able to have her family – her mother, her aunt and her grandmother – over from Australia in attendance to watch her win in person.
"It was probably the first big event that I had won in terms of it being at a really big school and competing against a lot of other really good division one schools," said de Groot. "And to be able to do it in front of my family was a pretty cool thing, considering that they live on the total opposite side of the world."
As a result of her impressive collegiate pedigree, de Groot was the first woman golfer to be inducted into the UTC Athletics Hall of Fame's women's golf category in 2019.
The year after graduating, de Groot decided to turn professional. Playing on the Symetra Tour from 2012-2017, de Groot managed five career top-10 finishes before ultimately retiring.
She took a small break from golf and moved to Canada, where she decided to take a job as an assistant golf professional at the Hamilton Golf and Country Club, where she'd be able to teach the sport, citing it as the "natural next step."
During her time competing, de Groot says she learned a lot about the golf swing, how the body works and how different golf clubs react to different swings, which has helped with her transition to teaching.
"It's just information that you don't necessarily study, but through playing all the time and being around the sport all the time you develop a pretty good knowledge," said de Groot, who was also named to the PGA of Canada's 17-person diversity and inclusion task force in July of 2020.
She'd spend three seasons working at the Hamilton Golf and Country Club – which notably hosted the most recent RBC Canadian Open in 2019 – before taking a new opportunity at Modern Golf.
On Mar. 8, de Groot was announced as the director of women's development for the company as it commits to creating a thriving women's golf community across Canada.
The chance to put a larger focus on teaching and growing the women's game is what drove de Groot to take the job.
The new role gives her the opportunity to create clinics and programs where women can get equipped with the tools to play golf – something that can be intimidating for women who don't already play, according to de Groot.
de Groot hopes this role at Modern Golf will help grow the number of women who pick up the game and the number that continue playing for life. However, she said that it's rewarding from both ends.
"It kind of has a benefit for me, in that it's a passion area and something that I enjoy doing," said de Groot. "And hopefully I can help leave the game in a better place than where I found it."