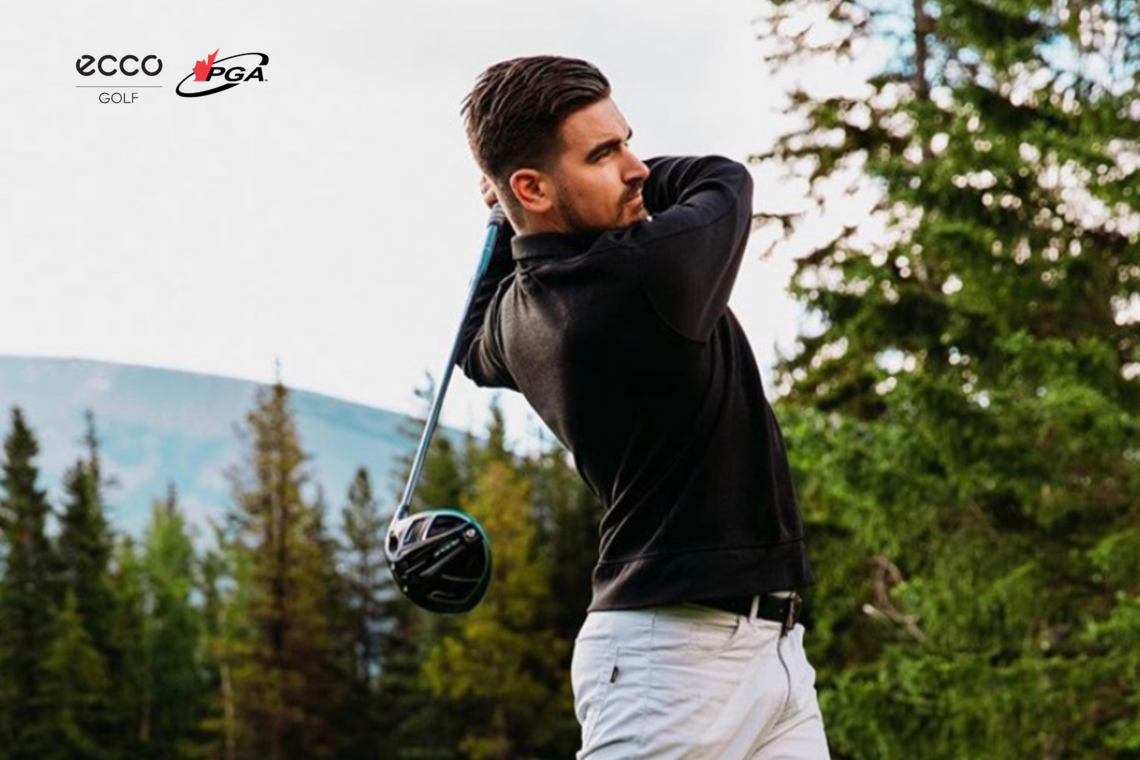 Thanks For Stepping Up | Michael Nutt
This article is part of the PGA of Canada's #ThanksForSteppingUp recognition campaign conducted in partnership with ECCO. Members were asked to nominate a fellow professional for going above and beyond this season for the chance to win 1 of 18 pairs of ECCO shoes. Over 250 nominations detailing how PGA of Canada members 'stepped up' to the challenges of 2020 were received over a two-week period.
By Jason Logan
Bob Paley is a big fan of assigning nicknames. It's a practice that stems from a lifetime of playing team sports and the strong sense of belonging he always felt when bestowed a special handle. The longtime PGA of Canada professional believes nicknames help foster a family culture at Kananaskis Country Golf Course, the bustling 36-hole club that's seen the lowest of lows and the highest of highs in recent years.
But Paley doesn't tag staff members haphazardly. He is patient and observant. Only when he truly knows and understands someone does the club's head professional determine one's designation. It's how Kananaskis employees over the years have come to be named after Olympic athletes, famous cartoon characters and squirrels. Yep, squirrels. In the case of current assistant pro Michael Nutt, it was breakfast cereal.
Nutt relates the story: "We were doing demo clubs or rentals or something like that and Bob turns to me and goes, 'Yo, Mikey.' And then he goes, 'Wait, that's it!' And I said, 'My nickname is Mikey?' And he says, 'No, it's Life.' I have no idea where this is going so we go to his office and he shows me a Life brand cereal commercial from 1984 or something like that. And the kid is giving him the cereal saying, 'Give it to Mikey, he'll eat anything,' and then they're like, 'Mikey likes it!'"
Forgive Nutt for misquoting the ad. He wasn't yet born when the kid who hated every food but Life cereal became a cultural phenomenon. On the other hand, give Paley credit for nailing the nickname. As it would turn out in 2020, a year like no other, Nutt devoted his entire existence to his job.
It was an auspicious start to the season, however. In March, the Ingersoll, Ont., native flew home to drive to Boston with buds for a friend's bachelor weekend. They had box seats to a Bruins-Leafs game and tickets to a St. Patrick's Day Dropkick Murphys concert — the boys were set to do Beantown right. But by the second day of their trip — March 14 — they were shipping out, rather than shipping up, to Boston. The sudden surge in North American COVID-19 cases cancelled the hockey game and had the Canadian government calling citizens home. Nutt and his crew set sail for the border, completing mandatory isolations upon arriving back in Ontario. It would be a prolonged stay for Nutt, at both his parents' and sister's houses, given the uncertainty of the world. He connected with his Kananaskis teammates via twice-weekly Zoom calls as they prepared for an unknown start date. When he finally made it back to Alberta six weeks later he was itching to get going.
"The words he uttered to me were, 'I've just spent six weeks cooped up in my parents' house. Put me to work, I'm dying to work," said Mike Matuch, associate professional at Kananaskis Country, who nominated Nutt for the PGA's ECCO #ThanksForSteppingUp campaign.
And work he did. Nutt, who joined Kananaskis in 2019, was a rock star, stepping into responsibilities he'd not been given before. Matuch says the 25-year-old Nutt flourished in leading the club's 24-member ambassador team — greeters, starters and marshals — that's comprised chiefly of retirees. Their protocols were reimagined in the spring due to COVID-19 and remained fluid throughout the summer as government messaging changed. Nutt volunteered for closing shifts to handle the more difficult cash-outs; he led instruction clinics; and he played a key role in preparing the shop and executing best practises. He did much of it in pain, too, after suffering a hairline fracture and tendon tear in his foot when he fell running to get his car to drive a fellow staff member home. Crutches, a walking boot, some medication and Nutt was back at it — a tough one to crack, he is.
"He didn't miss one day of work, he didn't complain once about still going strong on the close shifts or the long September hours once our students left. I couldn't imagine where we would have been without Michael this year," stated Matuch.
For Nutt, who admits to previously being hard on himself on the course while playing as many games as he could per year, it was all due to a mentality change.
"I've always been so proactive with golf. Always wanted to play golf. And this year was more, I really have to focus on work and step up. Because this was a step-up year in all honesty with COVID," he explained. "We didn't know what was going to happen on a day-to-day basis. I looked at my priorities and said I'm just going to focus on work and bring Kananaskis to a point where it should be. It always is, and Kananaskis has that name, but I can honestly remember just wanting to work seven days a week and loving every minute of it."
As for being nominated by his fellow professional and peer, Nutt was elated upon hearing the news.
"Honestly it feels really good to be recognized after this year," he said. "It was a pretty ridiculous year and craziness and everything it brought with it so just to be recognized after a year like that, it's pretty special to me."
In other words, Mikey likes it. And Kananaskis Country loves having Life on board.