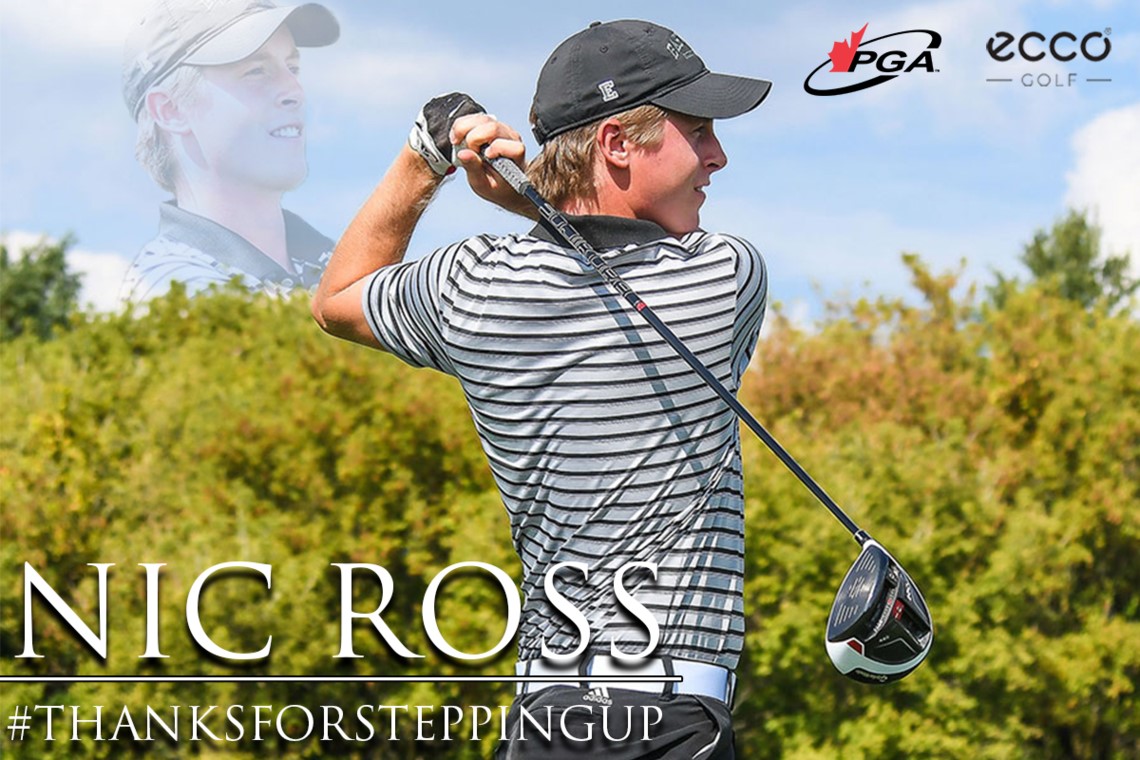 Ecco thanks Nic Ross for Stepping Up in 2021, running Oak Gables while his brother recovered from Covid-19
By: Adam Stanley
Nicholas Ross and his family have been part of the Ontario golf scene for decades. His father, Stephen Ross, is in the Canadian Golf Hall of Fame. He and his brothers – Andrew and Christopher – all played golf at the NCAA level and were celebrated amateurs.
But the family's biggest challenge came last year when Andrew Ross – who had recently taken over the lease of Oak Gables Golf Club from his father – caught COVID-19 and was admitted to the hospital. He spent nine days in the ICU and was in a medically induced coma for six.
Andrew Ross, 38, had a multi-month recovery and will be just fine. But Nicholas Ross had a job to do.
There was a golf course to run.
"Once my quarantine ended and (we knew my brother) was going to make a recovery… we thought, 'OK'. I got in touch with our superintendent and chef and said, 'As soon as quarantine ends we're going to open up the golf course," says Ross. "Let's make (Andrew) some money. Let's give him something to look forward to, and know things are under control.
"You kind of forget the number of hours you actually worked, because you're working for a different purpose," Ross added.
The youngest Ross says Oak Gables – located near Ancaster – had its simulators going through wintertime between 2020-2021, but come mid-March, a few of the staff got COVID-19, including Andrew.
The weather in that part of Ontario, however, was inching closer to spring-like. For the duration of Ross' quarantine – and while he waited for his parents to return from Florida, pass a PCR test, and begin their own quarantine – some courses in the area had opened already.
"When you work at a family/public golf course like us, you're expected to open when the weather gets nice," he says. "The snow melted and five days later everyone is calling us asking if we were open."
Ross says they spent a year not knowing anyone who had contracted COVID-19, and then it quite literally hit home. The Coronavirus pandemic was "a reality" at that point.
He rallied a friend, Ryan (no staff were available to help open the course since the seasonal workers were still in school), who was on his way to work another job, to stay back at the course for an extra month. When the course opened it was just Ross, Ryan, the superintendent, and the chef working full days.
And then, a blessing in disguise. The provincial government shut down golf courses in Ontario as part of new lockdown measures. Oak Gables, along with every other course in the province, had to close.
"We didn't want to be locked down, but I don't know if golf courses were fully ready," says Ross. "(The second lock down) was a bit of a blessing. We could fully ramp up and we had that month off. It was a long time, but we got all three nines open, our range open, we were cutting the greens properly and were aerating. All the beginning of the year things we didn't have time to do."
Now, Ross says, things are feeling normal again. Restrictions across the province are reducing and his brother is back in action. The younger Ross earned recognition in the #ThanksForSteppingUp campaign in partnership with ECCO, and he's now eager for a solid 2022.
"We're ready to go," says Ross. "It's nice having my brother back at full strength. And we've got another good PGA of Canada pro coming in. He grew up here, so we have a strong core of staff ready to get going and have another good year."