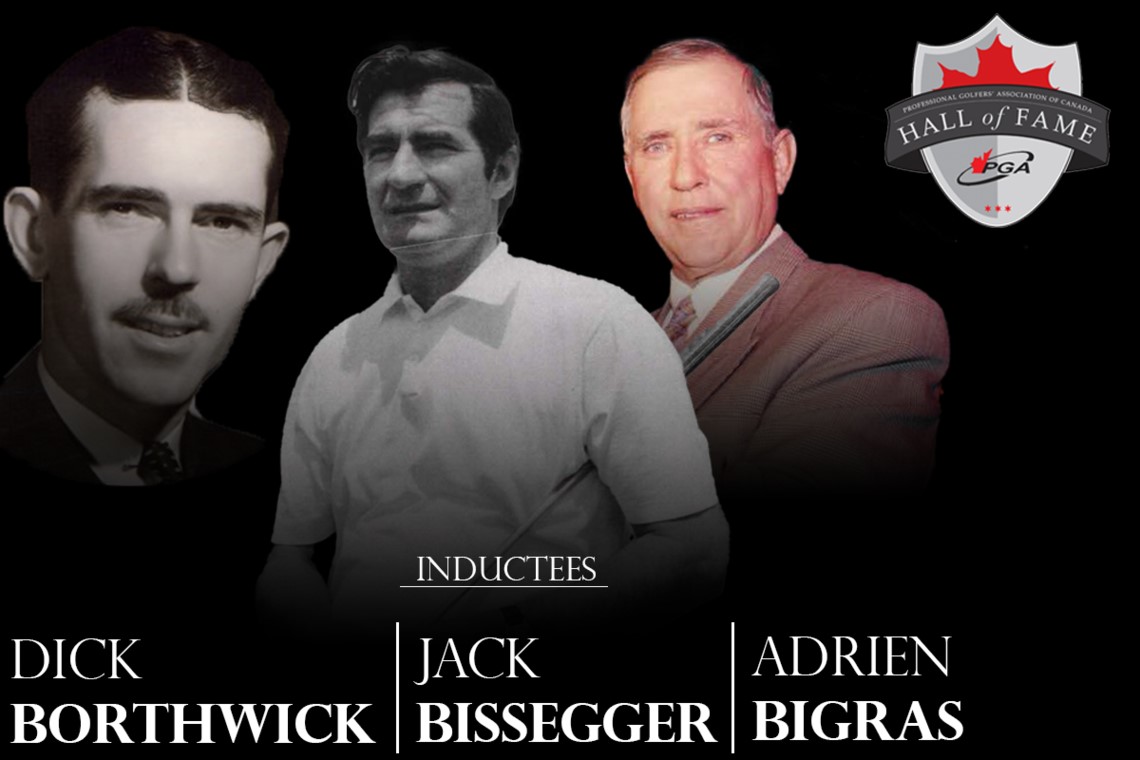 Dick Borthwick, Jack Bissegger and Adrien Bigras to be inducted into PGA of Canada Hall of Fame Thursday during Canada Night
The PGA of Canada is pleased to induct three long-serving members into the Hall of Fame this Thursday during Canada Night at the PGA Merchandise Show in Orlando, Florida.
Dick Borthwick, Jack Bissegger, and Adrien Bigras were all PGA of Canada members for over 50 years, growing the sport through most of the 21st century. The three individuals are being inducted posthumously.
"Dick, Jack and Adrien exuberated a deep passion for golf and we are very excited to honour them with well-deserved spots in our Hall of Fame," said PGA of Canada President Gord Percy. "Each of these three men worked throughout their entire lives to grow the game. The association is revered today because of the efforts of members like Dick, Jack and Adrien."
The Hall of Fame, launched in January 2014 as part of Canada Night at the PGA Merchandise Show, celebrates PGA of Canada members—both past and present. In total, there are 46 individuals honoured with a spot in the Hall of Fame.
More information about our inductees:
Dick Borthwick
Dick was a PGA of Canada member from 1927 to 1978 and engaged in many philanthropic efforts throughout his career, which included stints at some of the top golf clubs in Ontario, including Oakdale and Hamilton Golf and Country Club. In addition, he was the PGA of Canada's president from 1960 to 1961.
Beginning in 1971, the Dick Borthwick Memorial Charity Golf Tournament is still conducted annually and just celebrated its 50th anniversary. The event has been so successful that it has raised 3-Million Dollars for local Hamilton charities.
Dick's son, Bob, is attending Canada Night to accept the honour.
Jack Bissegger
Jack was a member of the association for 57 years, with over 40 of those years spent at Club de Golf La Vallée du Richelieu. He was also a member of the PGA of Quebec Board of Directors for nine years.
Jack always had time for juniors learning the game, running a summer camp for two months each summer. Despite how busy he was at the club, the Golf Quebec Hall of Fame member maintained quite the golf game, winning more than 75 events in his life.
One of Jack's sons, Thomas, is attending Canada Night to accept the honour.
Adrien Bigras
Adrien, who is a member of both the Quebec Golf Hall of Fame and the Quebec Sports Hall of Fame, was a PGA of Canada member for 59 years, serving as an Assistant Professional at the Cardinal Golf Club and at Golf Malborough, before he became Head Professional for eleven years at the Rosemère Golf Club. Later on, his dream came true, and he became owner of the Manoir Golf Club.
Adrien was always helpful and ready to attend fundraising events, which could be counted by the hundreds. All through his career, Adrien preserved a certain nobility and prestige that was remarkable.
Over the years, his achievements include six victories at the Spring Open, seven at the Québec Senior Championship, twelve participations in the Canadian Open, and a victory at the 1965 Québec Open. He also participated in the 1962 US Open in Oakmont, PA, for which he had qualified with the lowest score ahead of 2,000 competitors.
One of Adrien's long-time colleagues, Gilles Gareau, is attending Canada Night to accept the honour.
Canada Night at the PGA Merchandise Show is set for:
Thursday, January 26 from 5-7 PM ET
Room W109A – Orange County Convention Center, West Concourse
Please CLICK HERE to RSVP if you are a PGA of Canada member. All other RSVPs and questions about Canada Night can be directed to Akash Patel at akash@pgaofcanada.com.