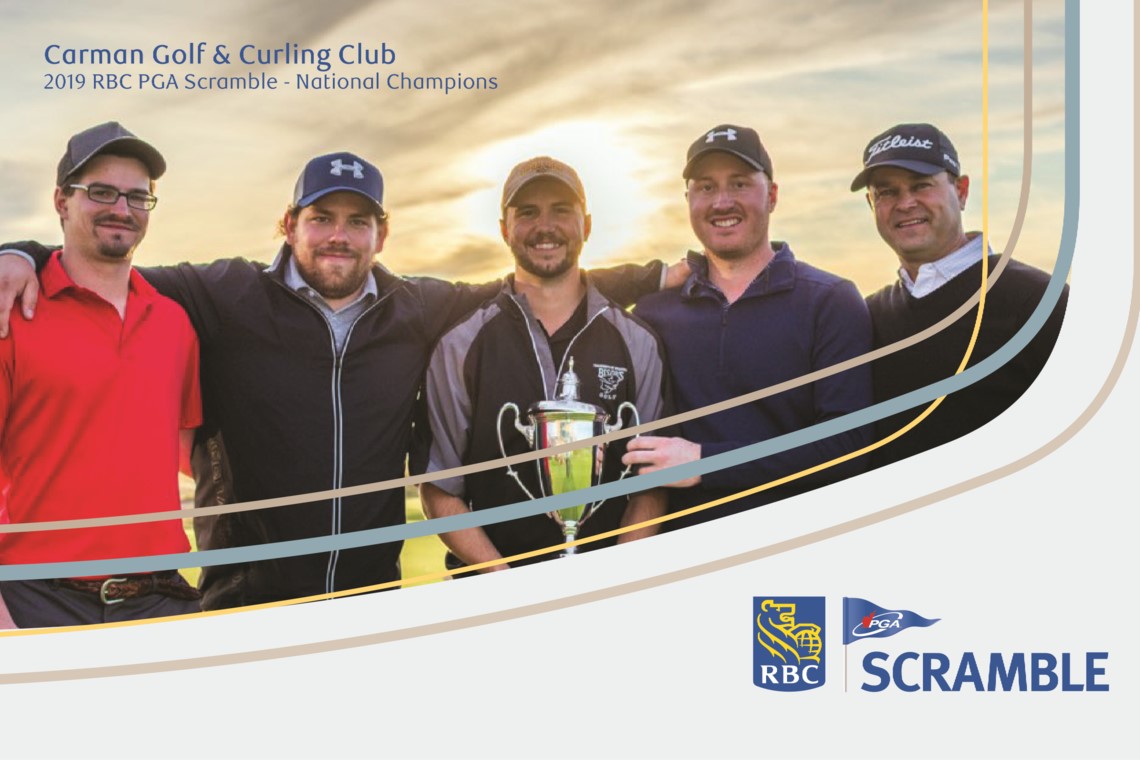 Dean North and Carman, Manitoba team continue to revel RBC PGA Scramble Glory
The registration deadline for clubs looking to host a RBC PGA Scramble local qualifier is March 31. Register here today.
By: Adam Stanley
The little town of Carman, Manitoba may only have a population of 3,000 - but five of its residents helped put it very squarely on Canada's golfing map after the team from Carman Golf & Curling Club captured the 2019 RBC PGA Scramble.
"We're a big farm community that happens to have a very nice golf course," says PGA of Canada professional Dean North.
North led Team Carman – consisting of Brett Maloney, Josh McCharles, Jared Aubin, and Bobby McNair – to victory at Cabot Links by 6.9 shots.
The team shot an amazing 59.4-under and led wire-to-wire.
Amazingly, the same group finished last at a local qualifying event in their province the year prior.
"We were just there to play golf and have fun," says North of the 2019 experience, "and then we were like, 'jeez, we are leading this thing.'"
To stay relaxed, North says the team played a game where they would guess how many balls they would lose during the round. They had more fun laughing whenever that happened versus when they made birdie putts.
The team, North says, was totally at ease – despite getting introduced by Canadian Golf Hall of Fame member and TSN golf analyst Bob Weeks on the first tee, hitting their shots in front of a plethora of PGA of Canada staffers and onlookers.
"When Bobby (McNair) put the team together, he just put together a team of friends. There's a carrot at the end, he thought, and he just wanted to do something with his buddies," says North.
North and his family have been synonymous with Carman golf for almost the entire history of the course – which celebrates its centennial in four years. He grew up in Carman and his parents were big golfers, his father was a scratch, and his mother was a single-digit handicap. One of his uncles is in the local Hall of Fame for golf, his brother was a golf pro, and his grandfather was a large contributor to the course.
North himself, now the General Manager at the club and PGA of Canada member since 1993, has won the Manitoba Player of the Year 12 times and was member of the Mackenzie Tour-PGA TOUR Canada for five seasons.
When he joined the guys for the regional qualifier, he couldn't help but think that they had a chance to win, given his playing pedigree at a local level. There was a chance, at least.
He laughs when asked if he thought the team could win nationally.
"When we got to the National Final, we weren't even there to win it, the win was just getting there," he says. "When we got to Cabot, everything afterwards was just gravy.
"The vibe over those four days… that was everything," he added.
The foursome from Carman are lifelong friends. McNair is the captain of the University of Manitoba's golf team and is a medical student. North says having someone like McNair, who is en route to becoming a doctor, is the kind of person the community wants to feel connected to. Thanks to the RBC Scramble, that connection exists.
"He's a wonderful kid. The Scramble… it's tied Bobby (McNair) to our community forever," says North.
McCharles is also a single-digit handicap and works as a heavy-equipment technician, while Aubin (whose grandfather was formerly president of the club) is just starting to partner with his father at Aubin Nurseries, a very successful local family business, and Maloney is an electrician in town.
That's the beauty of the RBC PGA Scramble – four regular people can have irregular celebrity status, if only for a short amount of time.
There were articles in the Winnipeg Free Press about the group along with the local weekly paper, The Valley Leader. The club hosted a celebration night for the group, and a picture remains in a prominent place in the pro shop.
"We had our moment of fame. It's died down now," says North, "but we still do get some notoriety sometimes when new people come into the pro shop and see that photo of us winning the National Final."
Not only did the team receive a local boost, but interest in the event skyrocketed in the community. The first year, North says, they had to ask around to try to get a couple more teams to even have the minimum amount to host a qualifier. Last year, North says, they had 26 teams, with 12 being from Carman.
"The chances of us winning the national championship again are zero," North says with a big laugh, "but everyone thinks because we did it once we can do it again."
Regardless of what ends up happening in the future with Team Carman, one thing is for sure – The RBC PGA Scramble prompted one of the most special experiences that any of them have had.
None of them had ever even been to Nova Scotia before, let alone Cabot – the host of the National Final in 2019 – but they left with the trophy and some great memories.
"These four buddies included me as one of them in their circle of friends," says North, "and we're going to share this victory forever."
If your course is interested in hosting an RBC PGA Scramble Local Qualifier, register here: https://rbcpgascramble.com/local-qualifiers/