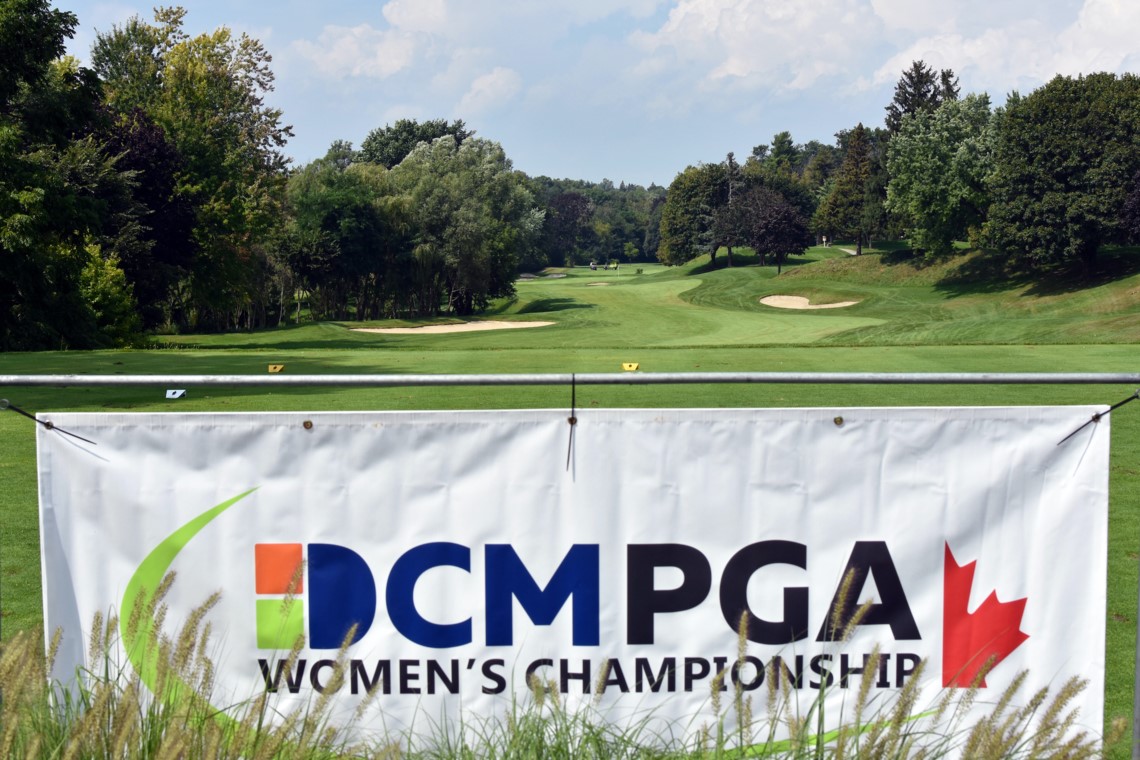 DCM and the PGA of Canada announce seven recipients of 2021-22 DCM Power Up Bursaries
The PGA of Canada and partner DCM are extremely excited to announce the recipients of the 2021-22 DCM Power Up Bursaries.
The program, which launched in 2018 with five recipients and expanded to seven beginning in 2019, provides financial and professional support to female professional golfers pursuing the sport at the highest level.
This year's recipients are:
Casey MacNeil – Sudbury, ON
MacNeil, a 26-year-old apprentice professional from Timberwolf Golf Academy, competed at Chicago State University until 2016. A day prior to the first round of LPGA Q-School in 2019, MacNeil's car was struck by a driver running a red light. Though she wasn't seriously injured, the crash forced her to withdraw from Q-School.
Diana McDonald – Kingston, ON
McDonald played four seasons at Wingate University, where she was named the South Atlantic Conference Player of the Year in 2017-18 before transferring to Eastern Kentucky University this past year for her final collegiate season. McDonald wrapped up her final NCAA season with four top-10 finishes and a 74.67 stroke average.
Josée Doyon – Saint-Georges, QC
Competing at Kent State University from 2012-2016, Doyon had a stellar collegiate career, being named the MAC Golfer of the Year in 2015 after winning three individual NCAA titles, followed by a win at the Quebec Provincial Amateur. Doyon became a member of the Golf Canada National Team in 2016 and is currently competing on the Symetra Tour.
Kate Johnston – Ayr, ON
Johnston, who recently completed her senior season with the University of British Columbia Thunderbirds, had an excellent amateur career prior to turning professional, collecting an individual NAIA title in 2019 before qualifying for the US Amateur Championship later on that summer. Johnston competed in the DCM PGA Women's Championship of Canada in 2019 and placed T8.
Megan Osland – Kelowna, BC
Osland was a four-year letterwinner at San Jose State University from 2011-2015, collecting two victories, 11 top-10 finishes and 22 top-20 finishes prior to turning professional. As a professional, Osland has three titles to her name, with her most recent victory coming earlier this year at a National Women's Golf Association event in Florida. In addition, Osland has qualified for the US Women's Open twice.
Belinda Lin – Surrey, BC
Lin joined the Simon Fraser University golf team in 2015 and racked up eight top-10 finishes between then and 2017. In 2018, Lin placed 20th in the BC Women's Amateur prior to graduating university.
Jacklynn Miller – Bracebridge, ON
Miller, who grew up playing junior golf in North Bay, ON, competed on the Texas A&M golf team and became a PGA of Canada member in 2010. Miller was named the Alberta Female Player of the Year in 2013 and achieved Class "A" status in 2014, being recognized for her work a few years later in 2017 when she was named the PGA of Canada Class "A" Professional of the Year. Miller is currently the Head Golf Professional at South Muskoka Curling & Golf Club.
"Without the support from DCM there is no way we could go out there and do it," said Johnston, one of the seven recipients. "The financial support, along with the coaching that goes with it is so important; being able to go out and focus on golf and not have to worry about the other half of it is such a huge contribution."
In addition to $5,000, which is intended to be put towards entry fees for LPGA Tour Q-School or other tournament expenses, all recipients will receive apparel from adidas Golf Canada, personal branded marketing collateral from DCM, a financial education session from RBC and media and personal brand training with media personality Natasha Staniszewski.
The seven athletes were selected based on a set of guidelines and criteria created by the bursary committee. The committee included: adidas Golf Canada General Manager Lesley Hawkins, Media Personality Natasha Staniszewski, RBC Senior Vice President – Personal and Commercial Banking Kim Mason and DCM Vice Chairman Greg Cochrane.
"At adidas, our core belief is that "Through Sport we have the Power to Change Lives". The Power Up Bursary program provides a hand up to female golf professionals who are striving for more in both their professional lives and the greater golf community," said adidas Golf Canada GM Lesley Hawkins. "We are honoured to partner with these women as they aspire to new heights."
The final round of the DCM PGA Championship of Canada concludes on August 31. For more information on the DCM Power Up Bursaries, click here.