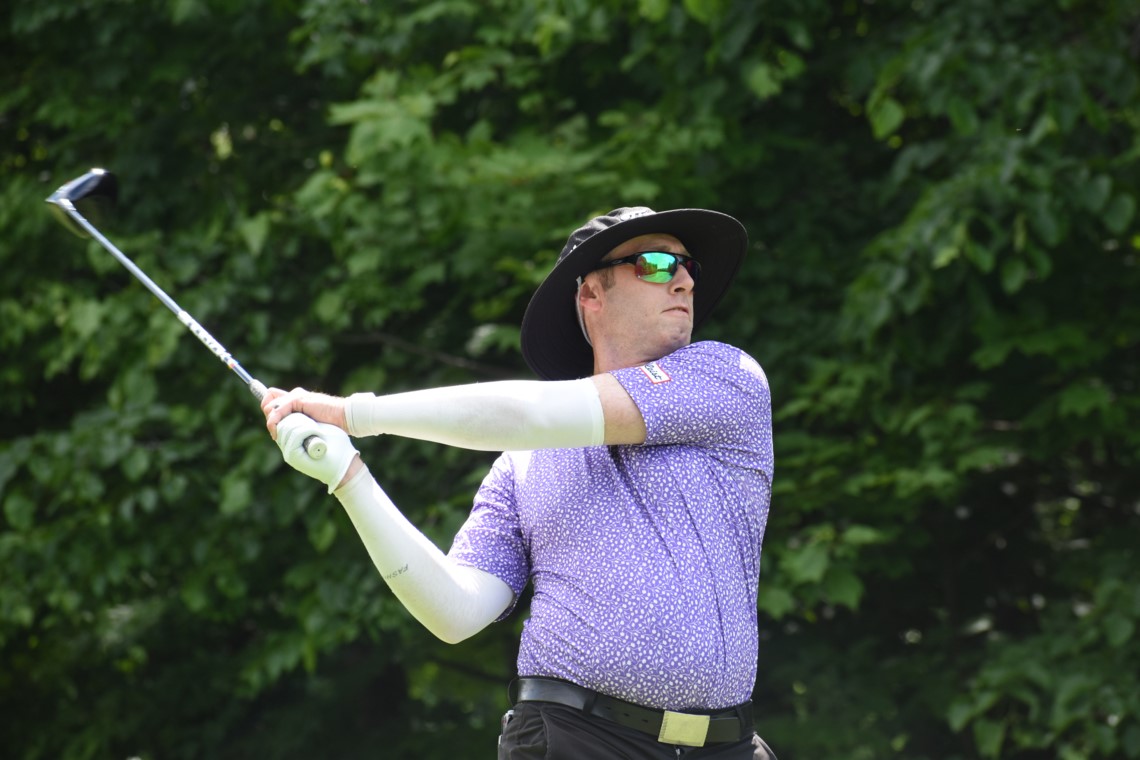 David Li Sheman storms ahead to four-stroke lead, sets competitive course record at Bigwin Island
Will Bigwin Island be the site of the biggest win of David Sheman's career? After setting a competitive course record on Tuesday with a 63, which included two front-nine eagles, the Aurora, Ontario teaching professional is well on his way, taking a four-stroke lead into the final round of the BetRegal PGA Championship of Canada.

Oh, what a difference 24 hours can make. Goretex rainsuits were left to dry on nearby cottage balconies as sunshine and receptive greens led to quite the scoring day on the Doug Carrick designed course on the Lake of Bays.

When Sheman sat on the water taxi this morning en-route to the island, him and his brother, who is caddying for him this week, had no idea they were mere hours away from a new course record.

"My brother is doing a really good job this week. After I made a bogey today on No. 10, he helped get me back in my rhythm and hit some of my best shots of the day on 11; hit a really good drive and 8-iron to two feet." said Sheman. "I'm definitely not complaining but I had lots of chances from 15 feet and burned some edges, but it was a great round of golf.

The Emerald Hills Golf Club professional's day couldn't have started much better, as he eagled No. 3 before making birdie on his next hole. On No. 7, Sheman took his brother's advice and took one less club into the gettable par-5, leading to the shot of the day on the hole and his second eagle of the day.

"I'm just managing my own game, I play my best when I focus on what I can do, I get in trouble when I worry about other guys," said Sheman, who won the PGA of Ontario's Zone Championship in 2022. "my goal is to play my own game and add them up at the end."

Eric Locke, G.W. King and Yohann Benson are in a three-way tie, four back of the lead heading into the final round. Benson and King both managed bogey-free rounds, while Locke recorded six birdies and a bogey.

As has been the case since the practice round, players have raved about Bigwin Island and its conditioning.

"I mean, this place is spectacular," said King. "It's a lot like the golf course I'm at (Georgia Bay Club); generous off the tee, conditions are always great, greens are rolling perfect. There aren't any excuses on our end."

"It's special here. Some of the views here, on 6 and 18, the wildlife, walking down 18 I laughed to my brother about how relaxed I was," said Sheman. "I'm a pretty nervous guy, I'm usually anxious at the best of times, so to be walking down the 18th hole in tournament golf feeling relaxed, the views were calming, and my brother said on 18 that it looks like a painting."

Each day of the championship, a hole will be deemed the 'NoSweat Hardest Hole of the Day." The player who records the low score on the hardest hole will earn an extra $150.

In total, eight players were able to conquer the eighth hole, which was deemed the NoSweat Hardest Hold of the Day, playing 432-yards and into the wind. After a random draw, 2021 PGA Head Professional Champion of Canada Nick Kenney was Tuesday's winner.

GolfForever has been on site all week at Bigwin Island, activating the brand's first-of-its kind Warmup Station. GolfForever will be giving away one of their training kits to the player that has the biggest bounce-back from the first round to the final round.

Thank you to Sam Kirkness, who participated in a walk-and-talk presented by CaddyTime on the eighth hole.

Photos will be available after each tournament round and available for download on our Flickr account, here.

As always, our team will keep you up to date on the action across our social media accounts: Facebook, Twitter and Instagram.