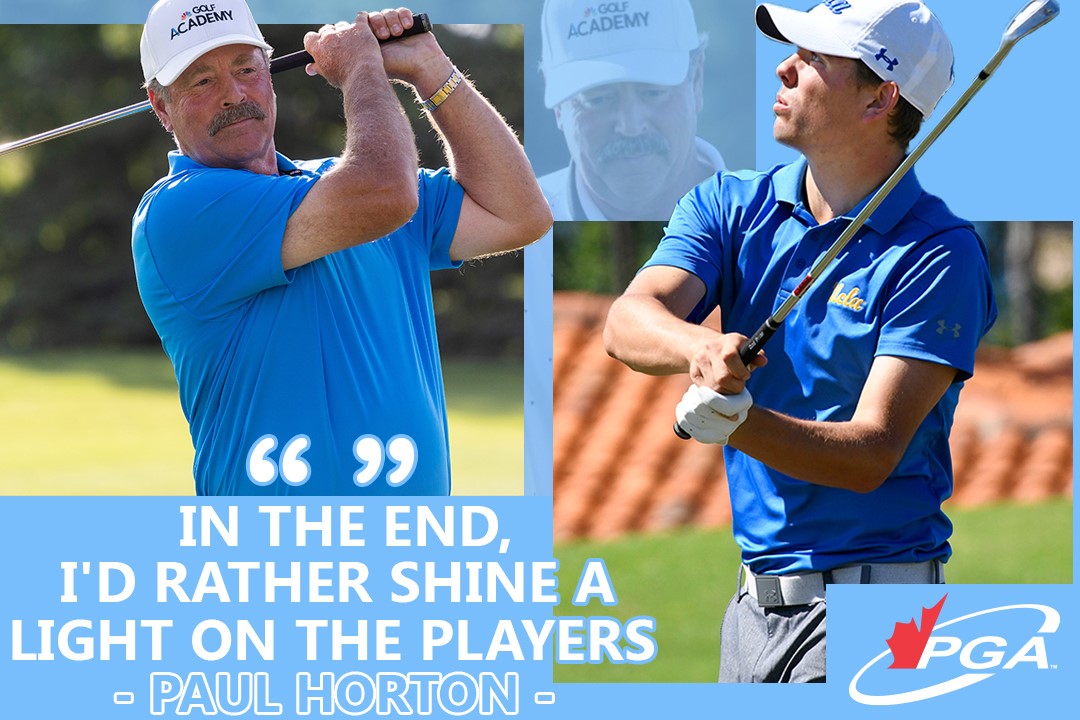 Coaching the next generation: The story of Paul Horton
By: Adam Stanley
Sometimes in life the student becomes the teacher – and since golf often reflects life, it's not surprising to hear that a handful of Paul Horton's top-tier pupils have started to coach another generation of golfers, too.
Horton, who earned the Ben Kern PGA of Canada Coach of the Year Award in 2017 and has been a 14-time finalist for the PGA of Alberta's Teacher of the Year award in a career that's spanned 41 years, is now the lead coach at The Golf Academy at Heritage Pointe in Calgary, Alta.
But he's spent a good chunk of those years driving interest in the game and helping young golfers get better.
"Golf has served me well and I don't really need to be in the limelight anymore," says Horton. "It's nice to see the kids go to college and get an education, and quite a few have turned pro."
Indeed, 45 of Horton's junior golfers have received college scholarships and 21 of them have turned professional. Some of his past students are now coaching, and a few have become PGA of Canada members, too.
The most recent of success stories, Horton is proud to say, is that of Patrick Murphy. A well-traveled and top junior golfer from Alberta, Murphy went to UCLA on a scholarship and, in March 2021, was named the Assistant Men's Golf Coach at his alma mater.
To touch on how impressive Murphy's playing resume was as a youngster, the coach at UCLA, Derek Freeman, relayed a story to Horton about how when it was time to recruit a new class of golfers to the team, it was between Murphy and Collin Morikawa – now a major champion and the fourth-ranked golfer in the world.
"I thought Patrick Murphy was going to be the next Jordan Spieth. He got offers from almost everybody," says Horton. "He got a scholarship offer from Harvard and turned it down, and the coach had never heard of someone doing that."
The story of a golfer like Murphy getting helped by Horton is just one of a handful in his career. Horton counts LPGA Tour member Jaclyn Lee, PGA Tour winner Stephen Ames, and Lisa 'Longball' Vlooswyk (a Canadian long-drive champion) as some of his present and past students.
While Horton is now running the only Golf Channel academy in Canada (and one of only two outside the United States, out of 91 total facilities), he didn't even want to become a golf instructor when he was growing up – he was more interested in golf architecture, drafting routing plans for 18-hole layouts while in high school. But, while he knew what made for good design, he had no idea what was going on underneath the ground.
After a year of commerce at the University of Toronto, he knew he wanted to get into the golf professional side of things and joined the PGA of Canada in 1981. He gave himself 10 years to become a head professional. In year No. 10, that goal was achieved.
"There was a middle-aged assistant pro (at my club), and I didn't want that," Horton says now, with a big laugh, "but I looked at the head pro and I thought I could make a dignified living doing that."
Horton grew up playing high-level hockey and turned to soccer in the off-season to keep his legs in shape. His dad introduced him to golf when he was 14 (although, Horton says, there is a photo of him in diapers with a golf club in his hand. "Maybe it was in the genes," he says). He played on some par-3 courses when he was a young teenager before getting the bug and asking for a job at Mississauga Golf and Country Club as a 16-year-old, not even for money, just for the ability to use their practice facility.
What started as a hobby quickly turned into an obsession, as Horton says he caddied and worked in the pro shop through the mid-1970s and started shooting under par when he turned 18. He worked from 4 P.M. until close, which meant he had the whole day to himself. He'd hit roughly 1,000 balls, he says, and chip and putt for upwards of eight hours.
"Come time to work, I was tired," he says, "but the game really grabbed a hold of me."
Horton would go from Mississauga to Summit Golf Club before heading west for the first time in 1985 to become the head pro at Calgary Golf and Country Club. In 1990, he was brought over to Country Hills Golf Club to be the club's first Director of Golf. The aspiring architect finally got to see the miles of pipe that goes under the ground, as the course was just being built.
He quickly found he was spending most of his day on the phone, putting out fires. There was a lot of stress involved with this particular job, so he branched out in 1994 to run his own golf academy.
"I wasn't sure I would enjoy teaching 12 hours a day, but I did," Horton says.
Horton quickly began coaching out of the Golf Canada Centre in Calgary, but was so popular he was booked upwards of two months in advance for lessons. He trimmed his client list down to just golfers who were keen for a long-term coaching strategy.
Now, Horton's facility at Heritage Pointe would make his 16-year-old self blush. It boasts a full-length driving range, a 13,000 square foot practice green, and a three-hole course called 'The Loop' which circles the academy with a full par-3, 4, and 5.
While Horton has been able to lean on the Golf Channel for extra marketing and promotion efforts recently, he says he leans more on the PGA of Canada and its educational opportunities to continue to grow his own mental database.
He says he's a proud member, having won the 2011 George Knudson Award – it was the first year the award was named after Knudson, and Horton says Knudson was his first coach back in 1980 – and the Coach of the Year Award is named after Ben Kern, who Horton almost went to work for at The National.
"I'm a very proud member," says Horton. "And there was a time when I wanted to shine the light on myself and grow my brand. But in the end, I'd rather shine a light on the players."