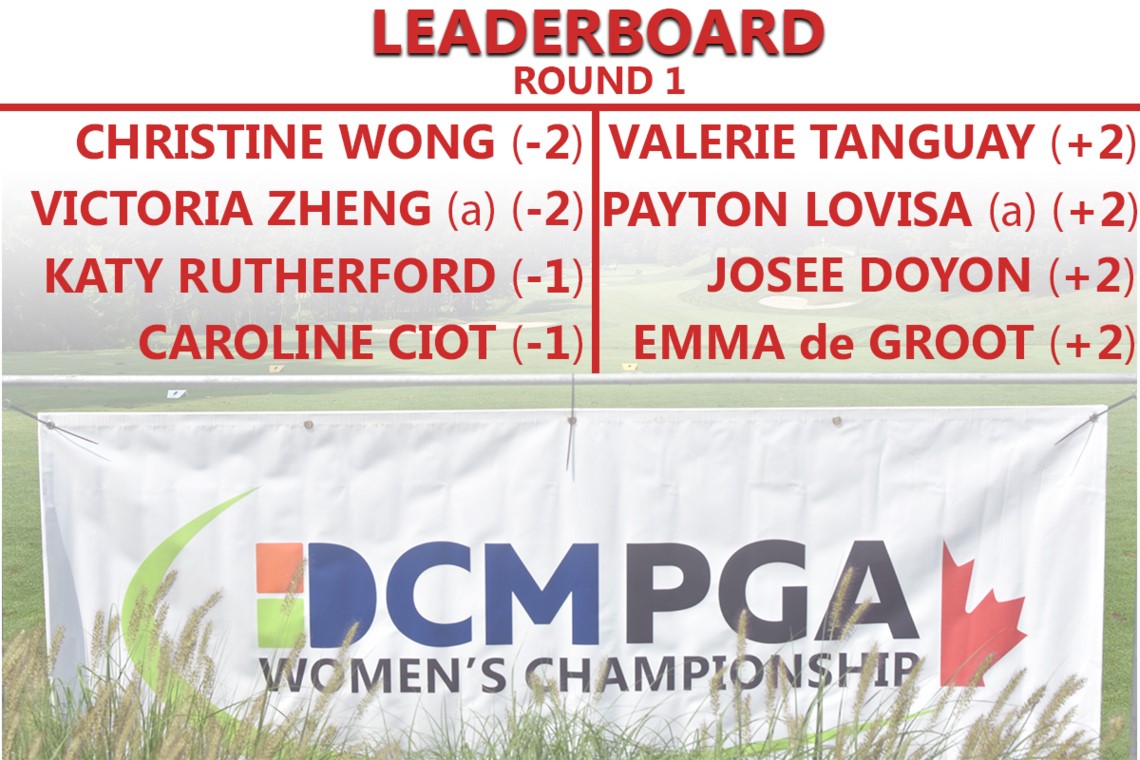 Christine Wong and amateur Victoria Zheng co-lead DCM PGA Women's Championship of Canada after 2-under 70s
By: Brendan Stasiewich, PGA of Canada
(OSHAWA, ON) – You heard it time-and-time again from the best female players in the country as they left the scoring area on Monday at Oshawa Golf & Curling Club, "don't be on the wrong side of the hole."
Though from the tee box the beauty of the Stanley Thompson designed gem is unmistakable, the greens during the first round of the DCM PGA Women's Championship of Canada were treacherous.
For the full leaderboard from the first round of the DCM PGA Women's Championship of Canada, click here.
Christine Wong, a PGA of Canada member and teaching professional from University Golf Club in Vancouver, B.C., and Victoria Zheng, a 17-year-old amateur from Markham, ON, managed those greens better than anybody else, each firing 70 to co-lead the tournament into the second and final round.
"My putter was working today," said Wong, who claimed the PGA of British Columbia's Women's Championship in 2020 "I wasn't hitting the ball that great and I had to save myself on the greens, so I have to thank my Scotty (Cameron) for getting me through my round today."
After starting out with a bogey, Wong made two birdies on her next eight holes to shoot 35 on the front nine before a double bogey on No. 11 sent her back to one over.
"The pins were not easy, they are big greens and some of the pins were set up on the smallest portion, so I was scrambling for par a lot of the day," said Wong, who rallied after the double and made three birdies in her final five holes to close out her day. "I just need to keep my ball in the fairway tomorrow and give myself chances at birdies. Pars are good, birdies are better."
Only one amateur has ever won this event – Brooke Henderson – who accomplished the feat in back-to-back years in 2014 and 2015. Zheng, who claimed the Ontario Junior Girls Championship in 2019, hopes that she can be the second.
"I was able to hit a lot of fairways and a lot of greens and overall, it was just a really easy round for me today," said Zheng. "I just have to do the exact same thing tomorrow, hit fairways and greens, and stick to my exact same game plan."
Just one-stroke behind Zheng and Wong heading into Tuesday are Caroline Ciot and Katy Rutherford.
While Ciot competed at this event in 2019, placing in a tie for 14th, this week marks Rutherford's first professional event, and she had quite the adventurous weekend prior to arrival.
After her original flight was canceled, the Calgary, AB native who played collegiate golf at the University of Nevada and now teaches out of Golfuture in Calgary had to take a plane, two busses and a rental car before eventually arriving for Sunday's practice round in Oshawa.
"For my first round as a professional to go like today and to finish under par, that was huge," said Rutherford. "I had a few putts drop for me on my back nine, which was great because the greens out here are really tough, so to not have a three-putt and to see a few go in late in the round was great."
In addition to their support of the PGA Women's Championship of Canada, DCM also offers seven Power Up bursaries to female players attempting to play golf at the highest level. The recipients of those bursaries are expected to be announced later this week.
The NoSweat Hardest Hole of the Day on Monday was the 472-yard par-5 6th hole. Only four players managed to make birdie on No. 6 on Monday. After a random draw between those players, Jennifer Ha is the first round's NoSweat Hardest Hole of the Day champion and will be awarded $125 for her feat.
In addition to NoSweat's presence at the championship, LivRelief, the Official Pain Relief Cream of the PGA of Canada, has their flags waving beside the putting green this week and Focus Golf Target has one of their professional targets set up on the driving range.
Like at the BetRegal PGA Championship of Canada, each player receives three attempts to land as many balls inside the target as possible. Some attempted this on Monday, while others will try their luck on Tuesday morning as they play for the $250 prize.
The final round of the DCM PGA Women's Championship of Canada will begin at 7:30 A.M. on Tuesday morning.