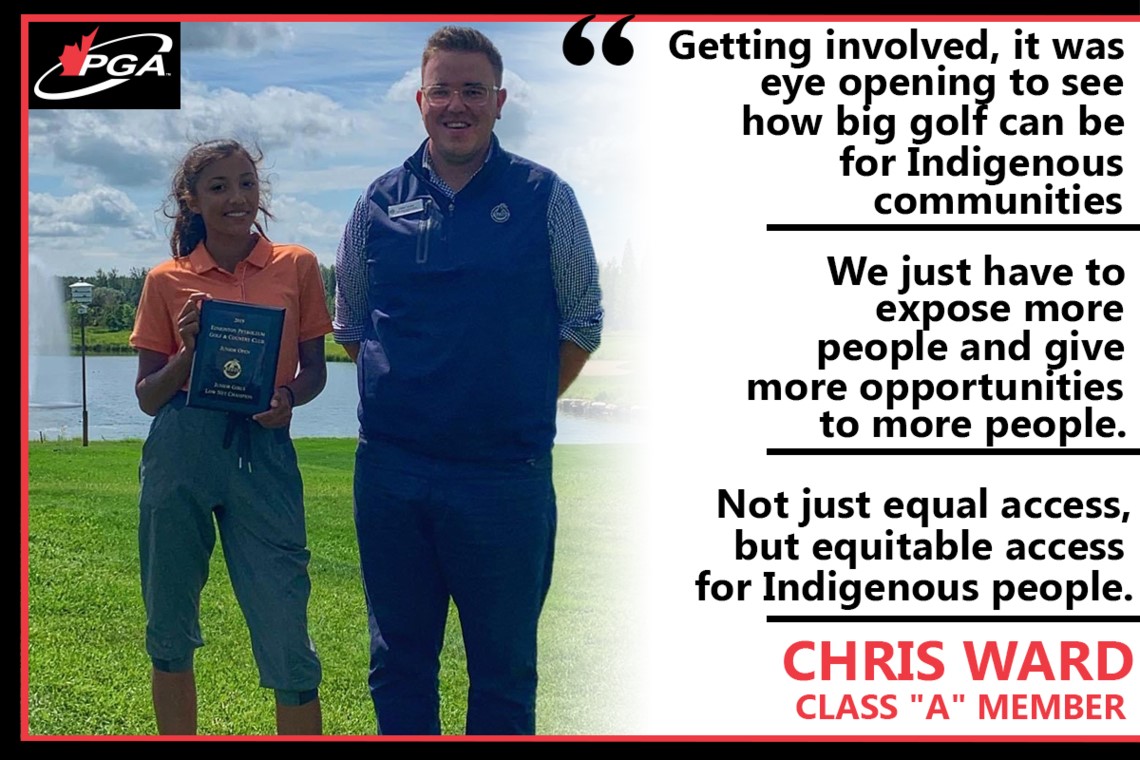 Chris Ward's Steadfast Commitment to Growing the Game
By: Brendan Stasiewich
Nine-years ago, Chris Ward sat in a St. Francis Xavier high school classroom in Edmonton, Alberta, and like many other 17-year olds, was mulling over what he wanted to pursue after graduation.
Growing up, there wasn't a sport he could stay away from. Standing at 6-foot-1 in junior high, he was dominant on both the basketball and volleyball court. Though he didn't play hockey, many of his weekends were spent at native provincial tournaments, watching family members from Saddle Lake Cree Nation compete in the sport they loved.
Though he played golf here-and-there – learning the game with a cut down Tiger Woods graphite shaft seven iron – most of his energy was spent on the basketball and volleyball courts.
While Ward's frame allowed him to tower over opponents in junior high – others eventually caught up. That, along with a significant knee injury he suffered playing volleyball (and a second knee injury suffered on the basketball court shortly after), led Ward to re-examine what sports he wanted to pursue in high school.
He decided to take a leap and enter the golf academy at St. Francis Xavier, even though all his friends were going to Jasper Place High School. He didn't know it at the time, but that decision would pave the way towards his career in the golf industry.
"I went from a very average golfer who struggled to break 90 to winning the most dedicated athlete award at our school in grade 10," said Ward, who is now the Associate Golf Professional at the Edmonton Petroleum Golf & Country Club. "I put a lot of work in to go from an average player who liked to play tournaments to seeing it as a potential career."
The problem was, even though Ward had a passion for the game, he wasn't quite sure how he could turn it into a life-long career.
So, there he was. Sitting in a St. Francis Xavier classroom awaiting a guest speaker, hoping maybe they would provide some helpful information about what to do next.
Luckily for Ward, the speaker that day happened to be Alan Riley, a Master Professional and the Coordinator of the Professional Golf Management Program at Grant MacEwan. In addition, Riley was awarded the Lifetime Achievement Award in the Teaching Category by the PGA of Alberta in 2016 – not a bad person to talk to when looking for a career in the golf industry.
For Ward, it was a no-brainer. He graduated from the Golf Management Program in 2015 and took a job as an assistant professional at the Edmonton Petroleum Club after spending a few summers working in the backshop.
Ward has proven to be dedicated to his work at the club, being nominated three times for the PGA of Alberta's Assistant Professional of the Year award while also maintaining a solid golf game, even qualifying for the Mackenzie Tour – PGA TOUR Canada event in Edmonton in 2018.
While the members of the Petroleum Club are seeing Ward's efforts each-and-every day, the work he is doing away from the club is also having a lasting impact on the community.
"I think golf is accessible, but there is a difference between equal access and equitable access," said Ward, who was selected to be one of 17 individuals on the PGA of Canada's Diversity and Inclusion Task Force in August of 2020. "Equal access means yes, there are public courses everywhere, but equitable access looks at the underlying factors that might prevent some people from playing there."
Ward notes that leaders in the golf industry are primarily white and it can be tough for BIPOC (black, Indigenous and people of colour) people to feel welcomed when there are not many people who look like them involved in the operations of the game.
"I think having more BIPOC members working at facilities will lead to more people playing the game and staying in the game because they're seeing people who look like them working in the industry," said Ward. "You look at a guy like Ethan Bear who is the poster boy for Indigenous hockey in Canada. So many Indigenous children look up to him, which is a fantastic thing we need in the golf world, too."
Last month, the Edmonton community rallied around Bear after racist comments and messages were directed towards him online following the Oilers playoff loss to the Winnipeg Jets.
For Ward, who has dealt with microaggressions himself and looks up to Bear as one of his favourite players, it was frustrating.
"There are positive people and there are negative people, but to bring race into it, it's so unnecessary," said Ward. "It was awesome to see how the community stepped up, though. It shouldn't have to come to that in the first place, for it to have to be in the media, but sometimes that's what it takes."
Though Ward notes there aren't many Indigenous PGA of Canada members, he says it was a positive step to see the PGA of Alberta begin every meeting and seminar with a land acknowledgement reading.
"It goes a long way, recognizing and expressing gratitude to those who were here first and it's a fundamental step in reconciliation," said Ward. "It's not hard to do and I think if more courses were inclusive and showcased it, telling people they're welcome, that would be great and would help grow the game."
Though Ward grew up in the city of Edmonton, he says his fondest memories came from his summers in Saddle Lake, going to the Pow Wow each year with his family. In 2013, a relative invited him to compete with Saddle Lake in a First Nations Cup Event at Indian Lakes.
"It was an 8-man team Ryder Cup-style event, and 32 different nations were playing in it," recalled Ward. "I was honoured to be asked to play and I owe a lot to him for inviting me to play on the team and to become more involved with the Indigenous community."
Ward has seen the rewards of being a PGA of Canada professional first-hand – and he thinks exposing the career option to more people is vital to growing the game.
"There are so many great players at Indigenous events and I think with the right opportunity they could be doing more than just winning cash scramble events if they had the right development," said Ward. "Getting involved was eye opening to see how big golf can be for Indigenous communities and we just have to expose more people and give more opportunities to more people. Not just equal access, but equitable access for Indigenous people.
"It's just giving Indigenous youth the option. For myself, all it took was Alan Riley getting in front of me and saying that there was an option for me," continued Ward. "It really starts with getting youth into the game and doing it properly, going into communities with the right people involved and showcasing how golf is such a great opportunity, not only for the social elements, but also as a potential career."
Ward's stable of students has increased from under 10 players his first year at Petroleum Club to now over 40. He sees teaching as a great way to grow the game by teaching juniors about the many life skills the game has to offer, which he will have the opportunity to share when he leads a junior Indigenous golf day at Wolf Creek Golf Resort as part of a week-long event later this summer.
"I really wanted to do the youth clinic and I was very happy to be asked about it," said Ward. "I was on the tournament poster that got shared on social media, some of my cousins contacted me saying they saw it, it's just so cool to have the opportunity to help grow the game, especially within the Indigenous community."
The PGA of Canada's Diversity and Inclusion Task Force wrapped up their 10-month long review of the PGA of Canada's operations last month. A public report will be published with their findings this fall.