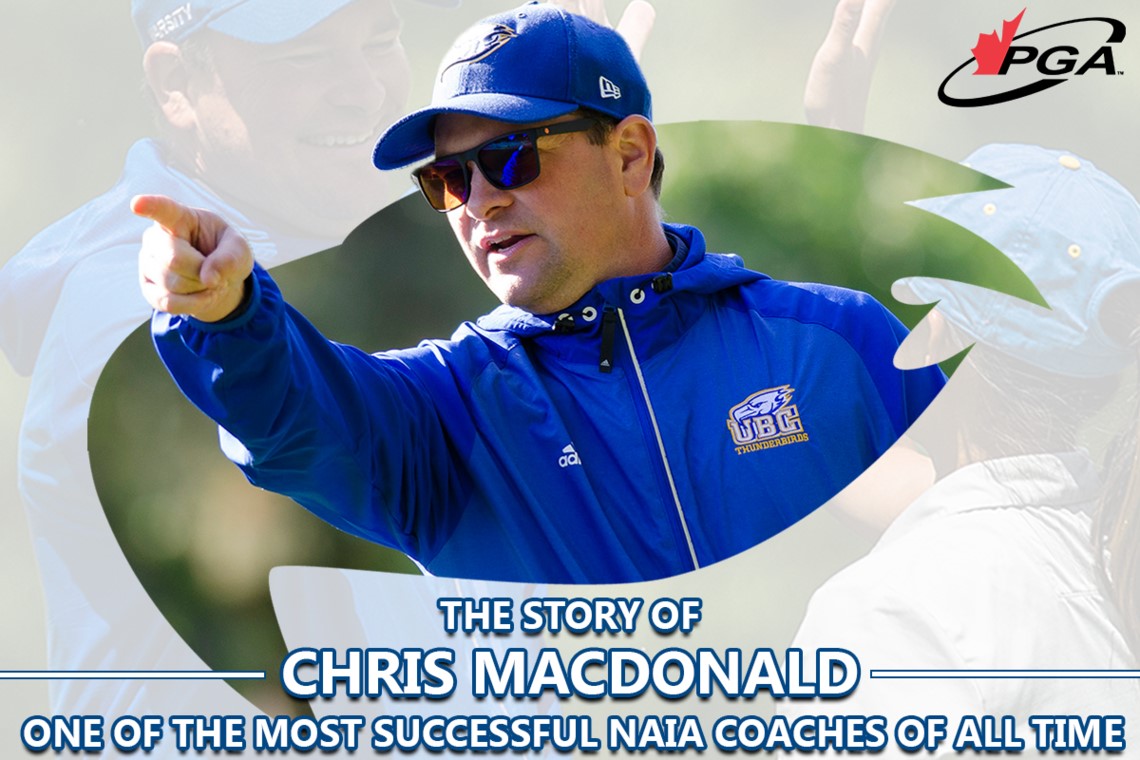 Chris MacDonald's Journey to Becoming One of the most Successful Golf Coaches in the NAIA
By: Shelby Dechant
If you were to look at the long list of championship titles under Chris MacDonald's name, you may start to lose count.
The Head Coach of the men's and women's golf teams at the University of British Columbia has spent the last 20 years making the UBC golf program one of the best in the National Association of Intercollegiate Athletics (NAIA).
But MacDonald's story begins far earlier than his first day at the university in 2001.
MacDonald grew up in Fredericton, New Brunswick. At 8-years old he convinced his local golf club to allow him to be a member. Just a short bike ride from his house, MacDonald spent his summer days out on the course looking for balls, practicing his swing, and finding his passion for the game.
At 8-years old, MacDonald could not have predicted his future as a golf professional, however, he did focus all his post-secondary learning on setting himself up to be able to put "Head Coach" on his resume.
MacDonald spent his undergrad years at the University of New Brunswick and Bishop's College. He then went on to receive a diploma in professional golf management from Camosun College, in Victoria, BC. While dedicating himself to furthering his education in golf management and coaching from external programs and seminars, he also went on to get his Master's degree from UBC in Human Kinetics.
MacDonald was inspired by the PGA professionals in his life to become a PGA of Canada member.
"Henry Brunton was the National Team coach at the time, and he really inspired me. Henry and [former PGA of Canada CEO] Gary Bernard were going across the country doing seminars on how to make a career out of instruction and that was really good timing for me. I was in my mid 20s and had just spent five years in Australia in the golf and restaurant business and wanted to get back into it full time somewhere in BC."
After joining the PGA of Canada, MacDonald went on to become the assistant professional at Nicklaus North Golf Club in Whistler, BC, where he also ran the Sea to Sky Junior Golf Tour. He spent three years doing his apprenticeship at Nicklaus North while simultaneously learning more about the golf industry.
After his time in Whistler, MacDonald went on to become an associate professional at Shaughnessy Golf and Country Club in 2000. That summer, both the men's and women's coaches at UBC had resigned. MacDonald was approached by the university and asked to apply for one of the positions.
"I think I was 27-years old at the time, and I remember just thinking, 'I'd really like to coach the women's team,' because I think at that time, I felt very confident that I could connect to that team and that they would respect my instruction and make some real gains. And that's kind of exactly what happened," says MacDonald.
MacDonald spent three years building the women's team into one of the best in the country before taking the men's team on as well, in 2004. He took the men's team from relative obscurity and turned them into one of the best in the association.
MacDonald said this was no small feat. He started small, making short-term goals for the teams while creating a vision for their long-term goal. He also knew that if UBC wanted to be a top program in the association, they needed to focus largely on establishing scholarship funds that rivaled their competitors in the U.S.
"We needed to establish an operational budget that allowed for coaching and allowed a quality schedule, not just for NAIA, but also NCAA events," says MacDonald.
The coach says when operating an amateur team, finances play a big part in the success of the team.
"You need community support, you need your alumni to be engaged and involved, and you need champions in your community to step up and say, 'Hey, you know, let's put a couple of groups in your fundraising tournament to make sure that it's sold out, and that you guys have the proper amount of revenue to operate.'... we have been very fortunate to have accomplished that," says MacDonald.
Like any good parent, MacDonald does not name one player that stands out to him. He speaks proudly of all of the athletes he has had the opportunity to coach throughout his two decades at UBC.
MacDonald's coaching has led the Thunderbirds to monumental success. Under the direction of MacDonald, the women's team won the 2019 Cascade Collegiate Conference Championship, claimed four NAIA National Championships, 13 Golf Canada Canadian University/College Championships, have had 36 NAIA All-American selections, have had one player win the NAIA National Individual Championship and four players win Golf Canada Individual Championships.
The men's team has a similar laundry list of wins under their belt. The men were also the 2019 Cascade Collegiate Conference champions and the 2008 NAIA National champions. They have five Golf Canada Canadian University/College Championships, 22 players have been NAIA All-American selections, and six players have been Golf Canada Individual Championships.
MacDonald himself has been recognized many times as one of the most successful coaches in NAIA golf. He has been named the NAIA Coach of the Year on multiple occasions. He has also been recognized as the Golf Coaches Association of America coach of the year – claiming the Dave Williams Award in 2008, in addition to being named the Marilyn Todd Award as the Canadian Golf coach of the year and the Lower Mainland Golf coach of the year in 2012.
He believes that the reason the program has been so successful is because even though it is an individual sport, they work as a team.
"We focus on supporting each other, even though it's an individual sport we play, we try to make it feel like it's a team. Because it is a team, the decisions we make on and off the course affect everyone who chooses to be a Thunderbird," says MacDonald.
Being at a top university like UBC comes with many pressures, not only on the course. MacDonald's philosophy to coach the athletes as a team and not just as individuals allows the players to lean on each other for support academically, in their personal lives, and in the game.
He says this helps in cultivating accountability, not only for themselves, but for the team as a whole.
MacDonald still recalls something Henry Brunton said in a seminar 24-years ago. "Teaching golf is an incredible responsibility." MacDonald takes great care with that responsibility and says he is honored to be able to be a part of his players' lives and development during their four or five years as Thunderbirds.