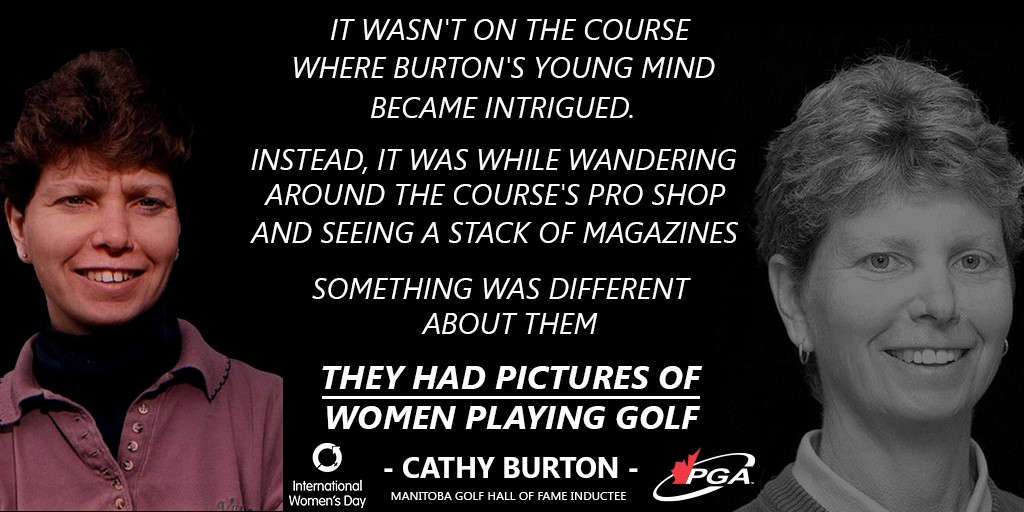 Cathy Burton's Life as a Leader and Canadian Golf Builder
By: Lara Kuipers
Cathy Burton was about 10-years old when she discovered the game of golf. Living two hours outside of Brandon, Man., in a small town called Binscarth, Burton decided to give the six-hole sand-green golf course down the block a try. It cost her 25 cents.
But it wasn't out on the course where Burton's young mind became intrigued. Instead, it was while wandering around the course's pro shop and seeing a stack of magazines. Something was different about them. Something stuck out to her.
They had pictures of women playing golf.
Burton, who played hockey and baseball with boys, had never seen magazines with women playing either sport on them. This was new to her – it was a sport that she could finally play with other girls.
What started as a chance to play a sport with fellow women soon turned into a career. As Burton got older, her interest in the game grew stronger. By her late teens, Burton was taking golf lessons and the seniors at her local golf course took notice, sharing tips with her whenever possible.
Though she had a deep passion for golf, Burton wasn't sure how, or even if, she could turn it into something more. It wasn't until a player dropped out of the Canadian Women's Amateur and Burton took her place in the field that she realized she could make a career out of golf.
"[It] sort of was the catalyst to like, 'wow this really is a cool sport, and I want to take it further,'" said Burton.
The chance entry into that national event was just the start of a successful amateur career. Burton went on to win both the Manitoba Women's Amateur and Saskatchewan Women's Amateur in 1984, and again in Manitoba in 1986.
At one provincial amateur event, Burton credits visualization – things like imagining herself holding up the trophy – as a huge component to her win.
Gaining confidence in the mental side of golf was something Burton said she needed and was able to get while studying sports psychology at the University of Winnipeg. In particularly, sports psychologist and university professor Dr. Cal Botterill was "instrumental" in helping her gain that confidence.
Since then, Botterill has referred golf athletes to Burton for guidance on the mental side of the sport. Having people like Botterill supporting you through your golf journey is instrumental to having a career in the sport, according to Burton.
And Botterill wasn't the only one supporting Burton through her golf journey. Colleen Hutchison played an important role as well. Between 1980 and 1982, Hutchison served as the president of the Manitoba Ladies' Golf Association.
But at the time of the Manitoba Women's Amateur in 1984, Burton said Hutchison was dying of cancer. Burton visited Hutchison in the hospital before the tournament. It was the first time Burton had seen cancer's devastating effect.
"It took the focus off of winning for myself, but winning for her," said Burton on the visit. "And I think sometimes that external motivation was all I needed to just play really well."
She was so determined and focused that at one point during her round, she had to ask her caddie how many birdies she'd made – she'd lost track.
"You've had seven birdies," he told her.
Burton asked how many under par she was.
"You're not – you're even par."
By the time she was hitting her final putt to win, Burton was in tears.
"I just did it for her," Burton said while reflecting on the moment.
By the end of 1987, many of Burton's fellow competitors started turning professional, and Burton followed suit. She made the trip down south of the border to play on the Futures Tour (now Symetra Tour) for three years, but due to frustration and small payouts (in as recently as 2019 the top earner on the Symetra Tour only made US$125,042) Burton decided to change direction.
She became a PGA of Canada professional instead.
Burton spent time at a few clubs in Winnipeg before eventually moving westward to Calgary in the early 2000's where she continued working as a professional – most recently at Willow Park Golf and Country Club as the head professional. Since 1996, Burton has been a PGA of Canada "Class A" Professional.
Throughout her career working at golf courses, Burton has helped grow women's golf in Canada, notably playing a key part in the establishment of the LPGA Girls Club of Manitoba in 1994.
Initially, Burton thought around 30 to 40 girls would show up to the inaugural event. Instead, 140 girls turned up. The club would later evolve into what is now called the Future Links Girls' Club, a program still operating today.
Between 1998 and 2004, Burton served as the National Junior Women's Coach for the Canadian Ladies Golf Association. The association later amalgamated with the Royal Canadian Golf Association and is known today as Golf Canada.
As a result of her incredible contribution to not only the women's game, but many aspects of golf in Canada, Burton was inducted into the Manitoba Golf Hall of Fame in 2009 as both an athlete and a builder.
For right now however, Burton's time as a golf professional has come to a halt. In June of 2013, Burton was placed on the kidney transplant list after being diagnosed with kidney disease. Seven years later, Burton successfully had the transplant in mid-July 2020.
But her recovery has been difficult. Since the transplant she's had five infections and as a result, Burton now has some vision loss. The current COVID-19 pandemic hasn't made any of it easier.
But Burton still hopes to work as a professional again once we reach some form of normalcy in a post-pandemic world.
"There's a lot of things that happen in a day," Burton said on what life is like as a golf professional. "I've had so many people over the years that have said 'wow this must be a dream job' and you know – for me it was."