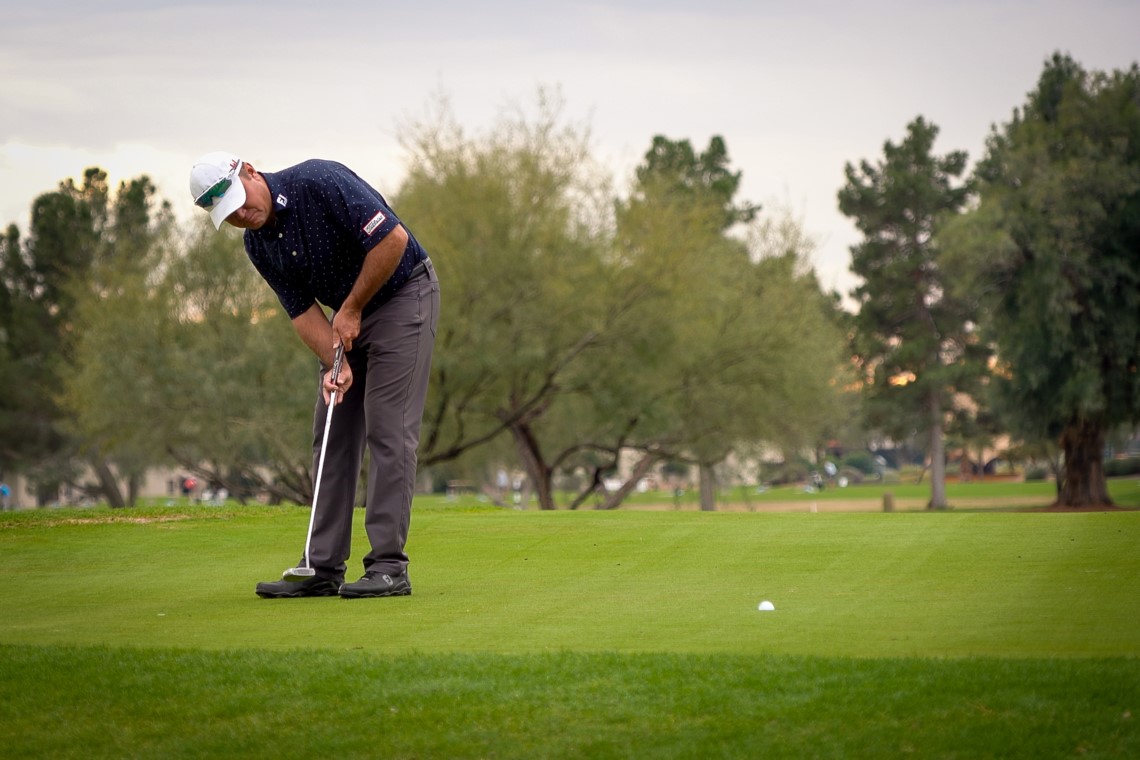 Burns Stretches Lead at PGA HPC
They say it's difficult to back up a fantastic round with a great one, but nobody told that to Gord Burns.

Just 24 hours after setting the new record on the Gold Course at Wigwam Golf Club with a 10-under 62, Burns now sits atop the leaderboard at -17 after firing a 7-under par 65 in the second round of the PGA Head Professional Championship presented by Callaway Golf and supported by G&G Golf.

"Honestly, I didn't sleep very well last night wondering how I was going to back up yesterday's round and I'm sure I will toss and turn tonight as it would mean the world to me to win a national championship," said Burns, who owns and operates the Gord Burns Golf School just north of Toronto. "Things don't come together very often in this game for any of us so I'm just trying to enjoy the fact that the golf ball is actually doing what I hope it will do right now."

The scorecard for Burns saw an impressive seven birdies, zero bogies and included three birdies in a row on the front nine and birdies on three out of the four par 3s.

Philip Jonas, who sits seven shots back of Burns, felt great about his game after two rounds but knows it will take something special to catch the leader. "I'm really happy with how I've played and might even be leading most years, but Gord is on another planet right now."

Two former PGA national champions, Matt Palensbarg of B.C. and Danny King of Ont., are holding down a tie for 3rd place at 7-under par, ten shots back of Burns.

Mark Kitts, PGA Head Professional at Shadow Ridge GC in B.C., is alone in 5th place overall and leads the Club Professional division of the championship.

This year's event welcomed two new national partners, with Callaway Golf as the presenting sponsor and G&G Golf as a supporting partner. Golf Away Tours has proudly returned to support a cocktail reception after the second round.

Organized trips to major league sporting events in the Phoenix area, a visit from Callaway staffer and President's Cup member Adam Hadwin and two dinner receptions have all contributed to a fantastic week for the 90 PGA professionals in attendance.

"The vibe down here is terrific, and we all appreciate Callaway Golf, G&G Golf and Golf Away Tours for stepping up to make this possible," stated Burns, who currently sits 5th on the PGA Player Rankings presented by RBC. "It's a golf playground at The Wigwam and my wife and I have really enjoyed getting a chance to relax at the resort."

Within the championship exists a 36-hole Inter-Zone competition, which concluded today with the Ontario Zone benefiting from the incredible play of Burns to finish at 26-under par, winning by 11 shots over the B.C. Zone and 22 shots over the Ottawa Valley Zone. The Ontario Zone team was made up of Gord Burns, Danny King, Ed Maunder and James Skrypec.

For the full leaderboard and final-round tee times, CLICK HERE.