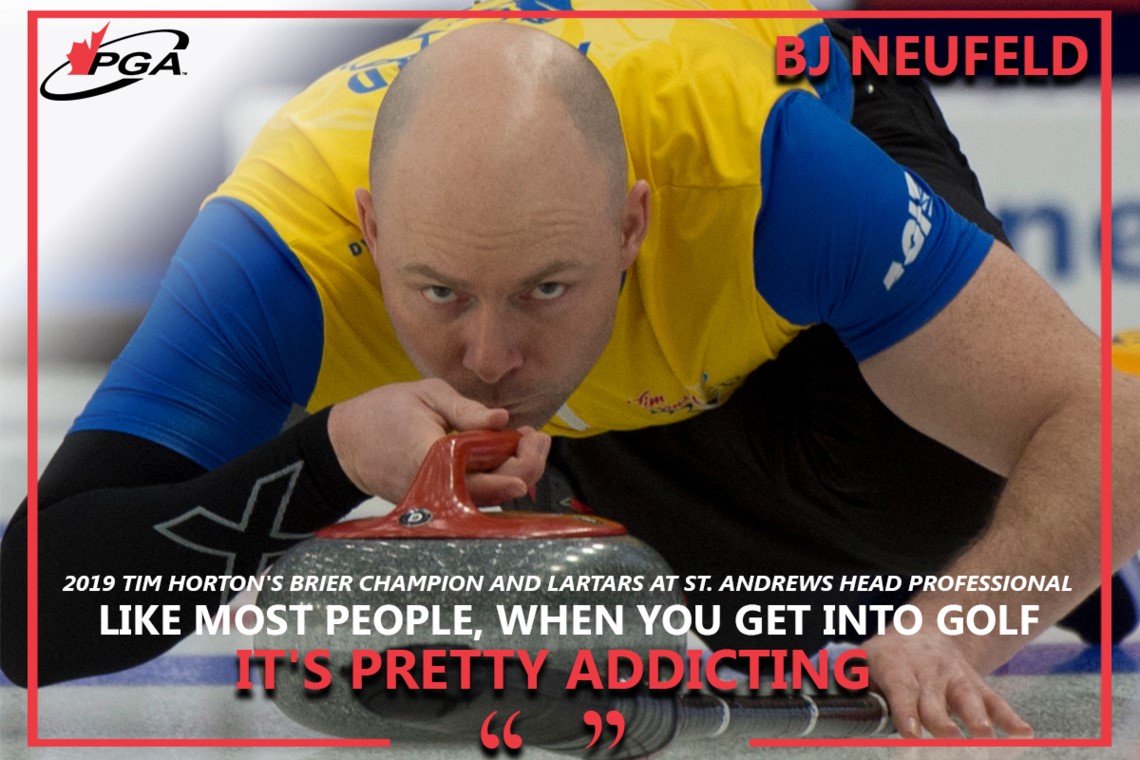 BJ Neufeld balances life as high-level curler and PGA of Canada professional
By: Shelby Dechant
BJ Neufeld had a dream like many other young kids around the world - to become a professional athlete. But being a professional at one sport wasn't enough for sports enthusiast Neufeld, he wanted two.
The Manitoba native was introduced to golf at a young age by his family of athletes.
"When I was about nine or 10-years old, I started tagging along with my older brother and dad to the golf course. I would hit a few shots here and there." Neufeld said.
Like many young athletes, Neufeld tried every sport he could.
"Growing up I was a sports fanatic. I tried a lot of sports, including golf. Like most people, once you get into golf, it's pretty addicting. It's such a challenging sport mentally and physically, I really took to it."
He spent his summers learning the game while spending the winters watching his father, Chris Neufeld, find success on the Canadian curling scene. These years watching his father become a three-time Manitoba curling champion and one-time Labatt Brier champion inspired Neufeld to follow in his father's footsteps.
Neufeld wasn't planning on taking the sport up as a hobby - he wanted to be a champion, too. He said, "I looked at what my dad did and said I want to be able to do that and more. I made my own goals and then looked at everything I could do to achieve those goals."
At this point, Neufeld started having conversations and taking the steps to turn his two passions into a career. He was 15-years old when he decided he wanted to pursue curling at the highest level, especially because this was around the same time that curling became an Olympic sport. However, Neufeld knew he wouldn't be able to rely solely on curling for an income.
"You can't get super wealthy off curling and make it your sole income. I began looking at a career that might work well with curling. The seasonality of golf, especially in Winnipeg, made it attractive to me," said Neufeld, as he looked into what it would take to become a PGA of Canada member.
Neufeld's father wasn't the only curler in the family. His older brother, Denni Neufeld found his own success in the sport. The brothers curled together for 11 years. Neufeld says he never felt pressure from his family of professional curlers, he only felt support. His dad told him, "make some goals, do your best to try and achieve them, and if it doesn't work out, it doesn't work out." Luckily for Neufeld, it has worked out.
The multi-sport athlete has gone on to become a force to be reckoned with in the curling world. He has made six Brier appearances, winning the gold medal in 2019, one World Championship appearance, earning a silver medal alongside his teammates in 2019, and also has seven Grand Slam victories to his name. His team also suffered a devastating loss in the 2009 Canadian Olympic Curling Trials, losing out to the Jason Gunnlaugson team in the semi-finals for the 2010 Winter Olympics in Vancouver.
Throughout his time dominating the curling world, Neufeld has been employed as a PGA of Canada head golf professional at Larters at St. Andrews Golf & Country Club.
Becoming a professional in one sport is difficult, becoming a professional in two is rare. Neufeld says the balancing act has been strenuous at times. After working his way up to hold a professional position at St. Andrews, Neufeld had to take a step back due to the demands of his curling career – which he says the club has been incredible supportive of.
"The one thing that I have learned in all of this is that between family, curling, and golf I can really only do two of them to the fullest. I've obviously chosen curling and my family. Golfing has had to take a bit of the backseat at the moment. For me, that is frustrating. I had a year where I tried to do everything to the best of my ability, and I probably wasn't doing any of them to the best of my ability. It really wore on my family and my wife," said Neufeld.
However, he says that the two sports complement each other well, and have made him a better athlete in both.
"There's a lot of correlation between golf and curling. Especially the mental aspects of it. Your mental strength in golf can really make or break you. There is a lot of that in curling as well," said Neufeld.
Both curling and golf are high-pressure sports that require mental focus and strategy. Neufeld says when he is working on one sport, it is helping him with the other in this regard.
"I see myself as a pretty driven individual, especially when it's sports-related. Any sport that I do I strive to be really good at… It's a hard thing to achieve, you have to put a lot of time and effort into it. The sacrifices from my family, my wife, is pretty tremendous. Every year [curling] is taking more time away from golf. It makes it difficult to excel as a player within the golf business."
He gives credit to his family, mentors, and colleagues at St. Andrews and says it is because of the support from these people that has allowed him to reach the success he has.
Neufeld says St. Andrews has shown him great support in his curling career. He has a long-standing relationship with the club and hopes that in the future, once his curling career slows down, he can continue his work there.
Neufeld's family has a history of inspiring and following in each other's footsteps. Neufeld has two young daughters with his wife Sarah Neufeld. When asked if he hopes his daughters will take interest in golf and curling he said, "I would love to see that. I mean, I would just first and foremost love to see them find a passion and really work hard at being the best that they can be in whatever passion they find."
* Photos courtesy of Curling Canada/Michael Burns