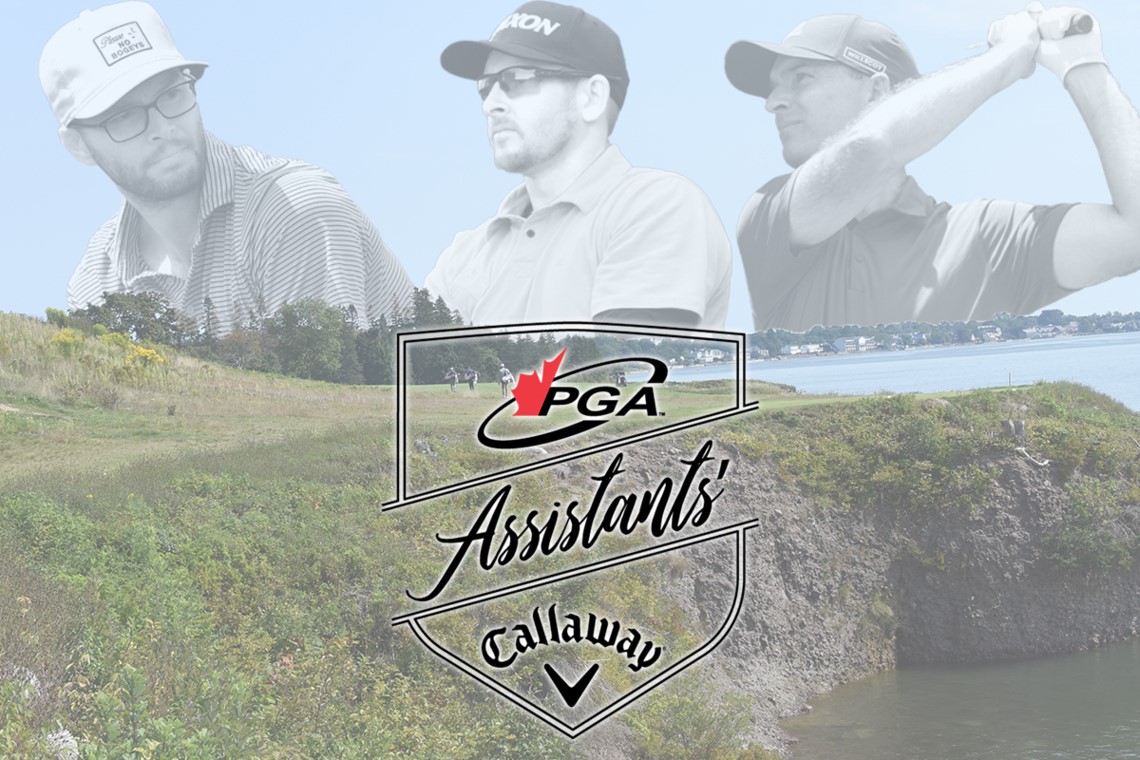 Algonquin Resort in New Brunswick set to host PGA Assistants' Championship of Canada presented by Callaway Golf
Quick Facts
Event Dates: September 12-14
54-hole individual stroke play (no cut)
Field Size: 51
Course Details: Par 72/7013 yards
Previous Champion: Branson Ferrier
51 of the country's top professional golfers are set to play the fourth PGA of Canada National Championship of the season this week at The Algonquin Golf Club in St. Andrews, New Brunswick.
Anticipation is at an all-time high as this season has already seen some incredible performances from multiple participants in the field, including Wes Heffernan, who lapped the field at the BetRegal PGA Championship of Canada, and members of the PGA of Canada's Four Nations Cup Team (Kevin Stinson, Branson Ferrier and PA Bedard), who recently won the tournament in South Africa for Canada.
Players are in for a treat this week in New Brunswick. Algonquin Resort features multiple holes on the Atlantic Ocean, giving players an experience reminiscent to Pebble Beach or Cabot Cape Breton on multiple back-nine holes.
The event has a list of champions that includes some of the most well-respected golf professionals in the country. The full list of past champions can be found here.
Without further ado, here are just a few players to keep your eyes on heading into the event, once again supported by the long-time PGA of Canada friends at Callaway Golf:
Five To Watch
Wes Heffernan
Heffernan is playing about as good of golf as he has ever played, which is certainly saying something as his career has been filled with great performances at every level of the sport. Earlier this year, the Calgary native conquered Beacon Hall Golf Club at the BetRegal PGA Championship of Canada, finishing at 10-under par to win by five strokes. He also held his own at the RBC Canadian Open on the PGA TOUR, finishing just a few strokes outside the cut line. Heffernan has good memories of the Assistants' Championship of Canada presented by Callaway Golf, having won the event in 2019 by three strokes.
Riley Fleming
Fleming put together one of the greatest performances in PGA of Canada history last year at the BetRegal PGA Championship of Canada, shooting 66-63-68-66 to win by three strokes. His recent play has been of note, as well, just last week winning the PGA of Alberta pro-pro event at Jasper alongside Lynx Ridge Golf Club General Manager Matt Kirlin. His penetrating ball-flight will certainly come in handy this week through the humid ocean air.
Branson Ferrier
One-year ago this week, Ferrier put together the best professional performance of his career at The Winston Golf Club, shooting 69-68-68 to win by two strokes over Kevin Stinson. Earlier this year, Ferrier Monday qualified for the Ontario Open on the PGA TOUR Canada circuit, firing 69-67 through the first two rounds to find a spot amongst the top 10. Though he stumbled over the weekend and finished T58, he gained invaluable experience among future PGA TOUR players.
Yohann Benson
Benson gave himself a chance to win the PGA Assistants' Championship of Canada presented by Callaway Golf last year after an opening-round 66 (which featured a back-nine 29) made him the first-round leader. Though he finished in a tie for third, he stilled managed to shoot 71-72 over the final 36 holes.
Kevin Stinson
Stinson has been a force to be reckoned with in PGA of Canada events over the past few seasons. After finishing as the runner-up in both the Assistants' Championship and the PGA Championship in 2021, Stinson has a lot of motivation to get a W this week in St. Andrews.
In addition to the main event, the Inter-Zone Championship is being played over the opening two rounds.
---
InterZone Teams
Alberta:
Michael Harrison
Jared Nicolls
Mitchell Fox
Wes Heffernan
Atlantic:
Brad Kurren
Jordan Ells
Connor Shea
Thomas Keddy
British Columbia:
Brody St-Martin
Lionel Taylor
Ethan Danish
Kevin Stinson
Ontario:
Mike Vance
Branson Ferrier
Brad Kerfoot
Victor Ciesielski
Quebec:
Anthony Godbout
Pierre-Alexandre Bedard
Yohann Benson
Dom Lalonde
---
Four-Nations Cup
Last week, the PGA of Canada defeated teams from South Africa, Australia and New Zealand in Johannesburg, South Africa in the inaugural Four Nations Cup.
The 2023 event is set to be played in Australia. The player who wins this week will earn a spot on next-year's team. Here are the criteria for our four-player team next year:
The 2023 Four Nations Cup team is open to all eligible members (including Apprentices) in good standing with the PGA of Canada, excluding Tournament Professionals. The team will be composed by the following players:
Champion – 2022 PGA Assistants' Championship of Canada, presented by Callaway Golf
Champion – 2022 PGA Head Professional Championship of Canada, presented by Callaway Golf
Champion – 2023 BetRegal PGA Championship of Canada
Highest ranked player on the 2022 PGA of Canada National Player Rankings as of December 31, 2022 (excluding the team members above).
*If a spot is declined by the 2022 Assistants', 2022 Head Professional, or 2023 BetRegal champions, their spot will be filled through the 2022 PGA of Canada National Player Rankings (as of December 31, 2022).
For more details and to follow the leaderboard throughout the week, click here.