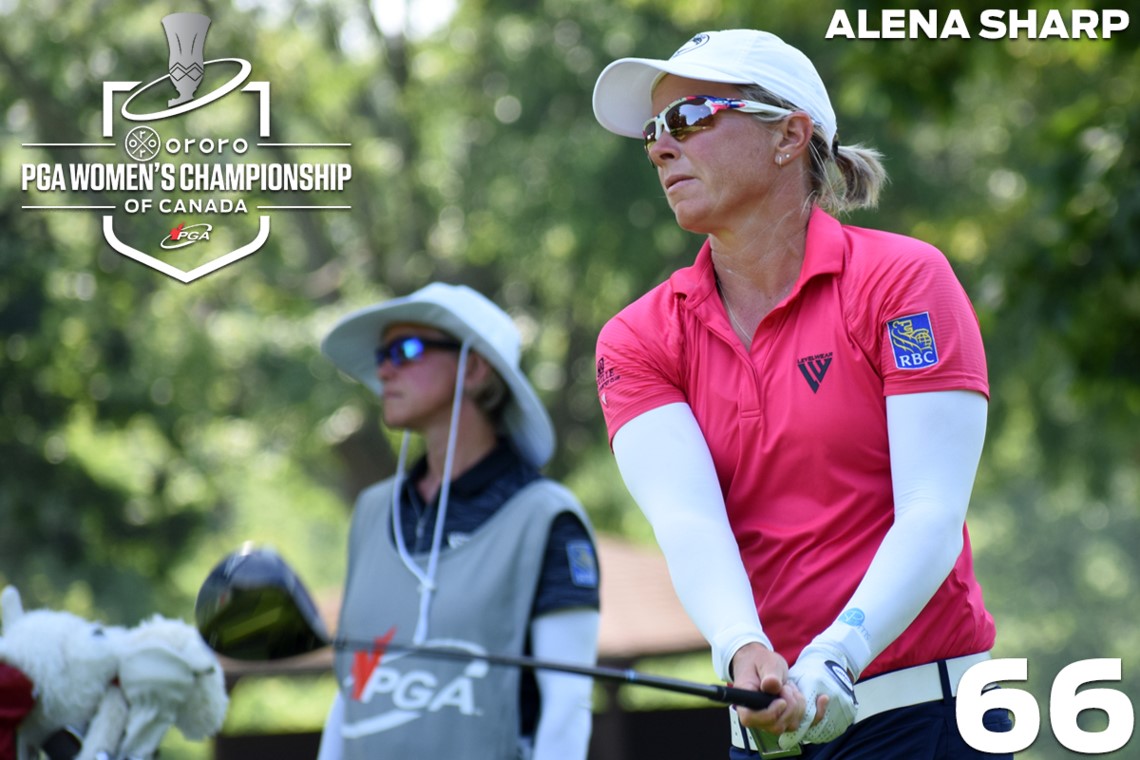 Alena Sharp storms ahead to three-stroke lead at ORORO PGA Women's Championship of Canada
By: Brendan Stasiewich, PGA of Canada
(Kingsville, ON) – The list of ORORO PGA Women's Championship of Canada multi-time winners serves as a bit of a who's-who of Canadian golf.
Some of the best players in the country's history have prevailed more than once; Lorie Kane leading the way with five, Nancy Harvey having won three times, and of course, it is impossible to forget Brooke Henderson's back-to-back wins in 2014-2015.
Hamilton, Ontario's Alena Sharp has the chance to pick up her fourth ORORO PGA Women's Championship of Canada win this week in Kingsville, Ontario – and – after an opening-round 66 to lead by three – she is well on her way to doing just that.
Of course, golf is golf, and with 18 holes to play at Kingsville Golf & Country Club, there is still work to be done and plenty of chasers in position to make a final-round run at the trophy and the CPCK Women's Open exemption that comes with it.
Nonetheless, a full gallery of spectators on the patio behind the 18th green – a par-three which, on Tuesday, had a difficult hole location a few paces past a false front – appreciated watching the long-time LPGA Tour regular tap in for par to shoot 66.
"It started off great, making birdie on the first hole. I had a lot of birdies on the front and only a few pars," said Sharp, who's highlight of the day was a three-wood she nocked to 12-feet and made for eagle on 17. "I took some time off last week but got the cobwebs off yesterday and hit some good shots, and I made some putts, I'm happy with my round."
Kingsville Golf & Country Club features a unique blend of holes, with six par 3s, six par 4s and six par 5s, leading to a different attacking mentality for some players, including Sharp.
"There are a lot of par 5s that are reachable for me, so in my mind mentally there are three that are a par 4 for me, on the par 3s you never really know because they're harder, so mentally trying to play those 5s like 4s helped me make birdie," Sharp noted.
Having sparingly played in the event over the past decade thanks to LPGA Tour status, Sharp is looking for her first win since she went back-to-back in 2011-2012.
"My schedule has been a bit spotty, and I have two weeks off, I've been playing well on the Epson Tour and am in the top 10, so wanted to keep playing and this was a good time to come up and play," said Sharp, who won the Champions Fore Change Invitational less than a month ago on the Epson Tour. "It is close to where I was playing last week in Toledo, and I can't miss the opportunity to come back and play an event in Canada."
The final group tomorrow is identical to last year's final pairing, subbing out 2022 champ Sarah Eve Rhéaume for leader Sharp. Min-G Kim fired a 3-under 69 to sit in second, while Caroline Ciot, the low PGA of Canada member at this point, fired a 1-under 71 to lead the PGA member charge. A group of six players are in a tie for 4th at even par.
ORORO Heated Apparel is giving away eight heated vests to participants this year. The two players with the biggest bounce-back rounds tomorrow will receive vests, along with the two players who fire the low round each day. One vest will be given to the low amateur of the event and the final vest will go to the top finisher yet to receive one.
Each day, a hole is deemed the NoSweat Hardest Hole of the Day, with the player who makes the low score winning $150 courtesy of NoSweat. The 16th hole was the hardest hole on Tuesday, but three players managed to make birdie: Caroline Ciot, Valerie Tanguay and Skylar Kew. After a random draw, Valerie Tanguay is our first round NoSweat winner.
Everything you need to know, including pairings, leaderboard and more, can be found on the tournament page here.
Photos from the tournament can be found on our Flickr page here.
Content from the event can be found on our Instagram page, here.
Final round tee times begin at 7:30 AM ET on Wednesday.