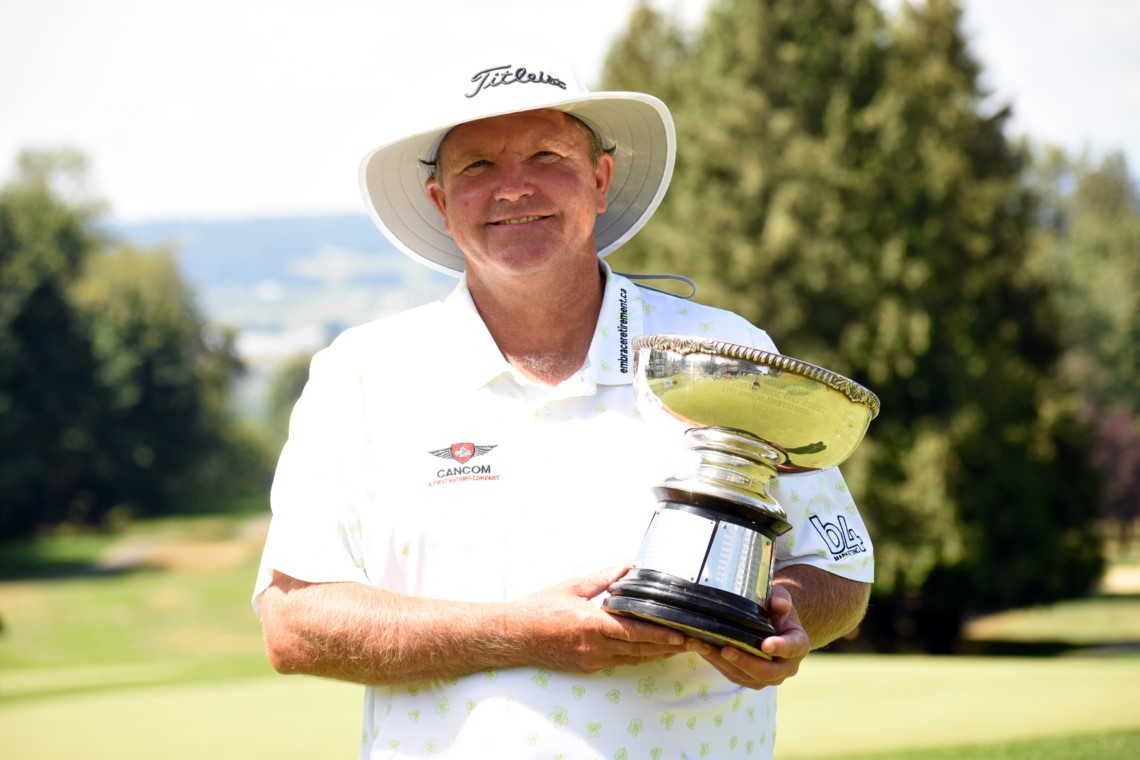 Alan McLean wins PGA Seniors' Championship of Canada presented by GOLFTEC in Playoff
By: Brendan Stasiewich, PGA of Canada
Earlier this week, Alan McLean chuckled when asked if he shot an 'easy' three-under 67 during the first round.
"It's never easy."
You could add a few exclamation points to that statement on Friday.
By the fifth hole, McLean's four stroke lead had vanished – and it wasn't due to poor play on his part – instead it was playing partner Danny King storming out of the gate with five birdies to open his round.
"Today was a roller coaster of emotions," said McLean, who also claimed the PGA of Ontario Zone Championship earlier this summer. "It didn't look like (King) was going to miss a shot. All my misses on the first few holes were 12 or 14 feet, and I knew it was unlikely (King) would birdie every single hole, so I just had to play the golf course, not the man."
For the second-straight day, McLean's driver helped him out on the 10th hole. He hit it to six feet on Thursday and knocked it in for eagle. He left himself half that distance on Friday for an easy conversion.
A birdie a few holes later gave McLean a three-stroke advantage – it looked like the PGA Seniors' Championship of Canada presented by GOLFTEC was once again in his grasp – but Ledgeview Golf Club (and Dennis Hendershott, the other player in the final group) had other ideas.
"(Hendershott) was lurking all day," said McLean.
An untimely error on 14 turned the tides. McLean caught his chip on the par-3 heavy, failing to reach the putting surface, and was unable to convert the up-and-up-and-down. Meanwhile, Hendershott buried a 25-footer for birdie; three-shot swing.
Just under an hour later, Hendershott and McLean were headed back to the 18th tee for a playoff. King wound up a shot shy of qualifying – his approach on the par-5 18th (somehow) ended up a foot past the greenside bunker, giving him the golf-stance equivalent of a grade-8 dance; quite awkward.
In the playoff, Hendershott mis-fired left on his approach, opening the door for McLean to two-putt for the victory.
"I hear the phrase all the time that pressure is a privilege, and I had some pressure today," said McLean, who had to high tail it to Abbotsford airport following the playoff to catch a flight to Calgary for the Shaw Charity Classic. "Hopefully this puts me in a good spot going into next week."
As McLean held the trophy, he looked down at some of the other historic names etched in history.
"I think it's a testament to my hard work," said McLean. "I'm very privileged to have my name on here. Stan Leonard, Bob Panasik, Gar Hamilton, I know a lot of these gentlemen and it's an honour to have my name on here in perpetuity."
An interview with Alan McLean can be found here.
Meanwhile, Jim Rutledge claimed the Super Senior (60+ aged) honour, which concluded after the competition on Thursday. Rutledge finished the event alone in 8th place as Moe Norman's record of 8-Championship wins remains in-tact for at least another year.
Each day of the event, one hole is deemed the NoSweat Hardest Hole of the Day. The player that conquers the hardest hole is given a $150 bonus thanks to NoSweat. The 6th hole was selected as the most difficult hole on Friday. After a random draw, Brian R. Johnson is today's winner.