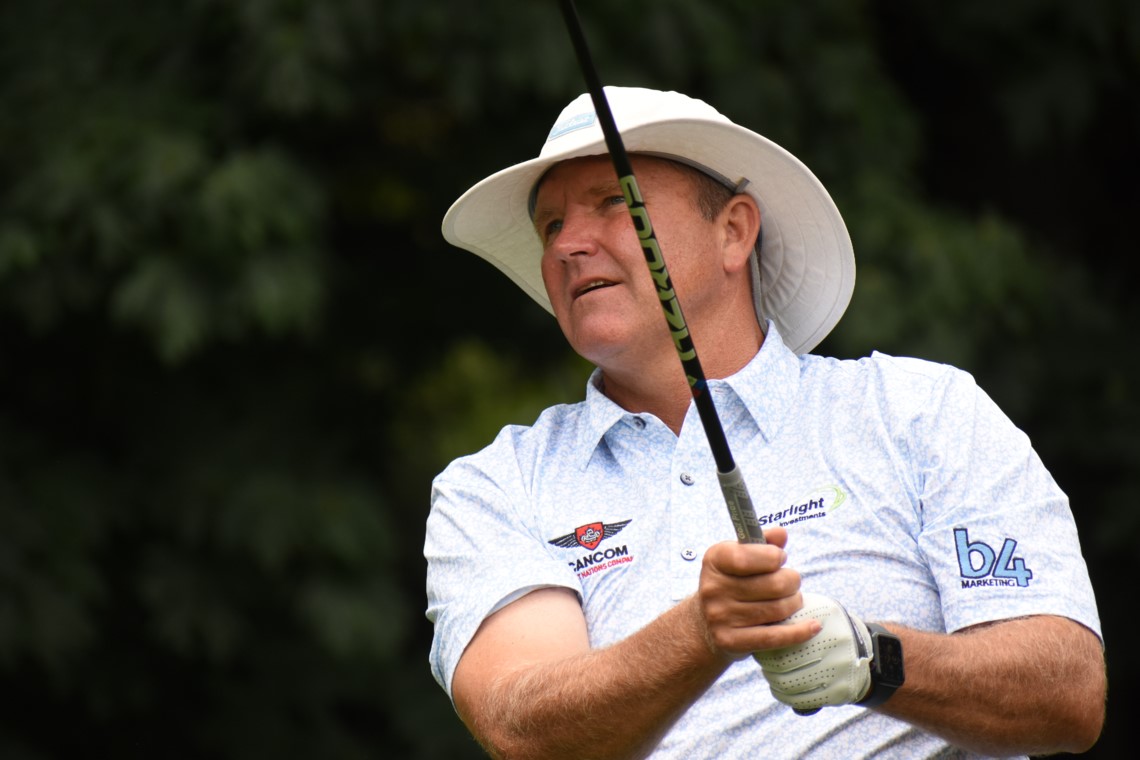 Alan McLean fires 5-under 65 to take four-stroke lead at PGA Seniors' Championship of Canada presented by GOLFTEC
A roller-coaster round had a lot more highs than lows on Thursday for Echo Valley Golf Club's Alan McLean, as the 52-year-old managed six birdies and an eagle to card a 65 – the low round of the tournament thus far – to take a four-stroke lead into tomorrow's final round of the PGA Seniors' Championship of Canada presented by GOLFTEC at Ledgeview Golf Club in Abbotsford, BC.
Ledgeview, which produced household PGA TOUR names Adam Hadwin and Nick Taylor, had yet to give up a round better than 67 – but the tides turned on Thursday, with McLean's 65 being only one better than Dennis Hendershott and Mike Burrows. Hendershott heads into the final round in a tie for second with Danny King, while Burrows (T6) will round out the penultimate pairing.
McLean's round was defined by a one-hour stretch of golf that was as close to perfect as you'll find on a course, making three birdies in a row from 7-9 before hitting his driver to six feet on 10 to round out a 5-under four-hole stretch.
"I actually I started off a little shaky, not too shaky, but I missed a few fairways and got punished for my waywardness and struggled to recover," said McLean, who has a major opportunity to move inside the top 10 of the PGA of Canada Player Rankings presented by ECCO Golf and earn Lightspeed Summer Surge honours for the event. "I think I settled down after chipping in for birdie on No. 3 and then I got on a bit of a roll around the turn."
"These greens are tricky, they aren't super quick but there is a lot of slopes, so I have been trying to stay below the hole all week," said McLean, who finished T42 at the US Senior Open last month.
McLean looks to add to a stellar 2023 resume that also includes a PGA of Ontario Zone Championship. All three players (who are all PGA of Ontario pros) in the final pairing have winning acumen; King won the BetRegal PGA Championship of Canada in 2015 and Hendershott won this very event in 2021 in Bromont, Quebec.
While he says his strategy won't change too much, McLean noted that a reliance on his driver in the first round helped him find more fairways.
"I didn't hit the driver as many times today as yesterday, but I was in trouble more, so maybe the key is taking out the big dog and letting it eat," said McLean. "I think that I'm playing well and comfortable on the golf course, so tomorrow hopefully the putts roll in."
An interview with Alan McLean can be found here.
While both Jim Rutledge and Philip Jonas will continue onto the final round tomorrow, the Super Senior competition featuring players aged 60 and up concluded on Thursday with a sudden-death playoff between the long-time friends.
Jonas' 10-foot birdie putt on 18 caught the lip and horseshoed out, opening the door for Rutledge to burry an 8-foot slider to win the trophy and $1000 prize.
Each day of the event, one hole is deemed the NoSweat Hardest Hole of the Day. The player that conquers the hardest hole is given a $150 bonus thanks to NoSweat. The 12th hole was selected as the most difficult hole on Thursday, and only gave up four birdies. After a random draw, Glen Mills is today's winner.
Final round tee times are set to begin on Friday at 7:00 AM PST.