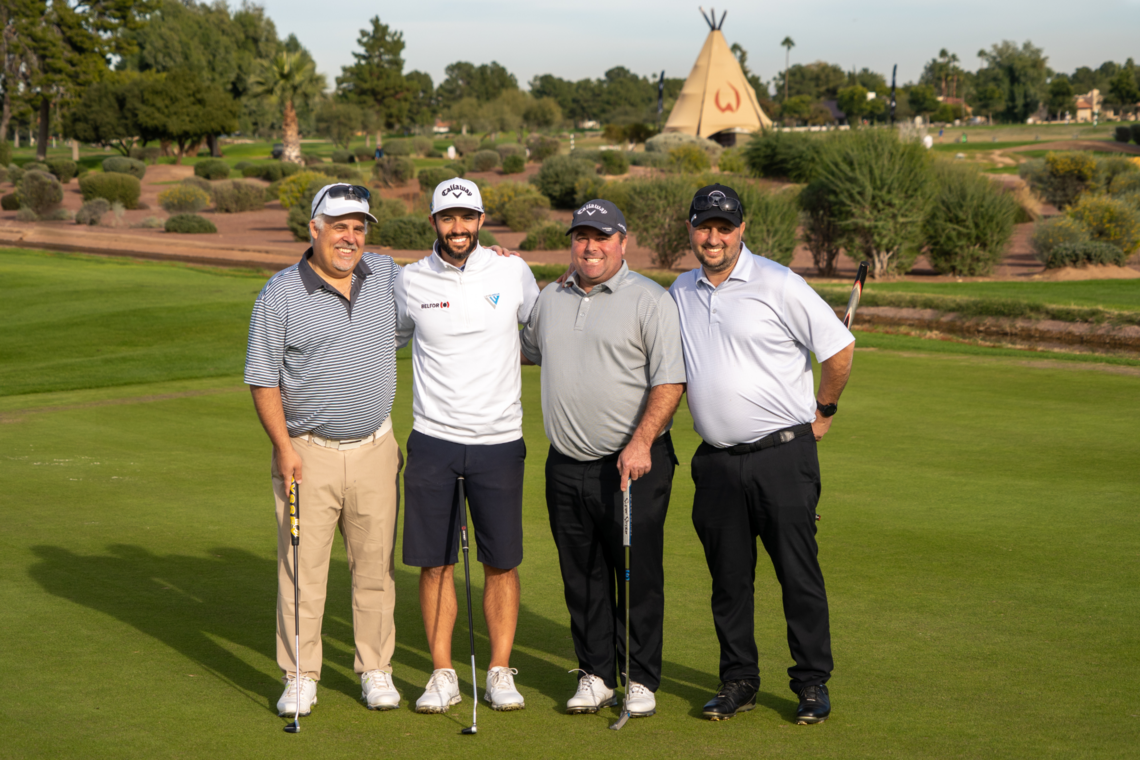 Adam Hadwin Delivers Dream Day for Patronize Your Pro Program
Powered by SCOREGolf:
It's a phrase that tugs strongly at the heartstrings of Kevin Thistle.
Patronize Your Pro.
When he was a youngster getting started in golf he would see those words emblemized in gold lettering on the green golf pencils in every pro shop he entered. Or in white lettering on red pencils. Patronize Your Pro. Patronize Your Pro. He would play golf courses hoping dearly to see their pros. Wilson Paterson. Ron Morris. Bill Walsh. When he started working in the business at what was then known as Seaton Golf Cub in Pickering, Ont., it was Clayton Cary who was in charge. Cary would employ Thistle for 14 years and become one of his mentors.
"Those were the days when the pro was revered," said Thistle ahead of a practice round for the PGA Head Professional Championship of Canada presented by Callaway Golf at The Wigwam just north of Phoenix, Ariz.
So when the longtime professional — whose resumé includes stops at Seaton, Angus Glen, Coppinwood, Toronto Hunt and Mickelson National — took over as the CEO of the PGA of Canada in 2017 he began harkening back to those days while visiting courses. It started with a trip to York Downs where he purchased some Christmas gifts from Ian Crebbin, took a photo for social media, and typed those three words. Patronize Your Pro. Next was The Hamptons in Calgary. Another photo, another tweet. Before long it was Thistle's social media calling card and next, with the support of Callaway Canada, a full-on hashtag: #PatronizeYourPGAPro.
The equipment behemoth, who came aboard as sponsor of the Head Pro Championship this year, partnered with the PGA on a Patronize Your Pro pilot program. It resulted in a social media campaign in which club professionals snapped photos with members who purchased items in their shop and utilized the hashtag to spread the gospel. No club generated more online engagement than Hudson, Que.'s Whitlock Golf and Country Club, whose reward was a game for Whitlock head professional Gregg Cuthill and two of his members at The Wigwam with Callaway staffer and PGA Tour winner, Adam Hadwin.
"Our investment is really geared towards green-grass," stated Bruce Carroll, General Manager of Callaway Canada. "That's where we see our biggest growth potential. We also see it as the most steady channel in golf as well. With Kevin going around to golf shops and tweeting out patronize your PGA professional, I just thought that would be a really cool thing for Callaway to do."
Weekly and monthly prizes were issued, but the grand prize was bestowed upon Cuthill and Whitlock members Robert Walter and Derek Sgrignuoli. The certifiable golf nuts, who celebrated Walter's 50th birthday with a trip to Pebble Beach this summer and will celebrate Sgrignuoli's 50th next year in Scotland, had, along with Walter's brother-in-law, paid big bucks to attend a Callaway pro-am in Ontario's Muskoka region in the fall. As a reward, Cuthill threw the three men's names in a hat for the Hadwin game and Walter and Sgrignuoli were the lucky two.
Walter, who recently sold his company Frandon Seafood and now manages it, is Whitlock's incoming club captain, while Sgrignuoli, the chef/owner of Le Balnéo Restaurant & Bar, is on Whitlock's food and beverage committee. Both men were hugely complementary of the leadership of Cuthill at their 100-plus-year-old club.
During breakfast before their round with Hadwin, Sgrignuoli did his best to shrug off any potential nervousness while Walter was more direct.
"I'm going to be nervous," he declared. "I hope I don't shank my first shot."
Shank it, he did not. The two men accorded themselves very well playing the back tees with Cuthill and Hadwin, whose father Gerry is a longtime PGA member. Hadwin, the 2017 Valspar Championship winner, worked in the back shops of both Morgan Creek Golf Course and Ledgeview Golf Course and next week will represent Canada for a second time in the Presidents Cup.
"Given the fact that my dad was a PGA of Canada member for 25-plus years, this has a little more of an impact on me," said Hadwin. "I grew up around all of the courses he worked at, I saw what all these professionals do on a daily basis. They're the ones growing the game. We might be able to draw some people to the game that might not otherwise get there but they're the ones teaching them from a young age and helping them progress and learn the game so anything that I can do to help is the least that I can do."
Once their round finished, Hadwin joined Cuthill, Walter and Sgrignuoli on the patio to swap more stories and share even more laughs. The group engaged in some good-natured trash talk on the course and both amateurs said they were blown away by the day.
"What impressed me the most was that (Hadwin) was only two shots up on (Cuthill) after nine but then he just flipped a switch and birdied four of the next six holes," said Sgrignuoli. "He was throwing darts."
Added Walter of Hadwin's friendly personality: "It was just like golfing with one of the guys at the club on the weekend. Him, as a person, was just amazing."