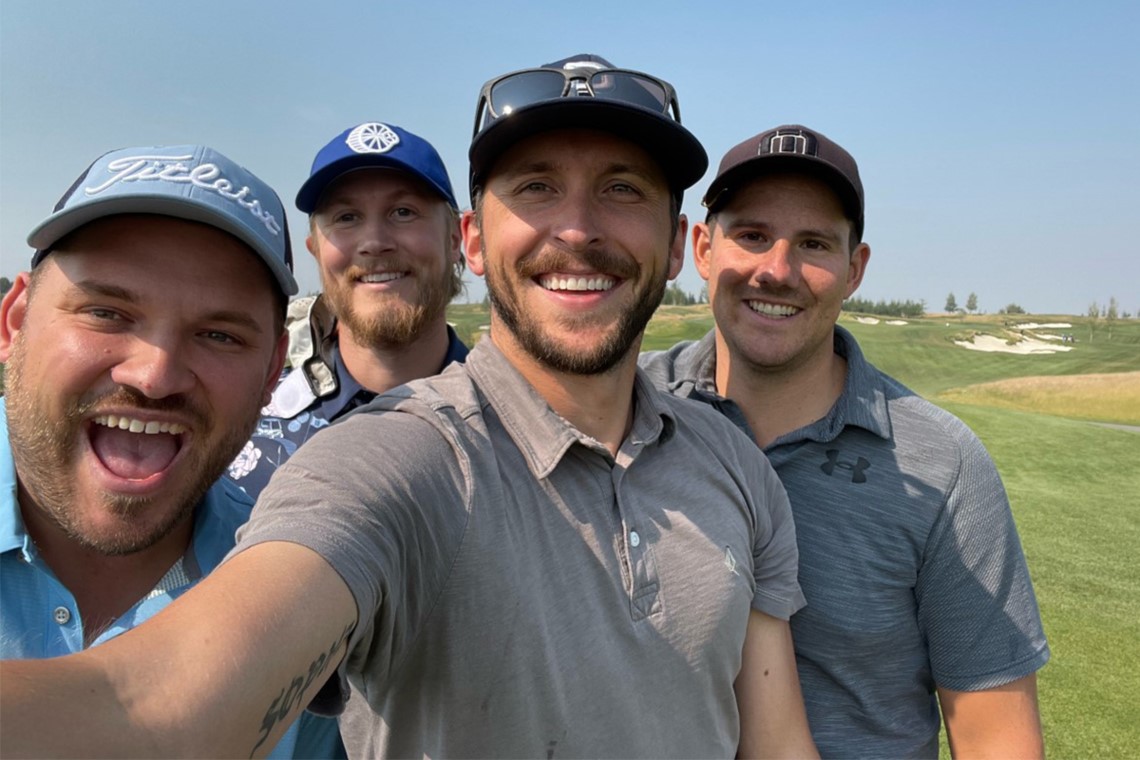 A Golfers Dream: Four friends play four RBC PGA Scramble Local Qualifiers in four days in Alberta
By: Shelby Dechant
David Wood had a weekend many golfers dream of. The avid golfer from Calgary spent Friday to Monday on the course with two of his closest friends and a cousin. The group of four weren't just playing for the love of the game, but in an attempt to earn a spot in a RBC PGA Scramble Regional Final.
The team had tried their hand at earning a spot at regionals once before, earlier this season. After narrowly missing out on that, they decided they would try their luck again... four more times, in fact, on the weekend of September 24, in Calgary A.B. The men spent Friday, Saturday, Sunday, and Monday traveling around golf courses in Calgary, Canmore, and Cochrane.
"We played Gleneagles in Cochrane, and then we played Mackenzie Meadows in Calgary and Heatherglen in Calgary and then Stewart Creek in Canmore… it was my birthday weekend and we got the OK from the wives, so it was great to get some friends and family together and spend the weekend on the course," said Wood.
Wood compared their weekend to PGA TOUR player Louis Oosthuizen's season; always missing out on the winning spot by a hair or a stroke of bad luck.
Wood's team did not miss out on a spot at regionals due to lack of effort or skill. The men finished second or third each day. Based on the number of teams that enter, only one or two teams from each local qualifier will advance to the next round. Unfortunately, for Wood's team, despite playing well, they were unable to advance to regionals based on their results.
However, the group is hoping they will have one more chance of advancing later this month. If the sixth time is not the charm, they will still hold out hope for an advanced team to drop out and so they can be called up as an alternate to compete in the regional final.
Teams of four can compete in 167 local qualifiers across Canada. Teams that are successful in their local qualifiers will advance to the regional finals where they will have a chance to play alongside a PGA of Canada professional from their local qualifying site.
Regional finals are held across Canada from early August to early September. Wood's region's final is set to be held at Stewart Creek Golf and Country Club in Canmore, AB on September 1.
Teams who find success in their regional finals will advance to the RBC PGA Scramble National Final. The 2021 finals will be held at Cabot Links in Nova Scotia from October 3-5. The event is a once-in-a-lifetime golf trip that is sure to become the highlight of a golfer's career.
The final is a 54-hole tournament format with teams made up of four amateurs and one PGA of Canada professional.
The final offers much more than just a round of golf. Participants can expect memorable social events, contests, four nights at Cabot Links hotel, and the chance to walk away as the RBC PGA Scramble champion.
As of right now, Wood's team will not be attending the legendary event. However, the Louis Oosthuizen's of the RBC PGA Scramble will hold out hope that their luck turns before the end of the month so that they can stay in the race towards Cabot Links.
"There's still hope we'll find our way to regionals, maybe this is an underdog story," said Wood.
visit https://rbcpgascramble.com/local-qualifiers/ to find a local qualifier near you.