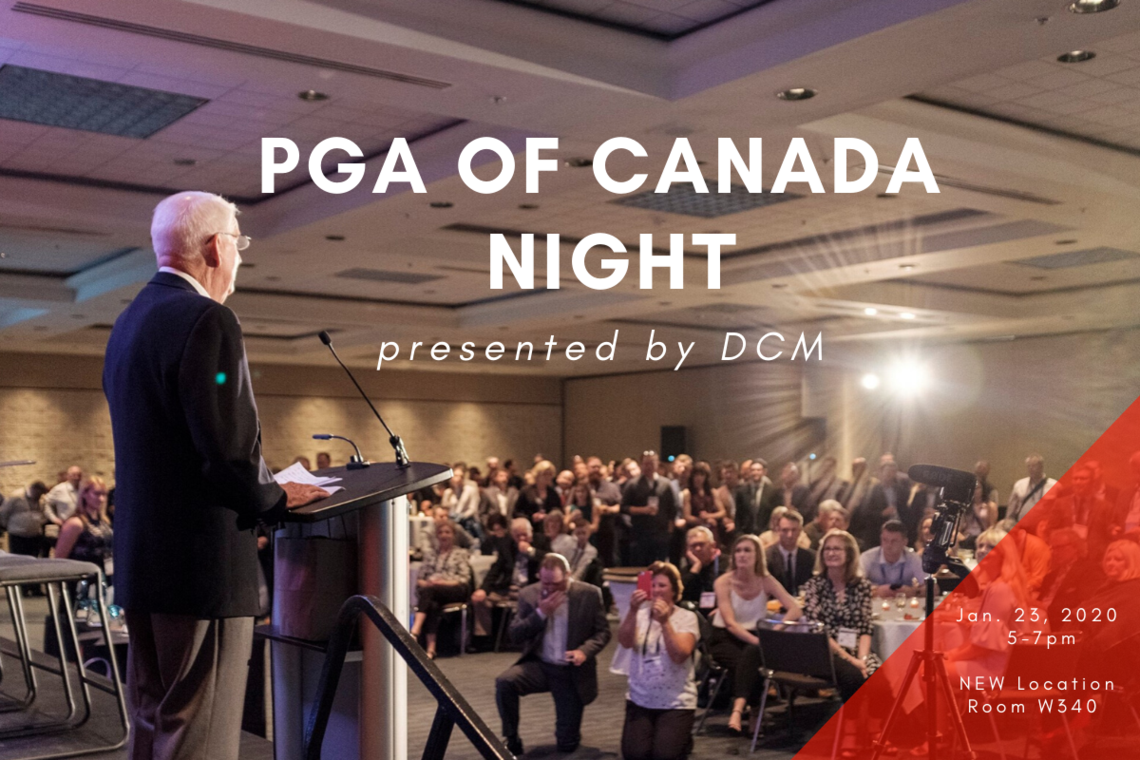 2020 PGA of Canada Night
The largest annual celebration of Canadian golf is just around the corner.

More than 400 golf industry professionals are anticipated to attend PGA of Canada presented by DCM, which takes place Thursday, Jan. 23 from 5-7 p.m. at the PGA Merchandise Show in Orlando, Fla. The event will be held in room W340 (Sunburst Ballroom, West Concourse - NEW LOCATION) at the Orange County Convention Center.

"PGA of Canada night has quickly grown into one of the most anticipated gatherings in our industry," said CEO Kevin Thistle. "This is one you won't want to miss."

The 2019 National Award winners and newest Hall of Fame inductee, Michael Schurman, will be recognized as part of the evening's festivities. Bob Weeks and Ian Leggatt are set to return as emcees.

This year's winners include:
Jonathan Garron, Murray Tucker Golf Professional of the Year
Brian Schaal, Dick Munn Executive Professional of the Year
Scott Cowx, George Knudson Teacher of the Year
Paul Schatz, Jack McLaughlin Junior Leader of the Year
Carla Munch-Miranda, Ben Kern Coach of the Year
Steve Bryant, Pat Fletcher Retailer of the Year
Chris Cooke, Moe Normal Apprentice Professional of the Year
Samuel Kirkness, Stan Leonard Class "A" Professional of the Year
Wes Heffernan, Mike Weir Professional of the Year (unable to attend)
Cory Kartusch, Tex Noble Professional Development Award
SCOREGolf, George Cumming Distinguished Service Award
Those visiting the PGA Merchandise Show are highly encouraged to attend. To register, click here.