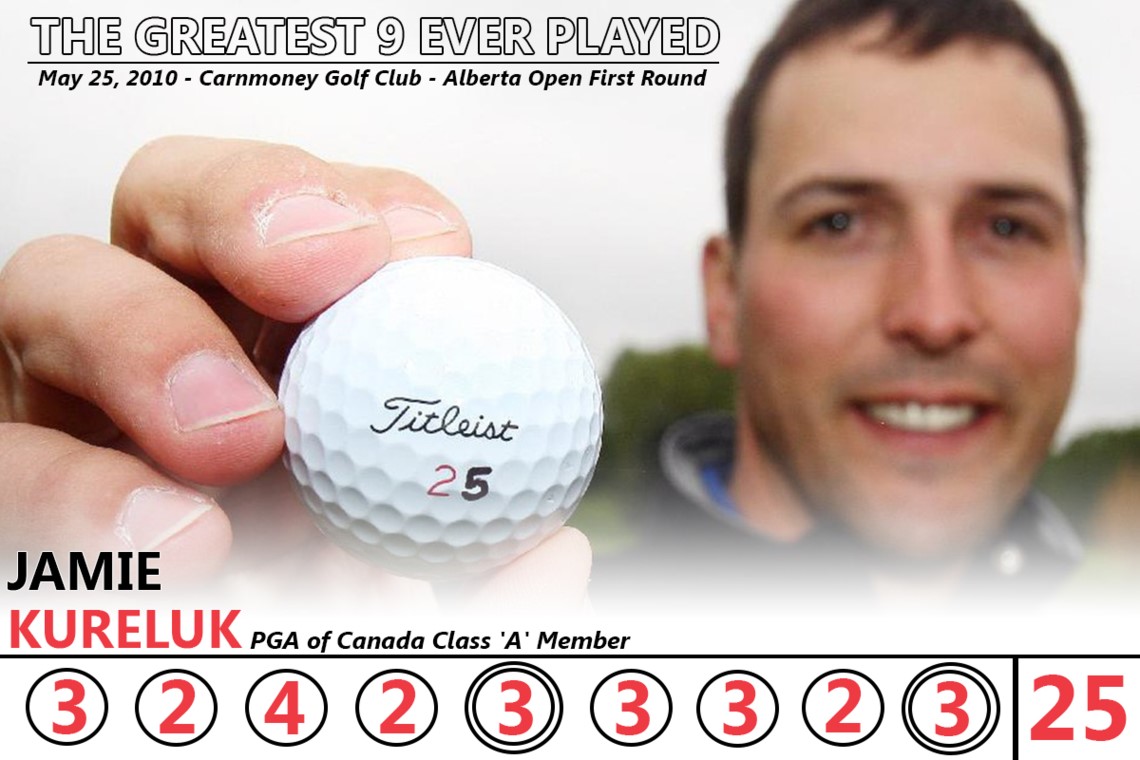 11-Years Later, Jamie Kureluk's 25 Remains One of Golf's Greatest Feats
By: Adam Stanley
More than a decade on, the story of Jamie Kureluk's accomplishment at the 2010 Alberta Open still leads to looks of astonishment – no one in the whole golf world has managed to top his feat.
Kureluk, now a Class 'A' PGA of Canada member and the head teaching professional at GOLFTEC in Calgary, was an Assistant Professional at Cottonwood Golf and Country Club in 2010 and was in the midst of chasing his PGA TOUR dream.
Instead, he had a dream-like result at the Alberta Open, shooting an 11-under 25 on his back-nine in the first round (he shot 36 on the front; 61 for the round).
The final round was cancelled after a blizzard made the course unplayable, so, after his second-round 70, he was declared the winner.
That 25 remains the lowest nine-hole score shot by a professional in a formal event (the lowest on the PGA Tour is 8-under 26) and although Kureluk doesn't get asked about it much anymore, Cottonwood still has a framed scorecard of his accomplishment hung up. Every once in a while, a new student of his will – after a quick Google search – begin to ask him about that magical day.
"It was awesome. I'm still very proud that the record still holds, but records are made to be broken," says Kureluk. "You never know, but you have to be almost flawless."
Kureluk spent a little time with the PGA of Canada a few weeks prior to the 11th anniversary of his 11-under score, to take us along for the ride of golf's greatest nine-hole stretch.
Here's an anatomy of a 25, told by the man himself.
THE LEAD UP
At the time, Kureluk was chasing the Canadian Tour, which is now known as the Mackenzie Tour – PGA TOUR Canada. He was a member in 2002, 2003, and in 2006. He had won on the Dakotas Tour in 2006, but by the end of that year was out of money and was tired of sleeping on couches. He went to work at Cottonwood and played every tournament on the PGA of Alberta schedule the next few years.
The winter of 2009-2010 he travelled south and played some mini-tour events. He won a Pepsi Tour event after shooting 65 in the final round. It was the same weekend as the Bob Hope (now The American Express) and he ended up beating a guy with PGA TOUR status. It was a good confidence boost, he said.
Kureluk travelled back to Canada in the Spring and prepped for the Alberta Open in May.
"I won a PGA of Alberta Players Tour event prior to the Alberta Open and I was feeling really good about my game. I had some decent finishes before, and at that time we had such a strong group of professionals playing in Alberta. I knew it was a really good field.
The night before, I was closing at Cottonwood and I was in the shop with a university student working there that summer. I took my 7-iron out to the range and I think I hit eight shots. By my account, they were perfect. I walked back into the shop and I said, 'I still got it.' He looked at me and laughed and I was feeling good. But with tournament golf, you never know what can happen day-to-day."
THE ROUND
The 2010 Alberta Open took place at Carnmoney Golf Club and was scheduled for Tuesday May 25 to Thursday May 27. Kureluk was in a group that featured defending champion Ryan Yip – who would go on to play on the PGA TOUR and Korn Ferry Tour and is now the assistant men's golf coach at Kent State University, his alma mater.
Kureluk says he had a straightforward warm-up for the first round and made par on No's 1-3. On No. 4, a par-3 and the shortest hole on the course, he four-putted for double bogey.
"My caddie said he knew we would be making two bogeys in the tournament, but we just so happened to make two of them on the same hole! Ryan was 2-under through nine holes and I was 1-over.
Carnmoney has four par 5's and there are three of them on the back nine. Plus No.9 is a par five. I thought if I played steady and birdied all the par 5's I could shoot 3-under and be right there. I birdied nine and I was thinking that I just needed to play solidly.
My home course was Cottonwood, but my parents were members at Carnmoney, so I'd get to play out there a couple of times per year with them. I knew the course a little bit. I knew some of the quirks to it. I just continued on playing my game."
After making birdie on the par-5 9th, Kureluk started a stretch of golf that has yet to be equalled. He birdied No's 10 and 11 and came to the par-5 12th.
"On 12, when I played there with my parents, we didn't use range finders. There's a shortcut on 12 where you could drive it over some trees, but there's a pond you can't see.
With my parents, the first eight times I played there, I probably tried to drive it every time. Half the time I couldn't find my golf ball. Once the range finders came out, I learned it was a 300-yard carry on the nose.
My thought, back then when I had some distance, was that if it was downwind, I could go for it, and I just smashed it. I had pitching wedge into the par five and left myself 15 feet for eagle. I left it half-a-revolution short. I was disappointed, but still happy after making four birdies in a row. I was now under par for the tournament and playing solidly.
The third in our group was an amateur from Edmonton, Frank Mackenzie, I had played with him in the Alberta Open previously and had a stretch with him on the back nine where I went 6-under through five holes. So here, in that same stretch, I'm playing with him again and it's going off.
No. 13 was one of those holes. The pin was on an upper shelf and I didn't quite get it up there and it rolled all the way down to the front of the green, so I had a 60-foot triple-breaker… I made it right in the heart. Now I've got momentum and things were going my way. Riding high on confidence and hitting it well.
The 14th is a par five and I absolutely tomahawked a driver over a bunker on the right. You have to be feeling good just to take that line on. I hit a 5-iron from 212 to three feet and made that, straight in the heart, for eagle.
Now I'm getting to the point where I'm not really keeping track of where I'm at. At this point it's just going so well.
I hit a great drive on 15 right in the middle of the fairway and then hit it to 12 feet from there. It was a greasy, downhill left-to-right putt… and I made that in the heart. Perfect.
On 16 I hit a 3-wood through the fairway into the fescue on the right. I had a side-hill lie in the fescue and I hit a pitching wedge to a front-right pin. That's when you know things are going really well. That putt on 16 had a ton of break. We had it read anywhere to a cup-and-a-half outside the hole to right edge. If I missed it, it could have gone 10-feet past the hole. I opted to go with a little more pace and less break, and I ended up making it right in the middle.
No. 17 is a par three and I hit 7-iron right at it. All over it. 15 feet long. Downhill left to right, fast. Made it, again, right in the heart.
I tell my students this all the time: If you're ever getting to the point where you're having the round of your life, just keep your foot on the gas. Don't try to hang on. You only get these opportunities every so often, so I tell them to keep trying to make birdies. Don't try to steer your way in with pars. That's what I was trying to do.
THE FINAL HOLE
When Kureluk walked off 17, he tried to add up where he was at, but lost track a little. He was far enough under par, he knew, and the actual number didn't matter much.
The 18th hole is a different kind of par five, Kureluk says, with the opportunity to chew as much of the hole off as you want over water – but there isn't much space to do it. If it leaked and ended up in the water, he would have to take a drop on the next tee box up. He took an aggressive swing and smashed it into a big hill through the fairway, locating his ball in the fescue.
"The ball was a foot below my feet, but it was sitting perfect. My caddie mentioned hitting 9-iron and laying up, but I was like, 'the lie is good. We've got 197. We might as well try to get it up near the green.' I hit 5-iron and right when I hit it my caddie said, 'is it right?' He was wondering if I lost it right because I had a side-hill lie. My response to him was 'get in.' This thing was tracking. It was all over it.
Ryan (Yip) had to lay up and my ball was in his way. From about 25 yards away I grabbed my putter and just said I'd go tap it in because it looked like it was an inch from the hole. I got up there and it was more like two feet away. I put a mark on it and let those guys play.
As they were playing up to the green I was calculating where I was at on that nine. Both of those guys, from probably 14-on, they weren't talking to me. It was like when a pitcher is throwing a no-hitter and no one is even sitting near them. That's what was going on.
I was nervous over that two-footer but knocked it in. I pulled the ball out of the hole and looked at the guys and said, 'I think I just shot 25' and they were both like, 'Yup!' They knew exactly right away where I was at.
AFTERWARD
There was no champagne celebration or big scrum with all the local TV stations after his record-breaking nine-hole effort. Kureluk laughed in scoring as each number was checked and verified and then he walked to his car to call his father. He listed off the holes and the final number.
"He was silent for about 10 seconds and then he said, 'holy s—t.'"
Kureluk ended up using a putter his brother Dave used to shoot his own 61 a few years prior on the Canadian Tour. He had pulled the putter out of his parents' garage and it felt good. But he went to practice one day prior to the Alberta Open and one of the assistants at Cottonwood had changed the grip on his putter without telling him.
"He took it upon himself to change the grip on my putter even though touching someone's golf clubs in a big no-no! He said, 'well you were using a TaylorMade putter, so I put on the same grip.' I was pissed off.
But sure enough, I had one two-putt on the par five early that round but I basically one-putted everything else. I'll give him some credit for the grip change, and now both my brother and I had both used that putter to shoot 61s in competition."
Kureluk declined as much media as he could after the first round and before the second round, since he still had to go try to win the tournament. He did - after the blizzard cancelled the third round - winning by six shots after going 61-70.
His family had a huge party for him after the win in 2010 and he ended up speaking with a lot of local and international media – including a radio show in Australia.
These days he only gets asked about it occasionally, but he knows it was still a huge thrill, and a massive accomplishment in his playing career. It allowed him to keep playing a little longer – and he even broke 30 for nine holes again a few years later at another PGA of Alberta event.
"It's just such a different experience, while it was going on and what happened after the fact. I played full-time in 2011 after getting a few sponsors out of that win and shooting 25.
People ask me now, 'imagine if you didn't make that double on 4 – you could have shot 59!' Well, maybe. Maybe 73. That eagle putt on 12 – maybe I don't make another birdie after that. It's just how the round played out.
But competitive golf is not always fun. Even when things are going good, you're under stress. The whole point of getting into contention is about putting yourself in a more stressful environment, and the only way to create that is on you and playing well. I was pretty focused that day, but I wasn't jumping up and down and giddy and laughing.
It was just like how anyone playing the round of their life would feel."
[This interview was condensed for clarity]