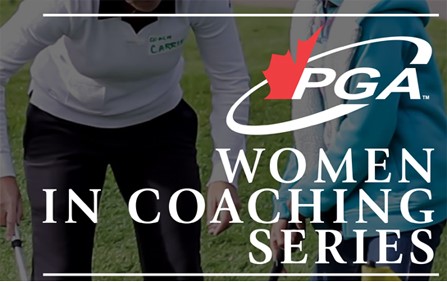 Women in Coaching Series - Future Links Leader Workshops
The PGA of Canada, with support from the Golf Canada Foundation (Women's Fund), will deliver three Future Links Leader workshops—free of charge—for female community level coaches
The PGA of Canada's technical director Glenn Cundari will lead each workshop and each participant will earn trained status in Future Links Leader context through the National Coaching Certification Program (NCCP).
The workshops take place Aug. 9-10 at Glendale G&CC in Winnipeg; Aug. 16-17 The Willows G&CC in Saskatoon; and Sept. 13-14 at Angus Glen GC in Markham, Ont.
"As I begin my coaching career in golf, the Women in Coaching series offered by the PGA of Canada has given me the opportunity to learn and share resources I can now use to grow the game with my own athletes and doing this in a room filled with other female golf coaches made the workshop that much more valuable," said PGA of Canada member Kate Weir.
Future Links Leader context has recently gone through a full review and is now a full two days of training that will better suit the community coach assisting with junior golfers.
Coaches can be introduced to what junior aged golfers find engaging; designing a golf session for a group of junior golfers; delivering planned sessions for designed for a group of junior golfers; being exposed to a variety of nontraditional equipment that can be used in a junior golf activities; being introduced to the concept that children at different ages have different needs and wants; exploring the key physical, emotional, cognitive and social characteristics of different aged junior golfers
This focus on female-only training provides an opportunity for more female leaders to get trained and be included in current and future opportunities in coaching.
"Being in a room full of female golf coaches was a unique opportunity I could not pass up on," said PGA of Canada Ashley Zibrik. "It really gave us the opportunity to share best practices and obstacles we face as women coaches in sport."
Providing opportunities for Future Links Leaders will drive the number of Girl's Club and Learn to Play sites in areas where a female PGA member may not be available.
To register,
CLICK HERE