Warren Crosbie Receives Honourary Graduate Studies Diploma from GMIC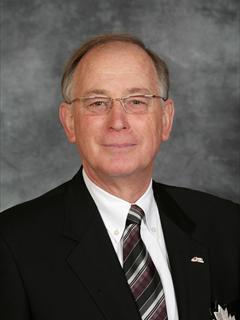 Canadian PGA President Warren Crosbie Receives Honorary Graduate Studies Diploma
OAKVILLE, ON (January 30, 2007) – The Golf Management Institute of Canada (GMIC) has bestowed an honorary Graduate Studies Diploma in Golf Operations Management upon Warren Crosbie, President of the Canadian PGA.
As a long-time promoter of education within the golf industry and a founding board member of the GMIC, Crosbie is dedicated to lifelong learning. Crosbie has been the Head Professional at Bayview Country Club in Thornhill, ON since 1979 and mentored more than a dozen Canadian PGA assistant professionals, who have gone on to become successful Head Professionals, Teaching Professionals or General Managers.
"Warren is a great asset to the golf industry in Canada. He was instrumental in initiating Canada's only on-line golf education program through the GMIC in 1999 and has been a steady supporter of it continuous growth ever since," says Grant Fraser, GMIC President.
Crosbie is only the third person to receive an honorary diploma from the GMIC joining Dick Grimm and Mac Frost to make it a trio. He recently gained advanced standing to Fellow of the PGA for his continuing role in education.
"I have always been a firm believer in education. The post secondary program that Grant Fraser has developed through the GMIC allows us an opportunity to expand our horizons within the golf industry and create educated leaders for tomorrow in our golf shops right through to management positions," says Crosbie.
Outside of the Canadian PGA and the GMIC Crosbie was also an instructor for the Professional Golf Management Program at Humber College in 1998 and has been invited as a guest speaker at seminars conducted by the Ontario PGA, Tennis Canada, regional National Golf Course Owners Association (NGCOA) and the Canadian Golf Course Superintendents Association (CGCSA) National Convention.
Crosbie's career as a Golf Professional began in 1966, working as an apprentice at the Burlington Golf and Country Club where he remained until 1973. During that time, Crosbie spent one season at the Chedoke Golf Club in Hamilton. While in Burlington, the seasonal nature of the golf business allowed Crosbie to hold the position of Golf Instructor for the City of Burlington Parks and Recreation winter golf programs and for the Burlington Family YMCA. Soon after becoming a Class "A" member of the Canadian PGA, Crosbie moved to the position of Head Professional at the Tyandaga Golf Club in Burlington before assuming his current role at Bayview in 1979.