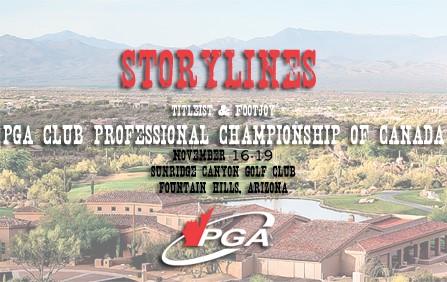 Storylines -- PGA Club Professional Championship of Canada
Quick Hits:
Dates: November 16-19
Course: SunRidge Canyon Golf Club. Fountain Hills, Arizona
Par/Yards: 36-36-71/6,823 yards
Field: 109
2013 Champion: Adam Chamberlain
Purse: $85,000/$12,000 (winner)
Format: 54-hole stroke play
Website: pgaofcanada.com/tournaments/index.aspx?l=0,1,45,93
Twitter: #PGACPC
Just the Facts:
The $85,000 purse Titleist & FootJoy PGA Club Professional Championship of Canada takes place November 16-19 at SunRidge Canyon Golf Club in Fountain Hills, Arizona. The 111-player field will be cut to the low 70-players (and ties) after completion of the second round.
Who Can Play:
PGA of Canada Master Professionals, Executive Professionals, Head Professionals or Head Teaching Professionals, Retired members in good standing who retired as one of the listed categories above and are a past champion.
Past Champions in the Field:
Adam Chamberlain-2013
Brian Hutton-2012, 2010
Roger Beale-2011
Eric Landreville-2007
Danny King-2005, 2006
Ian Doig-2004
Brett Burgeson-2003
Graham Gunn-2000
Top Ranked PGA of Canada Players:
Dave Levesque-No. 2
Eric Laporte-No. 5
Lindsay Bernakevitch-No. 7
Marc Girouard-No. 9
Danny King-No. 11
Chris Barber-No. 12
Scott Allred-No. 13
Graham Gunn-No. 14
Brian Hutton-No. 15
Brett Burgeson-No. 18
Ian Doig-No. 20
Eric Landreville-No. 21
Dean North-No. 22
Daniel Talbot-No. 23
John Hastie-No. 27
Dean Brown-No. 30
Jean Laforce-No. 36
Roger Beale-No. 40
Kevin Maxwell-No. 49
Andrew Steep-No. 50
Dan Greenwood-No. 53
Adam Chamberlain-No. 54
Chris Learmonth-No. 56
Marc Hurtubise-No. 58
Garett Jenkinson-No. 58
Gregg Cuthill-No. 60
Matt Peavoy-No. 63
Derek MacKinnon-No. 66
Philippe Mongeau-No. 73
Gordon Courage-No. 73
Jamie Kureluk-No. 75
Lance McCullough-No. 77
Kevin Black-No. 77
Paul Schweyer-No. 82
Scott Knapp-No. 82
Rob Anderson-No. 86
Jeff Buder-No. 89
Jeff Chambers-No. 91
Bruce Rogerson-No. 92
Brian Duek-No. 98
Mark Strong-No. 98
Inter-Zone Competition:
The Inter-Zone Team Championship, which is comprised of four players per zone (and three scores per team counting), will also be handed out after 36-holes.
'15 PGA Championship of Canada:
Competing players are also vying for much coveted ranking points with hopes of moving up the PGA of Canada Player Rankings presented by RBC. Players who are ranked inside the top 64 following the Titleist & Footjoy PGA Club Professional Championship of Canada earn invites into the 2015 PGA Championship of Canada sponsored by Mr. Lube and presented by TaylorMade-adidas.
SunRidge Canyon Golf Club:
GolfWeek Best Courses in Arizona-2014, 2013, 2012
Golf Magazine/Golf.com Best Public Courses in Arizona-2012
Golf World Top 50 Public Courses in the Country Readers Choice Awards
Home of the devilish, Wicked 6
The '13 PGA Club Professional Championship:
In 2013, Adam Chamberlain of Gowan Brae Golf Club in Bathurst, N.B., captured the PGA Club Professional Championship of Canada. The 31-year-old head professional's three-day total of 9-under-par 207 (69-68-70) was two better than two-time champion and perennial PGA Club Professional Championship of Canada favourite Danny King of The Performance Academy at Magna.
Let's (VIP) Party:
This exclusive event, hosted by CBS sports analyst and PGA Tour golfer Gary McCord, takes place on the evening of Sunday, November 16th. The party includes delicious food, great drinks and classic live music by Leonard Shaw of The Guess Who.
Fun Facts:
Frank Whibley won the first PGA Club Professional Championship of Canada in 1972
Gar Hamilton and Yvan Beauchemin are the only players to win the PGA Club Professional of Canada three or more times
With his win in 2013, Adam Chamberlain became the first PGA of Canada Atlantic Zone member to win a national championship
Other PGA of Canada national champions in the field include Dave Levesque (2014 PGA Championship of Canada), Eric Laporte (2013 PGA Championship of Canada), Marc Girourad (1997 PGA Assistants' Championship of Canada) and Ken Tarling (2011 PGA Seniors' Championship of Canada).
Airmiles: Roger Beale will travel 5,667 km from Barbados; while Blehr MacKinley, Alex Jewers, Chad Pearson and David Perry will travel 5,252 km from Nova Scotia
The PGA Club Professional Championship of Canada has never been held in Arizona
Fountain Hills, Ariz., is home to the world's fourth tallest fountain. The fountain sprays water for about 15 minutes every hour between 9am and 9pm with he plume rising 560-feet into the air
The average temperature for the year in Fountain Hills is 20.6°C. The average amount of precipitation for the year in Fountain Hills is 193 mm with an average of 37.2 days of precipitation
On the Web:
Twitter: @pgaofcanada
YouTube: ThePGAofCanada
Facebook: PGAofCanada
Website: PGAofCanada.com
App: Available for download in both the Apple iTunes and Google Play stores
PGA of Canada Contacts (onsite):
Chris Fry
Manager of Communications
chris@pgaofcanada.com
@TheRealCFry
416.543.2724
Adam LeBrun
Tournament Director
adam@pgaofcanada.com
@browner04
416.886.4819
Jeff Dykeman
Director of Business Development & Brand
jeff@pgaofcanada.com
@jeffdykeman
647.400.4460
Header Bodden
Tournament Operations Manager
heather@pgaofcanada.com
@heatherbodden
416.524.2432