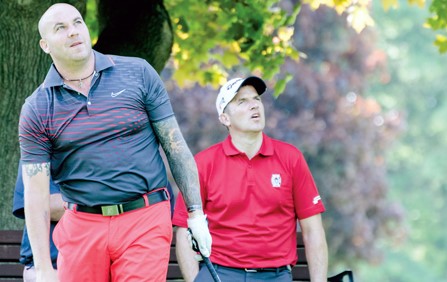 PGA Particpates in Soldier On Golf Camps
The PGA of Canada recently participated in the 2014 Soldier On Canada National Golf Camps.
PGA of Canada members played an integral part giving instruction to the nearly 20 Canadian Forces members who participated in the weeklong Soldier On golf camp at numerous golf facilities across the GTA
"The PGA of Canada and Soldier On have partnered up for the golf camp and it's been fantastic with all the participants just being over the moon with the experiences," said Major Jay Feyko, Soldier On. "We've received top-notch instruction at top-notch facilities."
Soldier On was founded in 2006 to empower retired and serving members of the Canadian Forces with an illness or injury (visible or non-visible) to accept their new normal by adopting an active lifestyle through participation in physical, recreational or sporting activities.
This reintroduction to an active lifestyle helps them to develop new skills, build confidence in their abilities and realize their full potential. Many ill and injured members credit Soldier On with helping them to overcome their challenges and open doors to other life opportunities.
"I was released from the military after 20-years of service due to injuries and rather than go down the dark path, I chose golf and that's my future," said Shawn Hofman, Soldier On National Golf Camps participant. "The Soldier On program has done more for me than just allowed me to play golf, it's changed my life and led me down a much better path."
Hofman, who works at Cougar Creek Golf Club in Carvel, Alta., under head professional Ryan Doucette, is currently an applicant of the PGA of Canada and looks to pass his PAT later this summer.
"I'm thrilled the PGA of Canada and its members are involved with the Soldier On National Golf Camps," said Gary Bernard, PGA of Canada CEO. PGA of Canada members have—and will always—give back to their facilities, their communities and in this case, the men and women who served in the Canadian Forces."
The Soldier On National Golf Camps took place May 28-31 at The Briars Golf Club, Bond Head Golf Club, Thornhill Golf Club and Silver Lakes Golf Club with host PGA of Canada professionals Steve Grass, David White, Todd McGrath and Chris Bratten.
Members of Bradlee Ryall Golf, including Bradlee Ryall, Geoff Smith, Ian Hogg, Michael Resciniti, Mark Brennan and Sean Burke led instruction Bond Head and Thornhill. Grass and Matt Sirman handled instruction at The Briars, while Liam Mucklow of The Golf Lab was lead instructor at Silver Lakes.
For more information about Soldier On,
CLICK HERE