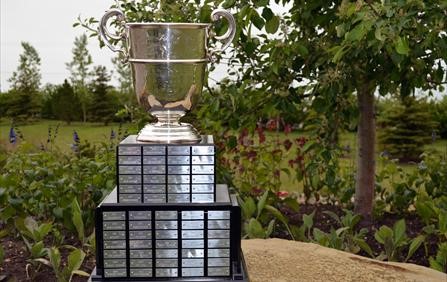 PGA Championship up for grabs
Three of the top four seeded players at the PGA Championship of Canada sponsored by Mr. Lube and presented by TaylorMade-adidas Golf were ousted Wednesday at Country Hills Golf Club's Talons Course.
Brian McCann (The Academy at BraeBen), the No. 1-ranked player from the PGA of Canada Player Rankings presented by RBC, lost 2&1 to Eddward Boudreau (Gorge Vale Golf Club). The No. 2-ranked Danny King (The Performance Academy at Magna) fell 5&4 to Eric Laporte (Club de Golf Montcalm). While Lindsay Bernakevitch (Shaughnessy Golf and Country) took down host head professional Brett Burgeson 3&2.
"The seeding in this event is just a number," Bernakevitch said after his match Wednesday afternoon. "We're all evenly matched in my opinion; we're all great players and it just matters how you play on the day."

Boudreau, who made six birdies in his match against McCann on a Talons Course that saw less wind than Tuesday, agreed with Bernakevitch, saying the talent level amongst PGA of Canada professionals is impressive.
"We've got some really good players and there's a lot of talent and there's a lot of people here with a lot of history in this game, so whether you're playing a very good veteran or one of the younger guys with talent you know you' re going to have to play very well to win."
Bryn Parry (Seymour Golf Centre) is the highest seeded player at No. 3 remaining after his 3&2 victory of Keir Smith (The National Golf Club of Canada).

Other top-10 seeded players advancing to Thursday morning's third round include No. 5 Dave Levesque (Academie de Golf Performance - Club de Golf La Prairie) and Mike Belbin (Royal Mayfair Golf Club), No. 7.
Coincidentally, with McCann, King and Burgeson all losing Tuesday; Parry, Levesque and Belbin all still have a chance to earn an exemption into next month's RBC Canadian Open.

The player who sits atop the PGA of Canada Player Rankings presented by RBC at the conclusion of the PGA Championship of Canada earns an exemption into the RBC Canadian Open at Hamilton Golf & Country Club in Hamilton, Ont., July 23-29.
McCann currently sits atop the Player Rankings with 160 points. Should Parry, Levesque and Belbin not advance at least to the championship's semi-final matches, McCann would maintain his spot at the top and earn the exemption.

Other winners from Tuesday's action include Ron Kenesky (Hidden Lake Golf Club); Conor O'Shea (Pipers Heath Academy); Dean Brown (Royal Regina Golf Club); Kevin Black (Seven Hills Golf and Country Club); Roger Beale (Royal Westmoreland); Bill Walsh (Fairtree Golf Centre); John McCann (Fairtree Golf Centre); Brad Clapp (Chilliwack Golf & Country Club); Bruce Rogerson (Brantford Golf and Country Club) and Phil Jonas (Hazelmere Golf and Tennis Club).
As was the case in 2011, this year's championship is contested as a match play event with players from four brackets—Stan Leonard, George Knudson, Al Balding and Moe Norman—looking to advance through the six rounds to the final championship match Friday at 1:30 p.m. at the Talons Course at Country Hills Golf Club.

The eventual champion will not only earn a share of the $100,000 purse, but will also capture the historic P.D. Ross Trophy.
Third round matches take place Thursday morning, while the quarter-finals go down on Thursday afternoon.

To view all match results from Wednesday's second and to view live scoring of Thursday's third round and quarter final matches, CLICK HERE.
The first PGA Championship of Canada was contested in 1912 at Mississaugua Golf & Country Club. The championship was not held 1915-18; 1943; and 2006-2010.

For more information about the PGA of Canada, visit us online at www.pgaofcanada.com