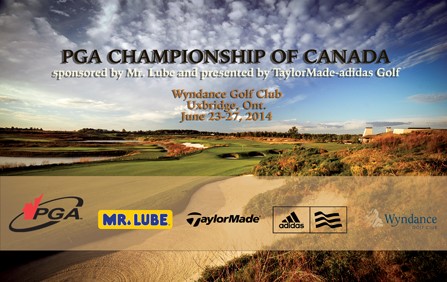 PGA Championship of Canada Matches Set
Sixty-four of the top-ranked PGA of Canada members are set to tee it up in the 2014 PGA Championship of Canada sponsored by Mr. Lube and presented by TaylorMade-adidas Golf.
As has been the case since the championship was re-launched in 2011, this year's championship at Uxbridge, Ont.'s, Wyndance Golf Club, will be contested as a match play event with players from the four brackets-Stan Leonard, George Knudson, Al Balding and Moe Norman-looking to advance through the five rounds to the final championship match.
This year's field features 34 of the top-50 ranked players from the PGA of Canada Player Rankings presented by RBC. Furthermore, nine of the top-10, including Billy Walsh (Fairtree Golf Centre), Bryn Parry (Seymour Creek Golf Centre), Dave Levesque (Pure Golf Experience), Mike Belbin (Royal Mayfair Golf Club), Danny King (The Performance Academy at Magna), Eric Laporte (Club de Golf Montcalm), Lindsay Bernakevitch (Victoria Golf Club) and Brad Clapp (Chilliwack Golf Club), are in the field at Wyndance.
To check out the full PGA Championship of Canada match play bracket, CLICK HERE.
A comprehensive preview of every player in this year's field can be FOUND HERE.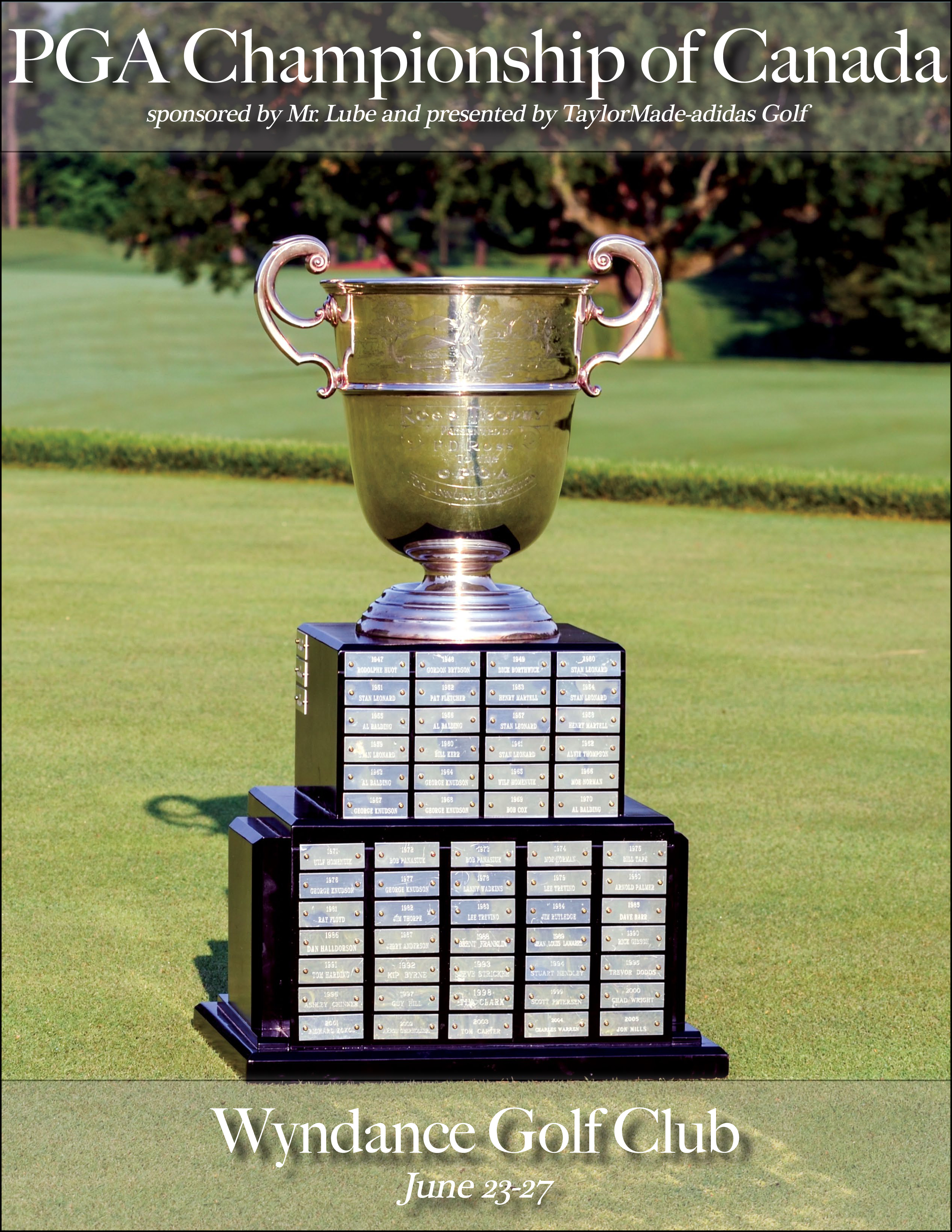 The first course in Canada designed by Greg Norman, Wyndance has been meticulously shaped to take advantage of the existing terrain and sandy rock faces of the reclaimed gravel pit site upon which it was built. Large waste bunkers, loose rock outcroppings, and fairways lined with fescue convey the aura of playing golf in the American Southwest, a feeling reinforced by the architecture of the clubhouse.
Forgiving off the tee, Wyndance is a second-shot course requiring exacting approach shots into greens that are heavily guarded by run-off areas and pot bunkers. The back nine skirts the gravel pit and offers impressive vistas of the property on holes 12, 16, and 18. The 18th is an exceptionally strong finishing hole, requiring a forced carry over the quarry pit from most tees.
Wyndance also features a first-class practice facility including a 2.75-acre range, 18,000 square-foot putting green and a 7,600 square-foot chipping green with a practice bunker and apron. The "Down Under" academy course is a short nine-hole facility built into the middle of the quarry pit.
Parry, who captured the championship at Magna Golf Club in 2013, looks to become the first back-to-back winner since George Knudson won in 1976 and 1977. The 42-year old also has an opportunity to once again take over the No. 1 spot atop the PGA of Canada Player Rankings presented by RBC. He currently sits in second with 243 points, just eight points behind the top-seeded Walsh. With 60 points awarded to the winner of this June's championship, Parry along with Levesque, Belbin and Laporte, has an opportunity to jump to the top of the rankings.
The player who sits atop the PGA of Canada Player Rankings presented by RBC at the conclusion of the PGA Championship of Canada earns an exemption into this year's RBC Canadian Open at Royal Montreal Golf Club in L'Île-Bizard, Que.
Past champions of the PGA Championship of Canada include Moe Norman, George Knudson, Al Balding, Bob Panasik, Wilf Homenuik, Stan Leonard, Lee Trevino and Arnold Palmer.
The 2014 PGA Championship of Canada sponsored by Mr. Lube and presented by TaylorMade-adidas Golf takes place June 23-27 with the Mr. Lube Tournament for Life Pro-Am kicking things off on Monday, June 23. For more information about the Pro-Am and how to be become involved, CLICK HERE
The first PGA Championship of Canada was contested in 1912 at Mississaugua Golf & Country Club.
Stay up-to-date with this year's PGA Championship of Canada sponsored by Mr. Lube and presented by TaylorMade-adidas Golf by visiting pgaofcanada.com, twitter.com/pgaofcanada, youtube.com/thepgaofcanada and facebook.com/pgaofcanada