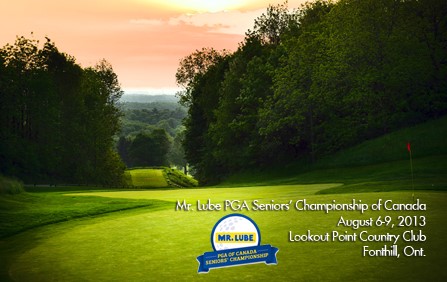 Mr. Lube PGA Seniors' Championship of Canada heads to Lookout Point
The Mr. Lube PGA Seniors' Championship of Canada is headed to Walter J. Travis' classic Lookout Point Country Club this August.
Located in Fonthill, Ont., Lookout Point Country Club opened for play in 1922 and is renowned for Travis' use of the natural topography. The golf course is also home to some of the smallest, trickiest greens in Canada.
"The field is going to love playing on a golf course that's a complete throwback with lots of elevation changes, small tough greens and holes that demand players to work the ball both ways off the tee," says Lookout Point's Head PGA of Canada Professional, J.J. Alexander. "Everyone here at the club is excited about hosting a PGA of Canada national championship and we can not wait to show off our wonderful golf course."
The Mr. Lube PGA Seniors' Championship of Canada takes place Aug. 6-9 and is contested over 54 holes. The Super Seniors' (60 and older) division is contested over 36 holes in two days.
"We are very excited to be taking our Mr. Lube PGA Seniors' Championship of Canada to a golf course that is as historic, challenging and as beautiful as Lookout Point Country Club," says PGA of Canada President, Gregg Schubert. "As is the case with all our national championships, the field is going to be treated to a first class golf experience."
Lookout Point is also home to World Golf Hall of Fame member Marlene Streit and two-time PGA Women's Championship of Canada winner, Cathy Sherk.

The PGA Seniors' Championship of Canada was first played in 1938 as a division of the Canadian PGA Championship. In 1973, the Seniors' Championship became an independent event and has stayed that way ever since. Among the Canadian golf legends to win this championship are Stan Leonard, Moe Norman, Bob Panasik, Al Balding and Jim Rutledge. Norman won this championship a record seven straight years from 1979 to 1985, while Balding stunned the golf world by winning the championship at age 76 in 2000.