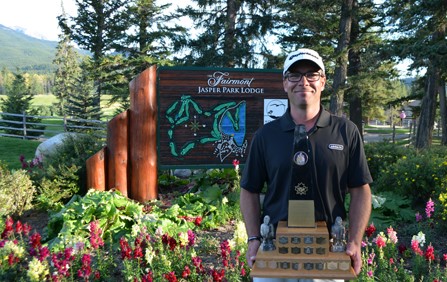 Mike Belbin Makes it Two
[Jasper, Alta.]
—Royal Mayfair Golf Club's Mike Belbin became just the second player in the history of the Association to win back-to-back PGA Assistants' Championship of Canada titles Wednesday at the Fairmont Jasper Park Lodge Golf Club.
Belbin, who won last year at the Cherry Hill Club in Ridgeway, Ont., posted a final round 1 under-par 70, bringing his three day total to 12 under, two shots clear of a trio of players.
"This one seemed way harder than last year," Belbin said after his round. "I played good today even though I lost some of my feel on the greens"
Admitting he felt nerves and adrenaline on the first tee and throughout his round, Belbin's shaky putter led to costly three-putt bogeys on hole Nos. 1, 6 and 9. However, four timely birdies on the second, fifth, eighth, 10th and 15th holes proved enough.
With the win, the 37-year-old Sherwood Park, Alta., native becomes the first player since Serge Thievierge in 1979-80 to win the PGA Assistants' Championship.
"To be put in the same sentence as a guy who has become a PGA of Canada legend is pretty awesome," Belbin said. "Maybe one day 20-years down the road someone will say that about me."
Threatening all afternoon long, Tyler LeBouthillier (Silver Springs Golf & Country Club) Brad Clapp (Chilliwack Golf & Country Club) and Billy Walsh (Fairtree Golf Centre) fired sub-70 final rounds, finishing T2 at 10 under.
Vancouver Golf Club's Mark Strong finished alone in fifth at 9 under, while Reg Millage (The Clublink Academy at Glen Abbey) and Colin Murray (Peninsula Lakes Golf Club) finished T6 at 8 under. Eddward Bourdreau (Gorge Vale Golf Club) finished eighth at 7 under, with Garett Jenkinson (Riverside Golf Academy) and Jacob Patte (Oshawa Golf Club) rounding out the top 10.
"This week at the Fairmont Jasper Park Lodge has been absolutely amazing—from the resort, to the golf course, to the weather, it's been world class," says PGA of Canada President, Gregg Schubert. "And, the golf played this week has been absolutely world class as well—more than 20 players under par is fantastic and it just proves how impressive our members our on the golf course."
Dale Machesney of the Salmon Arm Golf Club made the only hole-in-one of the championship, holing out on the world famous ninth hole, 'Cleopatra.'
The PGA of Canada Player Rankings presented by RBC were updated after final round play and Brian McCann (The Academy at BraeBen) regained top spot with 189 points. Belbin moved to second 181 points, with Walsh jumping to sixth and Millage moving into the top 10 at No. 10.
The full leaderboard and be viewed here.
To follow the PGA Assistants' Championship of Canada presented by Titleist & FootJoy online, visit the PGA of Canada's Twitter feed, YouTube channel, FaceBook page and website.