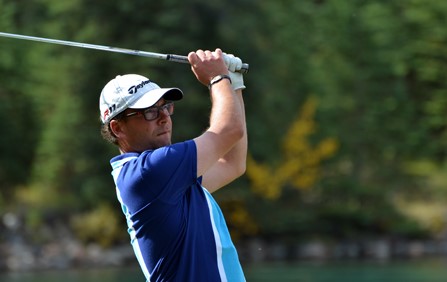 Mike Belbin Makes His Move
[Jasper, Alta.]
—Royal Mayfair Golf Club's Mike Belbin made his move Tuesday at the PGA Assistants' Championship of Canada presented by Titleist & FootJoy, firing a 7 under-par 64.
Belbin, who won last year's championship at Cherry Hill Club in Ridgeway, Ont., has a three shot lead into Wednesday's final round and is in prime position to become the first back-to-back winner of the event since Serge Thivierge in 1979.
"I've put myself right where I want to be," Belbin says. "I've got a chance no matter what happens and I've got an opportunity to win it two times in a row, so it's pretty special."
Wednesday's special round included a stretch of two birdies and two eagles thru the first six holes, en route to a front nine 29.
Belbin says his playing partner Billy Walsh of the Fairtree Golf Centre helped keep him pushing for more red numbers throughout the round that saw temperatures in the high teens and gusty winds on Jasper's inward nine.
"Billy is nice to play with because he makes a lot of birdies," he says "And I try to make a lot of birdies and it seems that when he and I play together I end up playing some pretty good golf."
Walsh's 6 under-par 66 round was the second lowest of the day and is one of four players tied for second at 8 under.
"It was a good round, but Mike was two better," Walsh says. "I had two great guys to play with and we all played well so it kind of keeps you going—you look at good shots, you hear good contact and it spurs you on."
Mark Strong (Vancouver Golf Club), Jacob Patte (Oshawa Golf Club) and Gary Hartford (Riverside Golf Club) are the others who are three back.
"I'll probably be nervous, but nerves are all right," Patte says. "But, as soon as my first tee shot goes I'll be good to go and trying to catch Mike Belbin."
Colin Murray (Peninsula Lakes Golf Club) and Tyler LeBouthillier (Silver Springs Golf & Country Club) are T6 at 6 under, with Garrett Jenkinson (Riverside Golf Academy) alone in eighth at 5 under. Brad Clapp (Chilliwack Golf & Country Club), Greg Machtaler (Summerland Golf & Country Club) and Edward Boudreau (Gorge Vale Golf Club) round out the top 10 at 4 under.
In total, 27 players are under par after 36-holes.
For the third time in the last four years, Alberta (Belbin, Blair Buttar, Tyler LeBouthillier and Brack Little) captured the InterZone Team Championship with a two-day total of 407. Team Ontario (Ed Maunder, Reg Millage, Keir Smith and Walsh) finished second, seven shots back.
Tuesday's cut came at 6 over, with 61 players advancing to Wednesday's final round.
The full leaderboard and Wednesday's final round tee times can be viewed here.
To follow the PGA Assistants' Championship of Canada presented by Titleist & FootJoy online throughout tournament week, visit the PGA of Canada's Twitter feed, YouTube channel, FaceBook page and website.