Dave Barr wins the 2007 BreconRidge Canadian PGA Seniors' Championship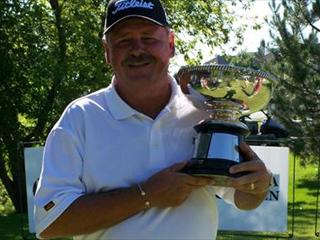 OTTAWA, ON (July 22, 2007) – Canadian golf legend and Hall of Fame Member Dave Barr (Kelowna, BC) has won the 2007 BreconRidge Canadian PGA Seniors' Championship at the Marshes Golf Club in Kanata, Ontario. Barr won by one shot over local favourite Graham Gunn (Napean, ON) and first round leader Claude Tremblay (Repentigny, QC) to take home his first Canadian PGA Seniors' title, shooting rounds of 72-68 for a 140 (-4) tournament total. Barr earned $8,100 of the $55,000 purse.

"I have been having a lot of problems with my putter, and entering the tournament, my confidence was at rock bottom, so it's nice to have a little break from those thoughts and win a national event, it feels great to have that added feather in your hat with a CPGA National Championship," says Barr who had 6 birdies and 2 bogeys today. "I played well all day long today, and only missed two fairways all day, luckily I didn't have many four or five foot putts today so I think that kept me more confident as well".

Barr went into the final round of the tournament tied with Don Graham and defending champion Graham Gunn at 72. "I was a little worried looking at the way that Gunn was dominating the round this morning, and coming off the 18th after my bogey, I thought there was no way I was in contention as Claude (Tremblay) was having a great game, but when I looked at the leaderboard on 18 and saw that Claude bogeyed the last hole (17th), I thought there was the possibility of a playoff, then after he missed his putt on 18 for par, I knew then that it was a done deal," says Barr.

This is Barr's second year playing in the Seniors' Championship, he finished third last year and was off the lead by 3 strokes. "I think we are really fortunate coming to play at a course that wants the tournament," he says of the Marshes Golf Club and Brookstreet Resort. "I think that it is a perfect venue for Senior play, there is a lot of variety in the course, and it is challenging. The staff here at the Marshes and the CPGA staff did an unbelievable job organizing the event".

When asked if he would be interested in competing more regularly on the Champions Tour, he admitted that he is not at that point, but is hoping to get there soon. "Right now, I don't think that with my play I am ready to perform on the Tour, I can't afford to shoot 70's out there, so for now it's not in my mind". Hometown friend and fellow CPGA Member, Greg Pidlaski (Kelowna, BC) says that Barr is just another average guy who loves to play in his hometown with all of the other golfers. "He is just one of those laid back guys that likes to play on Monday, Wednesday, Friday with friends back home at the course in Kelowna, he is a great player and is very deserving of this championship," says Pidlaski. Barr plans to return next year and defend his title as Senior champion, "I am looking forward to playing next year, and seeing all of the other golfers again; hopefully the tournament will once again return to the Marshes".

Retired pro, Robert Breen of Brampton, Ontario won the Super Seniors' Division with a 76-68 (final round low) for 144 total score. He earned $1,500.00 and an additional $1642.50 in the Seniors' division, tying for sixth place, only four shots off the lead.

"With the rain on Friday and the suspension of play, it took a lot out of me heading into the first round. I didn't play as well as I wanted to on Saturday, and I bogeyed my first hole today so I thought it was going to be a bad day, but I hit every fairway and only missed three greens today so I felt good," says Breen. "I think this tournament was a great event and I hope they never think of moving it as it has become so familiar and welcoming to families and friends".

Winning the Diamond Division with a 76-74 150 total is hometown favourite Don Renaud of Kanata, Ont. "This win means everything, it's so great to still be dreaming at the age of 70 that you can play competitively and win at my age," Renaud says with a laugh. "This event is so great, it really has a PGA Tour atmosphere, the players and I appreciate all the work that has gone into the event and it really shows that you all care so much, from the sponsors to the volunteers, everyone has put so much effort into the events of the weekend."

The Marshes Golf Club is one of the premier golf destinations and leading corporate-play facility in the National Capital Region. The Robert Trent Jones II design opened for public play in 2001 and has garnered many accolades. The 7,027-yard course includes six par 3s, six par 4s and six par 5s.

The $55,000 BreconRidge Canadian PGA Seniors' Championship is contested over three days, but after rain suspended play Friday July 19th, the championship was played over two days and 36 holes. The competition is open to Canadian PGA Professionals 50 and older. The Super Senior (60 and older) and Diamond (70 and older) division was also contested over two days of 36 holes.
Final Results from 2007 BreconRidge Canadian PGA Seniors' Championship
2007 Canadian PGA Seniors Results
For more information contact:

Erica Bury
Communications Coordinator
Canadian PGA
erica@cpga.com
800.782.5764

Brad Moyer
Manager of Events and Employment
Canadian PGA
brad@cpga.com
800.782.5764 (x227)

Tournament History:

The BreconRidge Canadian PGA Seniors Championship was first played in 1938 as a division of the Canadian PGA Championship. In 1973, the Seniors' Championship became an independent event and has stayed that way ever since. Among the Canadian golf legends to win this championship are Stan Leonard, Moe Norman, Bob Panasik and Al Balding. Norman won this championship a record seven straight years from 1979 to 1985 while Balding stunned the golf world by winning the championship at age 76 in 2000.

About BreconRidge:

Headquartered in Ottawa, Canada, BreconRidge is one of the world's top 50 electronic manufacturing services ("EMS") companies with facilities located in Canada, the United States and China. Employing state-of-the-art technology and world-class talent, BreconRidge provides customers with a full service operations model. Servicing the needs of both emerging and established original equipment manufacturers in the communications, industrial, military, aerospace and consumer market sectors, BreconRidge delivers: design, process and test engineering services, component sourcing, global procurement, supply chain management, manufacturing, order fulfillment, and distribution services, along with after sales support, including product repair, refurbishment, warranty tracking and complete logistics services. Products manufactured by BreconRidge can be found all over the world. Find us on the web at www.breconridge.com.

About the CPGA:

Established in 1911, the Canadian Professional Golfers' Association is a non-profit association comprised of approximately 3,500 golf professionals across the country with a mandate to promote and advance the game of golf, serving the needs of both its membership and the golf public through professional and junior golf development programs and high-calibre competitive events. The National Office is located in Acton, Ontario with nine Zone Offices across the country. For more information, visit www.cpga.com