Dave Barr and Jim Nelford Battle for their First Canadian PGA Seniors' Title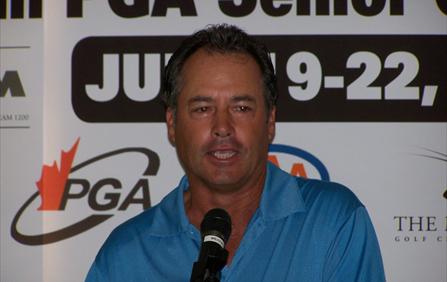 Dave Barr and Jim Nelford Battle for their First Canadian PGA Seniors' Title

ACTON (July 16, 2007) – This year's BreconRidge Canadian PGA Seniors' Championship is going to get heated as Canadian golf legends, Dave Barr and Jim Nelford, battle on the course for their first Canadian PGA Seniors' Title this July 19-22 at The Marshes Golf Club at Brookstreet Resort.

Although Barr has played in the CPGA Seniors' Championship in previous years, he is yet to capture this national title, and is looking forward to the opportunity. Nelford, who just turned 52 this year, is now eligible for senior events and is looking for his first major Senior Championship win.

Barr has an impressive record in Canadian golf history. Since becoming a Canadian PGA member in 1974, Barr has won numerous tournaments and was inducted into the Canadian Golf Hall of Fame in 2000. He is a two time PGA Tour champion, became the first Canadian to win on the Champions/Seniors Tour with his win at the 2003 Royal Caribbean Golf Classic, has twelve Canadian Tour victories, is a four time Order of Merit winner, named 'SCORE Golf' Player of the Year eight times, and the list goes on.

Nelford played on the PGA Tour from 1978 to 1988, where his best year was 1983 when he made 26 of 31 cuts and finished second in at Hilton Head's Sea Pines Heritage Classic. Nelford's career and life almost came to an end in September of 1985, when he suffered multiple, life-threatening injuries after being struck by the propeller of a boat while water skiing on Saguaro Lake near Phoenix. Since the accident, Nelford turned to the broadcast world, but decided that he wanted to get back into playing competitively, and joined the 2007 Champions Tour with a non-exempt status.

Barr and Nelford are joining a very impressive cast of players this year at the BreconRidge Canadian PGA Seniors' championship. Jerry Anderson, Bob Panasik, Serge Thiverge, Hocan Olsson, Adam Brown, Dave Bell, John Irwin and defending champion Graham Gunn are among a few of the top players competing.

The Marshes Golf Club is one of the premier golf destinations and leading corporate-play facility in the National Capital Region. The Robert Trent Jones II design opened for public play in 2001 and has garnered many accolades. The 7,027-yard course includes six par 3s, six par 4s and six par 5s.

The $55,000 BreconRidge Canadian PGA Seniors' Championship will take place from July 19- July 22, 2007 and is a three-day, 54-hole individual stroke-play competition open to Canadian PGA Professionals 50 and older. The Super Senior (60 and older) and Diamond (70 and older) division will be contested over two days of 36 holes.


-30-


For more information contact:
Erica Bury
Communications Coordinator
Canadian PGA
erica@cpga.com
800.782.5764

Brad Moyer
Manager of Events and Employment
Canadian PGA
brad@cpga.com
800.782.5764 (x227)

Tournament History:

The BreconRidge Canadian PGA Seniors Championship was first played in 1938 as a division of the Canadian PGA Championship. In 1973, the Seniors' Championship became an independent event and has stayed that way ever since. Among the Canadian golf legends to win this championship are Stan Leonard, Moe Norman, Bob Panasik and Al Balding. Norman won this championship a record seven straight years from 1979 to 1985 while Balding stunned the golf world by winning the championship at age 76 in 2000.

About BreconRidge:

Headquartered in Ottawa, Canada, BreconRidge is one of the world's top 50 electronic manufacturing services ("EMS") companies with facilities located in Canada, the United States and China. Employing state-of-the-art technology and world-class talent, BreconRidge provides customers with a full service operations model. Servicing the needs of both emerging and established original equipment manufacturers in the communications, industrial, military, aerospace and consumer market sectors, BreconRidge delivers: design, process and test engineering services, component sourcing, global procurement, supply chain management, manufacturing, order fulfillment, and distribution services, along with after sales support, including product repair, refurbishment, warranty tracking and complete logistics services. Products manufactured by BreconRidge can be found all over the world. Find us on the web at www.breconridge.com.

About the CPGA:

Established in 1911, the Canadian Professional Golfers' Association is a non-profit association comprised of approximately 3,500 golf professionals across the country with a mandate to promote and advance the game of golf, serving the needs of both its membership and the golf public through professional and junior golf development programs and high-calibre competitive events. The National Office is located in Acton, Ontario with nine Zone Offices across the country. For more information, visit www.cpga.com