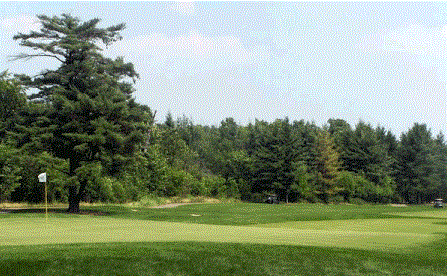 Canadian PGA and Golf Canada Encourage Golfers to Tee It Forward
National golf bodies show support of program encouraging golfers to play tees best suited to their abilities; Initiative aimed at improving pace of play and golfers' overall enjoyment of the game

Oakville, Ont. (Golf Canada/Canadian PGA)
– With a goal of improving Canadian golfers' overall enjoyment of the game, the Canadian PGA and Golf Canada are supporting the new TEE IT FORWARD initiative.
TEE IT FORWARD is aimed at helping golfers have the best possible experience on the golf course by playing from a set of tees best suited to their abilities. The initiative encourages all golfers to play the course at a length that is aligned with their average driving distance.
Canadian PGA Chief Executive Officer Gary Bernard believes that the 3,700 Canadian PGA professionals across the country can play an important role in communicating the benefits of TEE IT FORWARD to members and public golfers that play at their respective courses.
"We support TEE IT FORWARD and encourage our members to promote and embrace the program," said Bernard. "The program has so many benefits but most importantly it makes the game more enjoyable for all. Together with Golf Canada we look forward to seeing this exciting program grow and develop across Canada."
By supporting the TEE IT FORWARD concept, Golf Canada and the Canadian PGA believe that encouraging golfers to select a course length in line with their abilities can speed up play, improve course playability and increase overall player enjoyment.
"TEE IT FORWARD as a suggested guideline for golfers to play the tees that best match up with their abilities simply makes sense," said Scott Simmons, Executive Director and CEO, Golf Canada. "Playing the most appropriate yardages goes a long way to improving golfer's overall enjoyment on the course. We are thrilled to partner with the Canadian PGA by showing our support for this terrific initiative that we feel can have so many positive impacts on our sport."
The following are TEE IT FORWARD guidelines for selecting tees and recommended yardages based on a golfer's average driving distance:
Driver Distance Recommended Yardages
275 yards 6,700 - 6,900 yards
250 yards 6,200 - 6,400 yards
225 yards 5,800 - 6,000 yards
200 yards 5,200 - 5,400 yards
175 yards 4,400 - 4,600 yards
150 yards 3,500 - 3,700 yards
125 yards 2,800 - 3,000 yards
100 yards 2,100 - 2,300 yards
As partners in support of TEE IT FORWARD, Golf Canada and the Canadian PGA will target their respective memberships to engage facility support while also generating program awareness and adoption among consumers.
The Canadian PGA will encourage its members to introduce and communicate the TEE IT FORWARD campaign at their respective facilities. As well, Golf Canada will promote TEE IT FORWARD to its membership base of close to 350,000 golfers at nearly 1,500 member clubs as well as public golfers across the country through various communications channels.
ABOUT TEE IT FORWARD

The TEE IT FORWARD initiative, which is also endorsed in the United States by both the United States Golf Association and PGA of America, is based on a concept by Barney Adams, the founder of Adams Golf.
By playing from forward tees, amateur golfers have the chance to play the course at the same relative distance as a touring professional would over 18 holes. The playing field is leveled by giving golfers the opportunity to play from distances that are properly aligned with their abilities. Based on equipment manufacture data, the average male golfer hits his average drive 225 yards while the average women golfer hits her drive 140 yards.
By playing from a set of tees that are more suitable to one's game, many more golfers will hit approach shots with 6- and 7-irons instead of hybrids and long irons thereby increasing their chances of hitting greens and enjoying their round. Also, playing from forward tees should result in fewer overall shots, shorter distance traveled on each hole, potentially fewer lost balls, and improved pace of play.
ABOUT THE CANADIAN PGA:

Established in 1911 and the second oldest professional golf association in the world, the Canadian Professional Golfers' Association is a non-profit Association comprised of 3,700 golf professionals across the country. The Association's mandate is to develop, promote and support our Members as experts in the game and business of golf and, in so doing, serve both its Members' needs and those of the golfing public through the Association's varied programs and events. The Association consists of the National Office located in Acton, Ontario and nine Zone Offices across the country. For more information please visit
www.cpga.com
.
GOLF CANADA – LOVE THE GAME. GROW THE GAME.

Golf Canada – a member-based organization governed by the Royal Canadian Golf Association (RCGA) – is the governing body of golf in Canada, representing close to 350,000 members at almost 1,500 clubs across the country. Recognized by Sport Canada as the National Sports Organization (NSO) for golf in this country, Golf Canada is responsible for promoting participation in and a passion for the game of golf in Canada.
A proud member of the Canadian Olympic Committee, Golf Canada actively conducts championships, programs and services to help shape the present and future of golf in Canada. High performance athlete development, National Golf in Schools, Golf Fore the Cure, the Canadian Golf Hall of Fame and Museum and CN Future Links, Canada's national junior golf program, are only some of the initiatives the association leads for golf in Canada. As the authority for golf in Canada, the association also administers the Rules of Golf, amateur status and handicapping and course rating under the respected RCGA brand.
In addition, Golf Canada conducts Canada's most prestigious golf championships. The RBC Canadian Open and CN Canadian Women's Open attract the best professional golfers in the world, while regional junior and national amateur championships provide world-class competitive opportunities for Canada's top golfers to showcase their talents.
For more information about what Golf Canada is doing to support golf in your community, visit us online at
www.golfcanada.ca
.
- 30 -
For more information contact:

Kelly Dixon
Director of Communications
Canadian PGA
(t) 1-800-782-5764 ext 234
(c) 705-716-6628
(e)
kelly@cpga.com
Dan Pino
Director, Media and Public Relations
Golf Canada
(t) 1-800-263-0009 ext. 406
(c) 416-434-5525
(e)
dpino@golfcanada.ca