Bryn Parry earns 2007 Nationwide Tour Card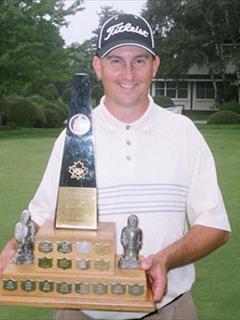 ACTON, ON (December 4, 2006)—After a sensational tournament season in British Columbia in 2006, Canadian PGA Member Bryn Parry of Vancouver will compete as a fully exempt player on the Nationwide Tour in 2007.
Parry, a Teaching Professional at Seymour Creek Golf and Teaching Academy in North Vancouver, shot a one-over-par 73 in the final round of the PGA Tour's Qualifying Tournament on Monday to finish T41 with a 7-under 425 total—just one shot shy of earning his PGA Tour card.
Parry, 35, went into the final round tied for 29th after shooting a 4-under 68 Sunday and an 8-under 64 Saturday. He started the sixth and final round slowly with a 38 at the tough Stadium Course at PGA West in La Quinta, Ca.
He scratched his way back to within one shot of the final spot with birdies on 16 and 17 to get to 8-under par. Thinking he needed to make a birdie on 18, he played aggressively and made bogey. And that was the difference.
"Coming down the last hole, all the information we could get said 9-under was the number," said the married father of a two-year-old boy. "I hit the (approach) shot like I wanted but it didn't react like I thought it would.
"It's a bit disappointing to miss (the PGA Tour) by one, but playing on the Nationwide Tour is a fantastic opportunity for me. I haven't played much professional golf outside B.C. I've been so busy teaching that I haven't had much time to practice or play except for tournaments, so now I'll get some time," said Parry, who made 29 birdies in six rounds after a poor start with a 78.
"It's very gratifying to see Bryn earn his way on to the Nationwide Tour, and his fellow Canadian PGA Members are ecstatic for him," said Steve Carroll, Executive Director of the Association. "After two national championship wins with the Canadian PGA and his incredible performance of 16 victories in B.C. this year, Bryn is more than ready to take his game to the next level."
Parry went into the three stages of the PGA Tour's Qualifying Tournament on a roll, having won 16 of the 29 B.C. PGA tournaments he played in this summer. "He won more than half the events he played in," said Brian Butters, Executive Director of the B.C. PGA. "That's absolutely incredible."
Parry won the 2006 B.C. PGA Assistants' Championship, following his victory in 2000. He was No. 1 on B.C. PGA Order of Merit this season, and named the 2006 B.C. PGA Player of the Year, the third time he's won that honour.
Parry is also a two-time winner of the Titleist & FootJoy Canadian PGA Assistants' Championship, including the 2005 and 1999 events.
"He really deserves a lot of congratulations for gaining full-time status on the Nationwide Tour," Butters said. "It's a great opportunity for him in a whole new league."
The top 30 and ties earned their cards to the PGA Tour, with approximately the next 50 players earning full exemptions to the Nationwide Tour. The remaining players in the field are conditionally exempt to the Nationwide Tour next season.
The other Canadians to earn full exemptions to the Nationwide Tour were David Morland IV of Aurora, Ont., who shot 74 for a 429 total for T58th place, and Brad Fritsch of Manotick, Ont., who finished with a 75 for a 431 total to finish T75.
Brett Bingham of Red Deer, Alta., fired an even-par 72 for a 436 total and finished T103 to become conditionally exempt on the Nationwide Tour next season.