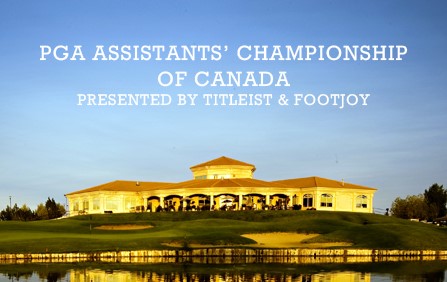 Bryn Parry and Todd Halpen Lead PGA Assistants' Championship
(Saskatoon, SK) September 11, 2013
– Bryn Parry of North Vancouver, BC finished where he started and Todd Halpen of Calgary, AB caught him as they head into the final round tied for the lead of the PGA Assistants' Championship of Canada presented by Titleist & FootJoy at The Willows Golf & Country Club in Saskatoon.
Click here to view all scores -
LEADERBOARD

A day after firing an incredible 10-under par 62, Parry just couldn't get the same magic going as he finished with an even par round of 72 on Wednesday leaving him at 10-under par for the championship. Parry is looking for a rare double major in 2013 as he won the PGA Championship of Canada earlier this summer.
"I really don't think the course was that much harder, I just hit the ball twice as far away from the hole and didn't make any putts," said Parry, who played in the 2013 RBC Canadian Open as the number one ranked player in the Association. "I'm expecting the winning score to be about 15-under par so I know I'll need something good in the 60's to win it."
Halpen locked in another solid round today with a 6-under par 66 that included six birdies and two bogies taking him to 10-under par for the championship.
"I really haven't hit my driver much this year but I'm hitting it everywhere here and it's a big advantage for me when I can find the fairway," said Halpen, who looks to make a huge jump up the PGA Player Rankings presented by RBC from his current spot at 116th. "This is my first time playing in a PGA National Championship and I'm really enjoying it."
Billy Walsh of Markham, ON sits alone in 3rd place after a 3-under par 69 on Wednesday, moving him to 8-under par for the championship and two behind Parry and Halpen.
"I was just trying to put a solid round together today and I've been really close in the last few national championships so maybe it's my turn tomorrow," said Walsh, runner-up at the 2013 PGA Championship of Canada to Parry earlier this summer. "Hearing the starter announce Parry and Belbin as two-time champions makes me really want to win one of my own and hopefully I can do it tomorrow."
Greg Machtaler of Summerland, BC and Lindsay Bernakevitch sit in a tie for 4th at 7-under par for the championship while Colin Murray of Ancaster, ON and Derrik Goodwin are tied for 6th position at 6-under par.
Murray matched Parry's 10-under par 62 from yesterday as he made eight birdies and an eagle on the 17th hole on Wednesday to make a massive jump up the leaderboard into 6th place going into the final round.
"I made a putter change this morning and got off to a crazy start right out of the gate," said Murray, who finished 6th last year at this championship. "Boudreau and Jenkinson were awesome to play with, they were as excited as I was and that really helped."
In total, 62 players survived the cut which fell at 6-over par for the championship.
The BC team of Parry, Machtaler, Ethan Danish and Gord Scutt won the PGA InterZone Team Championship by seven shots over Team Ontario. Team Alberta finished in 3rd place one shot behind Team Ontario.
For the first time in the history of the 43-year-old championship, the PGA Assistants' Championship of Canada presented by Titleist & FootJoy is being held in the province of Saskatchewan.
The $60,000 PGA Assistants' Championship of Canada presented by Titleist & FootJoy takes place Sept. 9-12 and is contested over 54-holes (with a 36-hole cut to the low 60-players and ties).
Final round tee times are available
HERE.

To follow the PGA Assistants' Championship of Canada presented by Titleist & FootJoy online throughout tournament week, visit the PGA of Canada's Twitter feed, YouTube channel, Facebook page and website.
-30-
For more information:
Jeff Dykeman
Director of Business Development & Brand
647-400-4460
jeff@pgaofcanada.com
Adam LeBrun
Managing Director of Championships & Events
519-853-5450 EXT. 227
adam@pgaofcanada.com
About the PGA of Canada-THE LIFEBLOOD OF THE GAME OF GOLF: Established in 1911, the PGA of Canada is the second oldest and third largest professional golf association in the world. The PGA of Canada is a non-profit association comprised of 3,700 golf professionals across the country. The association's mandate is to develop, promote and support our members as experts in the game and business of golf and, in so doing, serve both its members' needs and those of the golfing public through the Association's varied programs and events. The association consists of the national office located in Acton, Ont., and nine zone offices across the country.