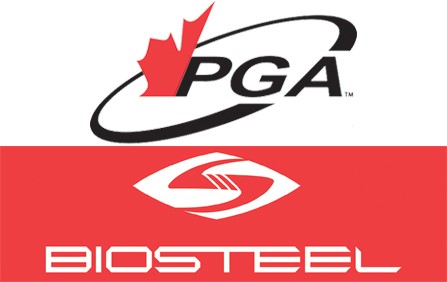 BioSteel becomes PGA of Canada National Partner
The PGA of Canada is excited to announce a new partnership with one of Canada's fastest growing brands, BioSteel Sports Inc.

The multi-year agreement sees BioSteel products become available for competitors at all five PGA of Canada National Championships each year. In addition, BioSteel has created special packaging and pricing allowing PGA of Canada Professionals who are looking to carry the product in their pro shops the opportunity to do so.

"The PGA of Canada is excited about our newly formed partnership with BioSteel," says PGA of Canada CEO, Gary Bernard. "As a proud National Association in Canada, we're pleased to do business with a very proud Canadian company like BioSteel."

Containing zero grams of sugar and a precise ratio of the highest grade branched chain amino acids and bio available electrolytes, the product is now heavily trusted and relied on by many of sports brightest stars.

BioSteel currently works with over 42 players on the PGA Tour including Hunter Mahan, who is a member of Team BioSteel, alongside hockey stars Michael Cammalleri, Tyler Seguin & Carey Price.

"We are extremely proud to partner with the PGA of Canada. We have experienced tremendous results in providing a healthy alternative to Golfers and exercise enthusiasts everywhere," says BioSteel Creator, Matt Nicol. "Being a proudly Canadian company this relationship is something we look to build on for years to come."

The partnership also includes a soon to be announced contest for PGA of Canada Professionals, with the winner getting a chance to attend the famed BioSteel Training Camp for NHL stars in the summer.

BioSteel is also an official hydration product of Athletics Canada.