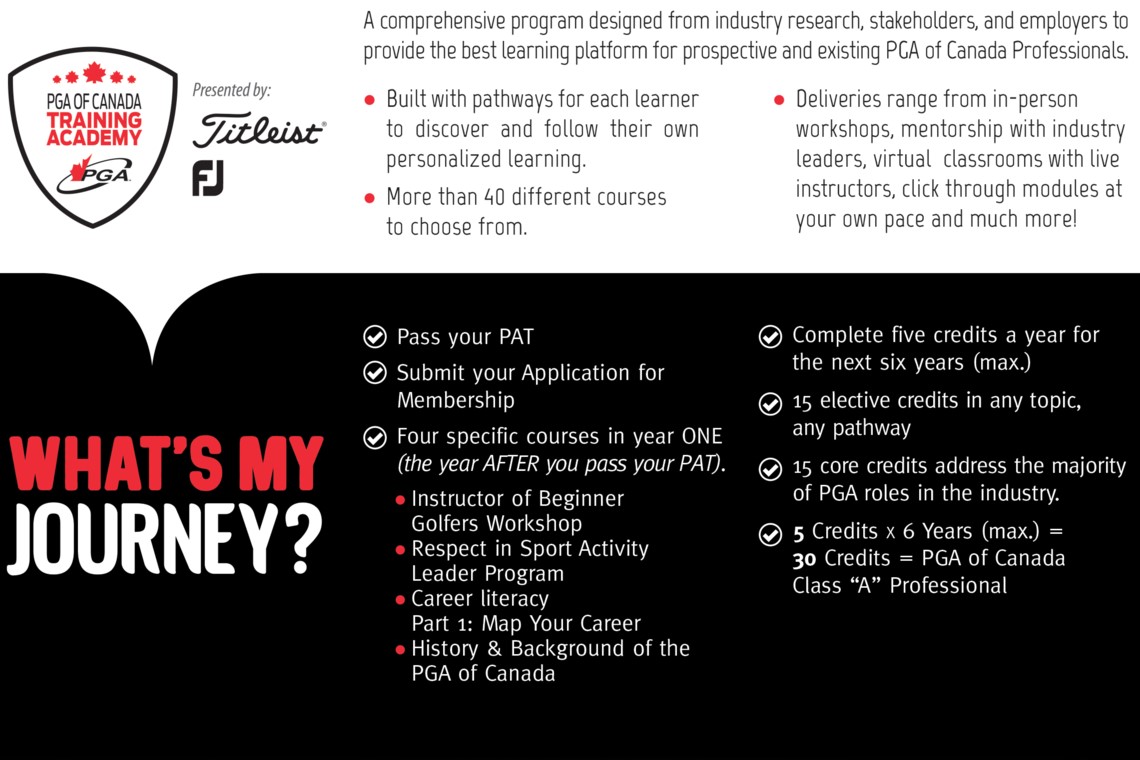 The Membership Roadmap
All members of our association are required to complete the PGA Training Academy presented by Titleist and FootJoy; enrolment in the academy is dependent on meeting a series of entrance requirements.

Please note: All in-person workshops including the Instructor of Beginner Golfers Workshop will follow provincial guidelines for unvaccinated individuals.

Aspiring golf professionals seeking a viable career in the golf industry.
Existing professionals seeking career progression opportunities.
Individuals committed to lifelong learning.

Program is designed to provide the learner with the flexibility to determine their learning pathway
Based off world-leading industry research unique to the Canadian market
Join one of the most recognizable brands in the world - PGA

The total costs for first year courses is $780.00 tax. (Your first year training starts the year after you pass your PAT)
Fees range from $2800 - $4000 over a six year time-frame
These costs do not include membership dues

The PGA of Canada has partnered with the following four post-secondary programs.
Students who are enrolled in any of these programs will be able to complete courses with learning outcomes that match the PGA Training Academy. Upon completion of these courses and a minimum grade of 70%, the student (if a PGA of Canada member) will receive credit in the Training Academy for that course. It is the responsibility of the student to provide the PGA of Canada with updated transcripts annually in order to receive the equivalency credits.

The PGA of Canada has identified these programs as the only in Canada to provide golf specific training that matches learning outcomes with what is being taught in the PGA of Canada Training Academy. The PGA of Canada will have access to audit course learning outcomes at Georgian College, Humber College, McMaster University, Fanshawe College.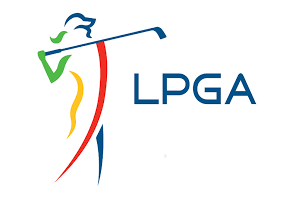 The PGA of Canada has developed an exciting partnership with the LPGA, opening a pathway for LPGA Class "A" members to join the association. To learn more about this partnership, please click here.
Any LPGA Class "A" members will be exempt from the Play Ability Test (PAT) and will automatically receive 20.0 of the 30.0 credits required to achieve Class "A" status with the PGA of Canada.

Any LPGA member that is looking to become a PGA of Canada member, should contact Darcy at darcy@pgaofcanada.com or 1(800)-782-5764 ext.224 to initiate the process.

Please refer to the PGA of Canada-LPGA Pathway Chart below for course equivalencies in the PGA Training Academy: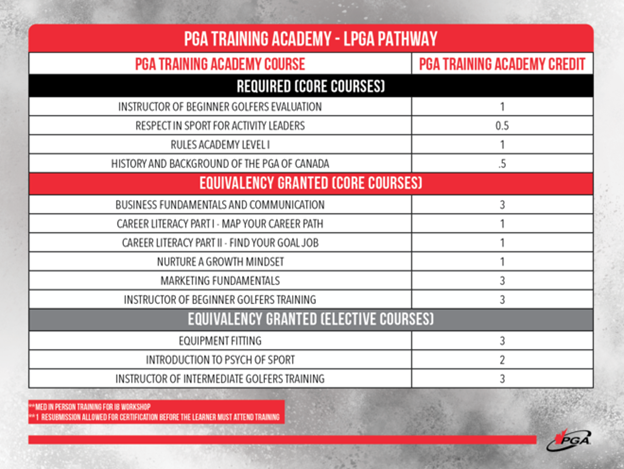 Are you eligible to apply for Membership?
Prospective Members must meet the following entrance requirements:
- 18 years of age or older
- Minimum high school diploma
- Currently working in the golf industry to be verified by your employer, and work a minimum of 400 paid hours per year by December 1st
- Two reference letters, one from your employer and one from a PGA of Canada Class "A" Member
- Police check with Sterling BackCheck
- Rules of Golf Level 1 Certificate
- PGA of Canada Onboarding Module
- Be able to Pass a Playing Ability Test
Step 1 - Register Online & Pass the Playing Ability Test
The Playing Ability Test is standardized testing all applicants must pass in order to be eligible to apply for membership.
Registration costs $175 plus tax and is valid for 1 year from the date of registration. The PAT's are conducted by the Zones, the cost for each additional PAT attempt will range from $150-$215 plus tax.

PAT Target Score
1 round PAT
No maximum number of attempts per year
All PAT's are open to all applicants
For Men, 49 years of age and under, the course rating plus 9
For Men, 50 years of age and older, the course rating plus 11
For Women, 49 years of age and under, the course rating plus 13
For Women, 50 years of age and older, the course rating plus 15
For Golfers with Different Abilities, click here to learn more
PAT Exemptions
To learn about PAT Exemptions, please
click here
For the schedule of PAT events (posted by April 1st) and online registrations for PAT's,
click here
Step 2 - Complete Online Membership Application
Once you have passed the PAT, you are now able to submit an application for membership.
Step 3 - Payment of Membership Dues & Begin Training
After successfully completing the membership application and submitting required documentation, the final step to join the association is payment of the associations' Annual Dues.

Annual National and Zone dues are approximately $1000.00 combined and are paid yearly by November 1st. Dues vary by zone.