Coaching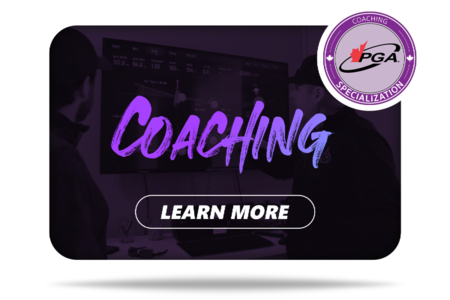 PGA Professional Job Roles
PGA of Canada Professionals who have earned this specialization typically have a career as a Coach at a Collegiate Level and include current Provincial and National Team Coaches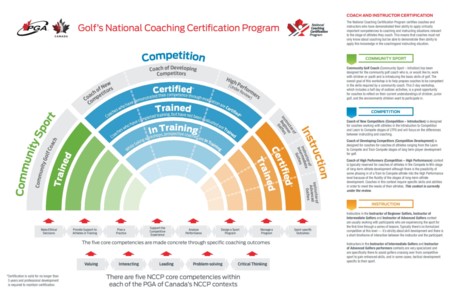 Golfs National Coaching Certification Program
The PGA of Canada is the only PGA in the world that distinguishes between Coaching and Teaching certification. Within this framework, both Instructors and Coaches are provided streams and courses tailored to the athletes they work with.
Click here to view Golfs NCCP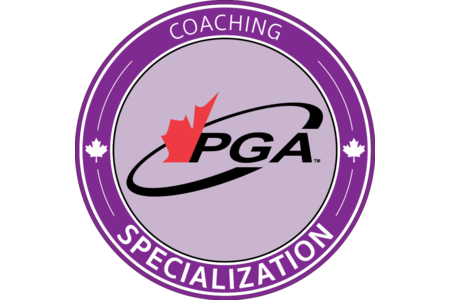 USE OF SPECIALIZATION BADGE
Current PGA of Canada Class 'A' Professionals, who have earned an Specialization in 'Coaching', are encouraged to use the newly designed Specialization Badge in accordance with PGA Brand Guidelines. PGA Professionals are able to confirm their Specialization through the PGA Credit Tracker. Please note: ONLY Class "A" members who have meet the Specialization criteria can use the badge. To download this specialization badge, click here:
Download Badge Here
PGA of Canada Professionals with this specialization often have previous coaching experience
They tend to work with athletes over the long term to improve performance, often in preparation for club, regional, provincial, national, and international competitions.
The focus of coaches typically involves analyzing multiple performance factors;periodized planning; developing athletic abilities; tournament planning; managing relationships; supporting athletes at,competitions; working with other support staff; and reporting on athlete progress.
Athletes in the New Competitor Stream are new to golf from a competition perspective.Developing Competitors are those competing at higher levels of competition such as provincial championships. HighPerformers are those playing at national and international level championships.
Available Courses:
E-Learning Course Offerings:
Using Technology to Improve your Teaching Business*
Safe Sport Training through the Coaching Association of Canada*
Coaching Mentorship
Coach of New Competitors Evaluation
Coach of Developing Competitors Evaluation
Pursuing Excellence in Junior Coaching Part I*
Pursuing Excellence in Junior Coaching Part 2*
Building and Leading a Small Business* (This course is offered twice a year, in Fall and Winter)
*Indicates course credits earned will count for both Teaching and Coaching Specializations
NCCP Competition Stream Workshops:
Coach of New Competitors Workshop
Offered seasonally; March - May, September - November weather depending

Instructor of Advanced Golfers
Offered every 2 years in January, next workshop year is 2023.