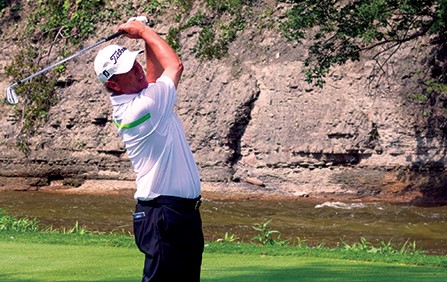 The Hold Steady
Even though he admitted his putter went cold Thursday at Credit Valley Golf and Country Club, Jim Rutledge still held on to the lead at the Mr. Lube PGA Seniors' Championship of Canada presented by Adams Golf.
The three-time past champion's day included four bogeys and four birdies for an even-par 71. His two day total of 7-under-par 135 is good for a two shot lead over fellow Champions Tour player Rod Spittle, and three shots better than the PGA of Canada's No. 9-ranked player Scott Allred of Elbow Springs Golf Club and two-time PGA Assistants'' Championship of Canada winner Phil Jonas.
"Yesterday I pretty much made everything I looked at," Rutledge said. "But today was a totally different day and a had a bunch of three putts . . . that's golf though, isn't it."
Friday's final pairing—set to tee off at 10:50 a.m. at Credit Valley—features Rutledge, Spittle and Allred for the second time in three years. Back in 2013, Rutledge bested Spittle in playoff at Lookout Point Country Club in Fonthill, Ont.
"Back in 2013 I was really close at winning this championship and that was a lot of fun," Spittle said. "Here's the thing, though; Lookout Point and here a very similar. You don't just stand up there and beat the ball because it's more about position off the tee and where you are on the greens."
Ranked No. 77 on SCOREGolf's Top 100 Courses in Canada for 2014, Credit Valley celebrates its 85th anniversary this year. Originally the hunting and fishing grounds of the Ojibway people, Credit Valley traces its golfing beginning back to 1930. Ontario's then Lieutenant Governor, W.D. Ross, commissioned that six holes be built on the original property which was located where the driving range and parking lot now stand.
Twelve-time PGA Tour winner Steve Stricker won the PGA Championship of Canada when Credit Valley hosted in 1993, while Hannah Jun captured the 2008 PGA Women's Championship at the Mississauga venue.
Montreal's Daniel Talbot rounds at the top five at 3-under-par, with Keir Smith of The National Golf Club of Canada at one under for the championship. Talbot also earned the Super Senior Division title Thursday, bettering John Rushnell of Oshawa Golf Club by two shots.
For the full leaderboard and Friday's tee times, CLICK HERE
The three-day, 54-hole championship will be played Aug. 12-14 at Credit Valley Golf and Country Club. Admittance to the Mr. Lube PGA Seniors' Championship of Canada presented by Adams Golf is free and spectators are encouraged to attend during championship play.
The PGA Seniors' Championship of Canada was first played in 1938 as a division of the Canadian PGA Championship. In 1973, the championship became an independent event and has stayed that way since.
Among the Canadian golf legends to win the PGA Seniors' Championship of Canada are Stan Leonard, Moe Norman—who won a record seven straight years from 1979-1985—Bob Panasik, Al Balding—who wowed the golf world by winning at age 76 in 2000—and Jim Rutledge.
For complete coverage of this year's Mr. Lube PGA Seniors' Championship of Canada presented by Adams Golf, visit pgaofcanada.com, twitter.com/pgaofcanada, vimeo.com/pgaofcanada and facebook.com/pgaofcanada